Images courtesy of Ludovic De Saint Sernin, Marine Serre and Coperni.
Last stop, Paris! Yes, after a marathon of shows, and a standout season for Milan, we're now gunning for the grande finale — a week jam-packed with some of the biggest shows there are. We're talking Chanels and Diors, Louis Vuittons and Saint Laurents, Rick Owens and Miu Mius. You know the drill by now, but we'll say it again — tune in here for all the latest, chicest news to know as and when it happens. Bisous!
Marine Serre
If the baying crowd outside Marine Serre last night was anything to go by, the French designer has well and truly established herself as both a hometown hero, and a highlight of the Paris Fashion Week schedule. Rather than stage a typical, exclusionary runway show, though, she chose to invite the public in for 'Hard Drive', a weekend-long exhibition at Lafayette Anticipations – the same institution that hosted Martin Margiela's recent art show. A runway show presenting the brand's AW22 collection was indeed a central part of the proceedings, but around that it offered a holistic insight into the world of one of the most innovative, ecologically-conscious designers in fashion today.
With upcycling a cornerstone – rather than a decorative facet – of the label, the first floor hosted a staged production line, with the actual artisans that Marine works with seen sorting through deadstock and bulk-bought second hand garments, and giving them new life as pieces available for sale in the gallery's gift shop. On the second floor, you found an ode to the fabrics the designer works with, and on the level above was a selection of original paintings from the 15th to the 17th century, alongside bold reinterpretations of some of the most powerful, distinct female figures in art history.
Bringing these diverse facets and inspirations to life were the clothes themselves. A reiteration of the values at Marine Serre's cores – particularly of how found fabrics guide the designer's creative process – panels from kaleidoscopic knit jumpers were cobbled together into moto jumpsuits, and band t-shirts became a trailing hooded gown. Fringed tartan scarves were joined together to create punkish wrap skirts, as well as sharp tailored jackets and easy-wearing harringtons. Floral quilted blankets became cosy vests, while surplus army-issue camo was fused with richly decorative silk damask to create a prim  tailored dress coat. MS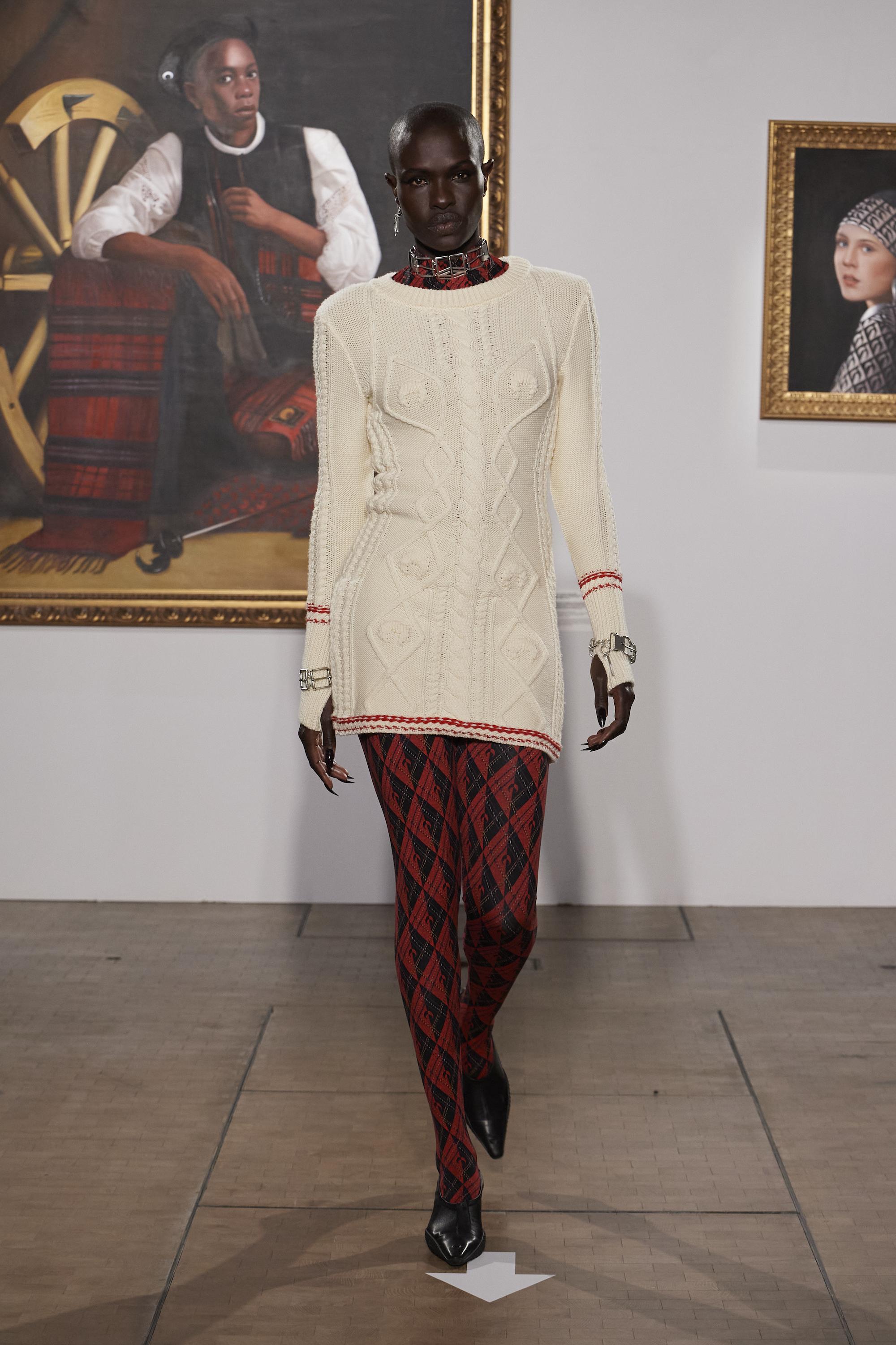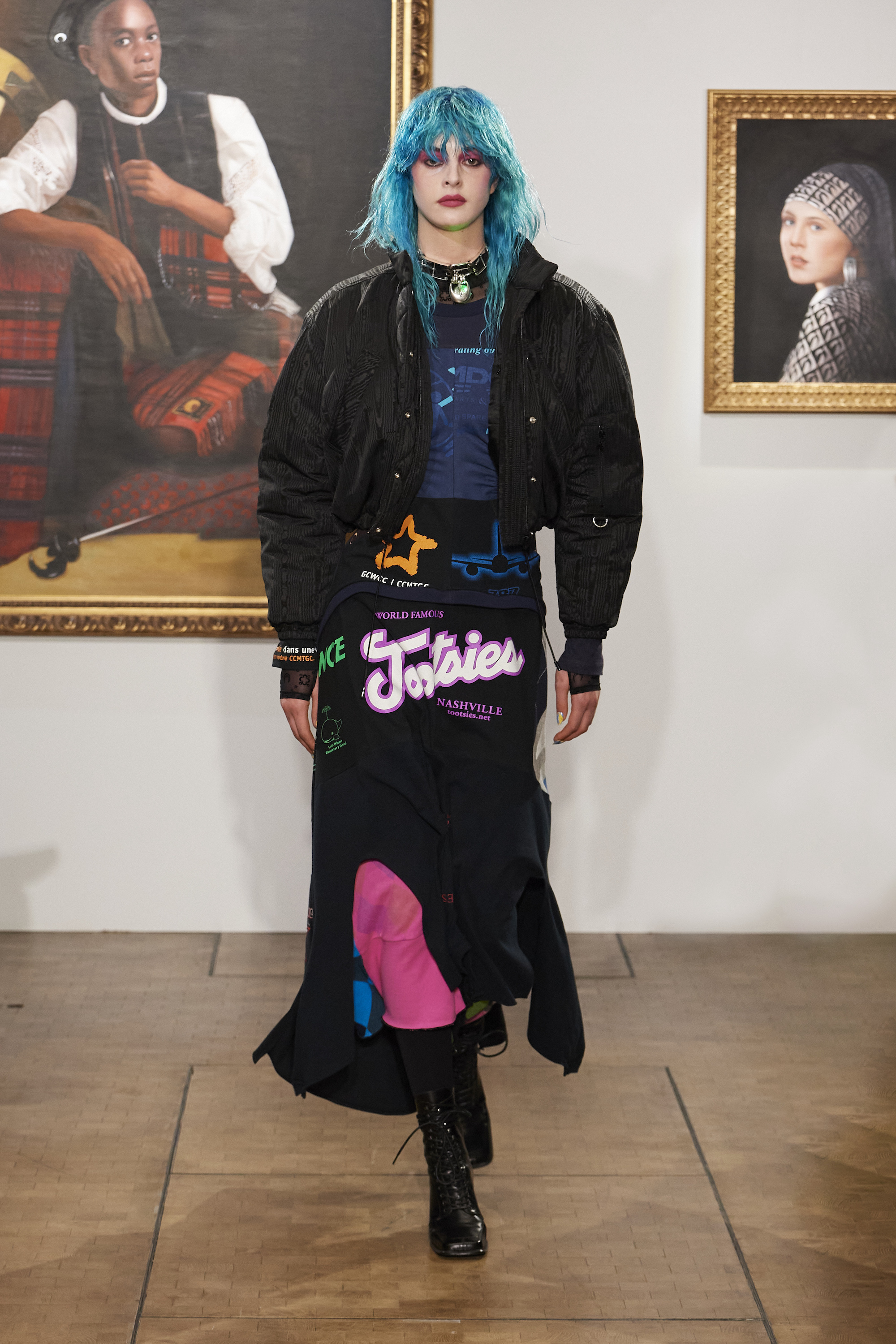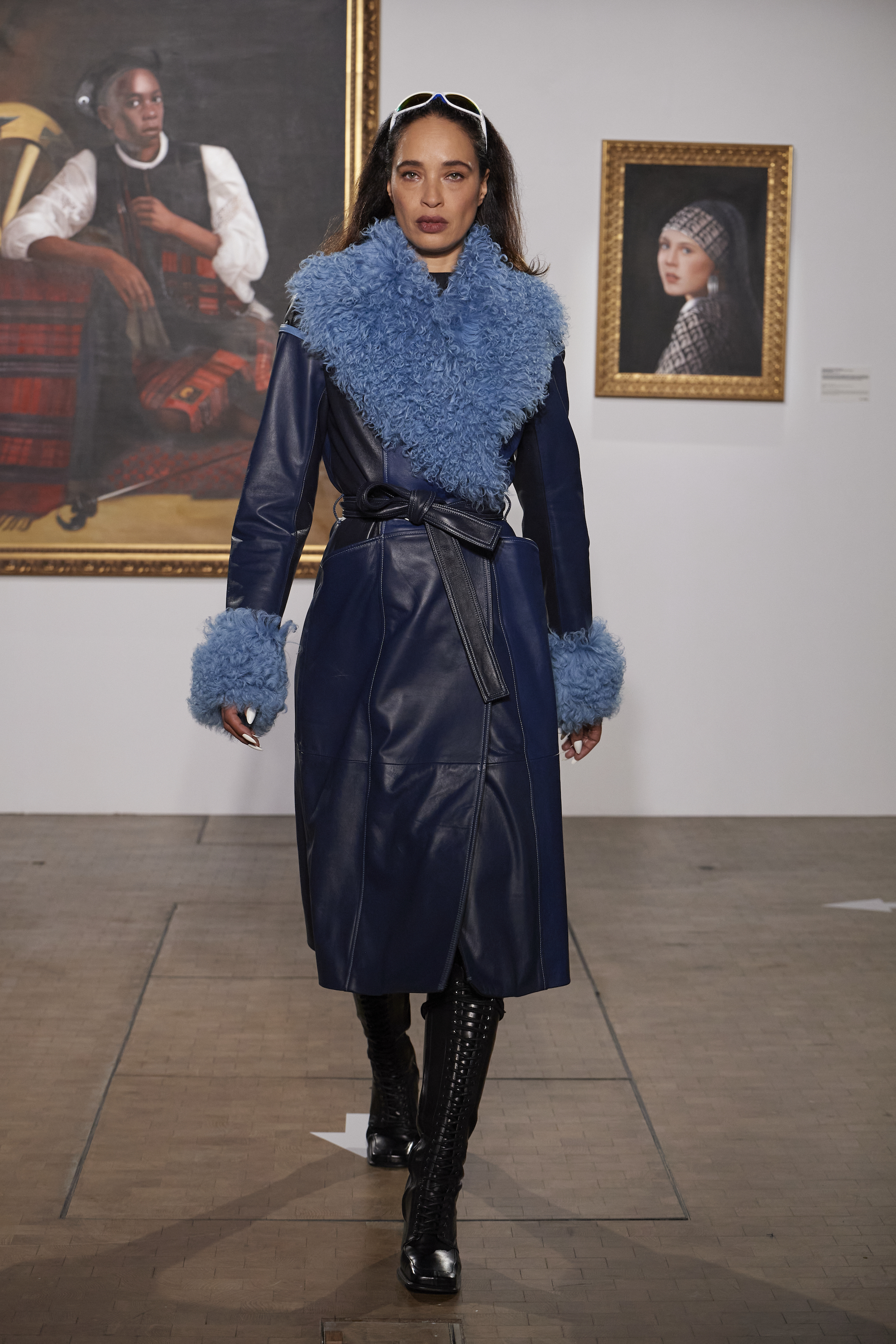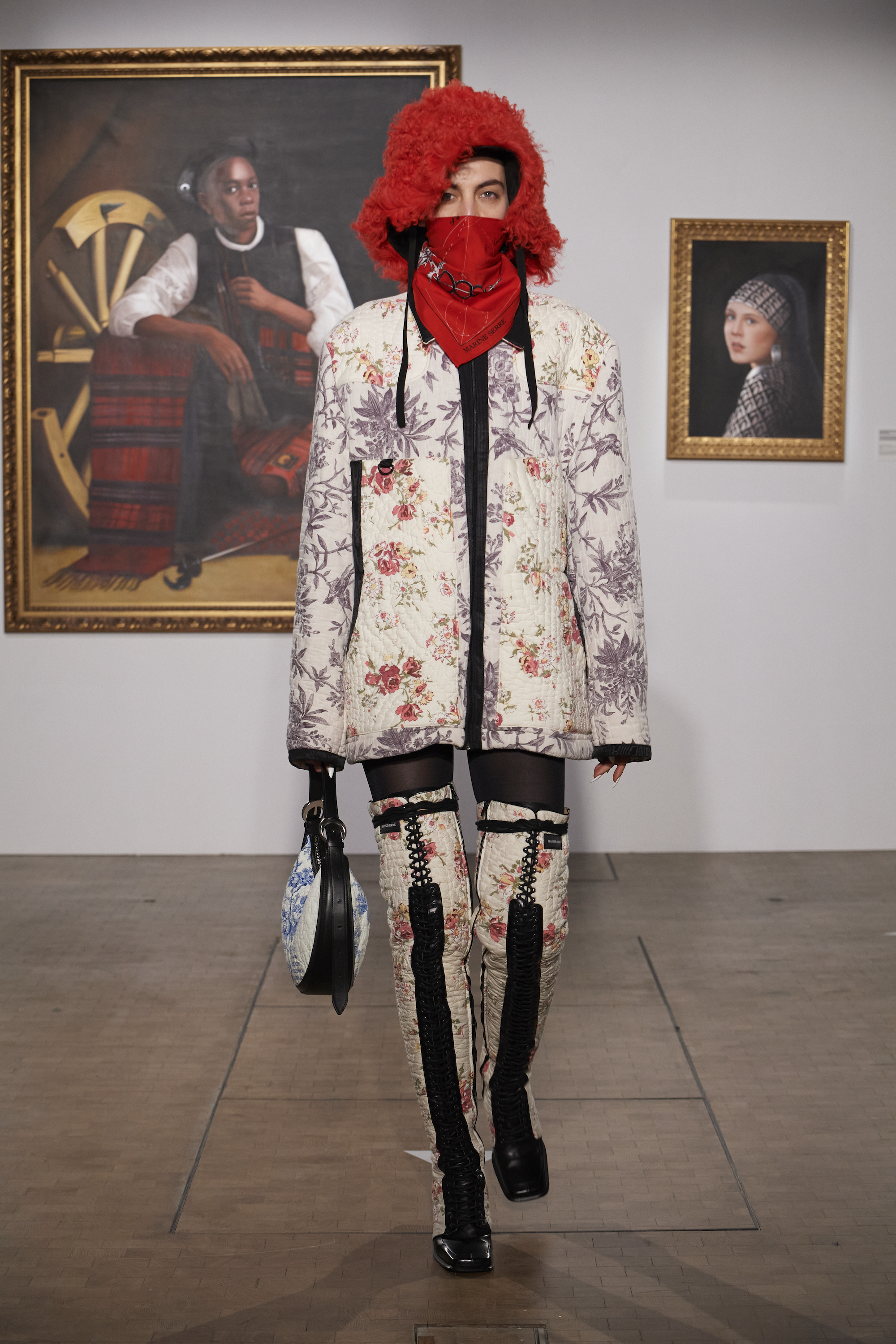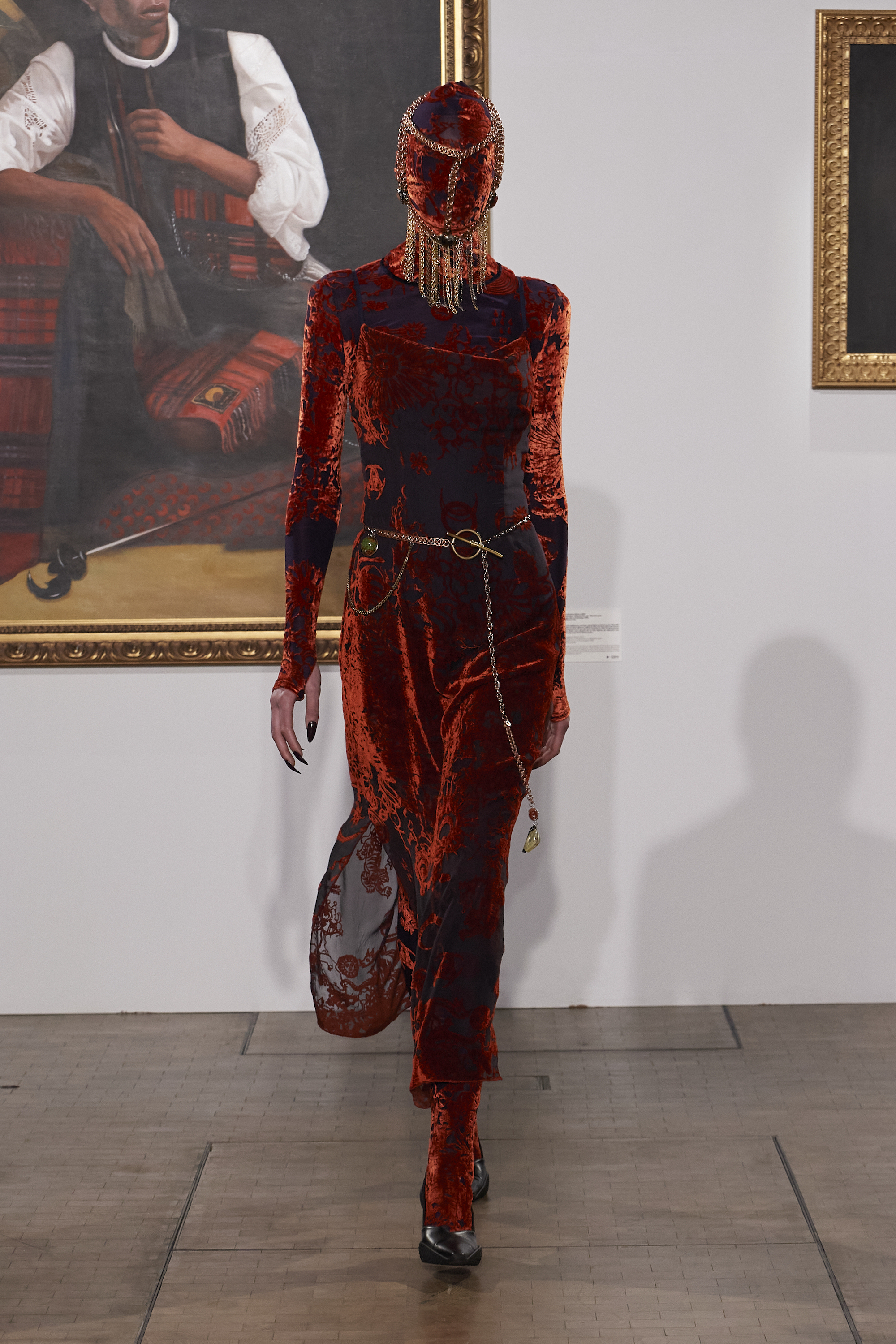 Images courtesy of Marine Serre.
Loewe
Loewe's AW22 show opened with a series of stiff-yet-sculptural leather dresses that had a windblown effect, almost like the marble or bronze draped clothes worn by statues. Together with the earthen-hued set, which was scattered with British artist Anthea Hamilton's leather pumpkins, it set the tone for an elemental collection that Jonathan Anderson described as "primitive", "irrational" and "pleasantly disturbing" in the same sentence. Sounds fab, right? Well, hit the link below for the full scoop!
Rick Owens
Fashion is a creative medium that relies on imagery to communicate. When you come to us to read a review, for example, you're likely here as much for the sake of checking out the runway imagery as for relishing our top-tier prose. All that said, accurately conveying the experience of Rick Owens' AW22 show in Paris, through image or text, feels like an almost impossible task. Why, you ask? Well, click below for the full review and find out!
Ludovic De Saint Sernin
For this season's muse, Ludovic de Saint Sernin chose a person he knows better than any other: himself! Conceited as that may sound at first, however, the message at the collection's heart is a little more nuanced. A contemplation of the relationship between one's private and public personas, it echoes the ways in which designers before him — from Rick Owens to Yves Saint Laurent – have stepped beyond being anonymous clothes makers to become figureheads of their empires, relinquishing privacy and opening themselves up to public speculation.
Titled "All The Rumours Are True", the collection Ludovic showed yesterday offered a witty self-assessment, inviting us into a hyperbolised day in the Parisian designer's life. A suite of buzzy, rave-y looks comprised wrap-around crop tops, a chainmail plastron, Swarovski mesh boleros and monogrammed tank tops, styled – this season by Versace mainstay Jacob K – with laser-monogrammed denim jeans with flaking crystals. Of course, this overtly queer, sexy sartorial language is one that Ludovic has become well-versed in over the five years since founding his label. Where real development made itself felt, though, was in the decidedly-daywear looks. Cosy monochrome knit separates in grey, taupe and chocolate – the latter of which was sported by Ludovic himself in yesterday's show – sat next to vented trench coats in sumptuous cashmere, wool column dresses and pencil skirts and exquisite satin shirting. While this may have been a collection that drew upon the label's namesake face for inspiration, in opting a more tangible reference point over the usual steamy fantasies that have been peddled in previous seasons, this was Ludovic de Saint Sernin's most relatable, most accessible collection to date. MS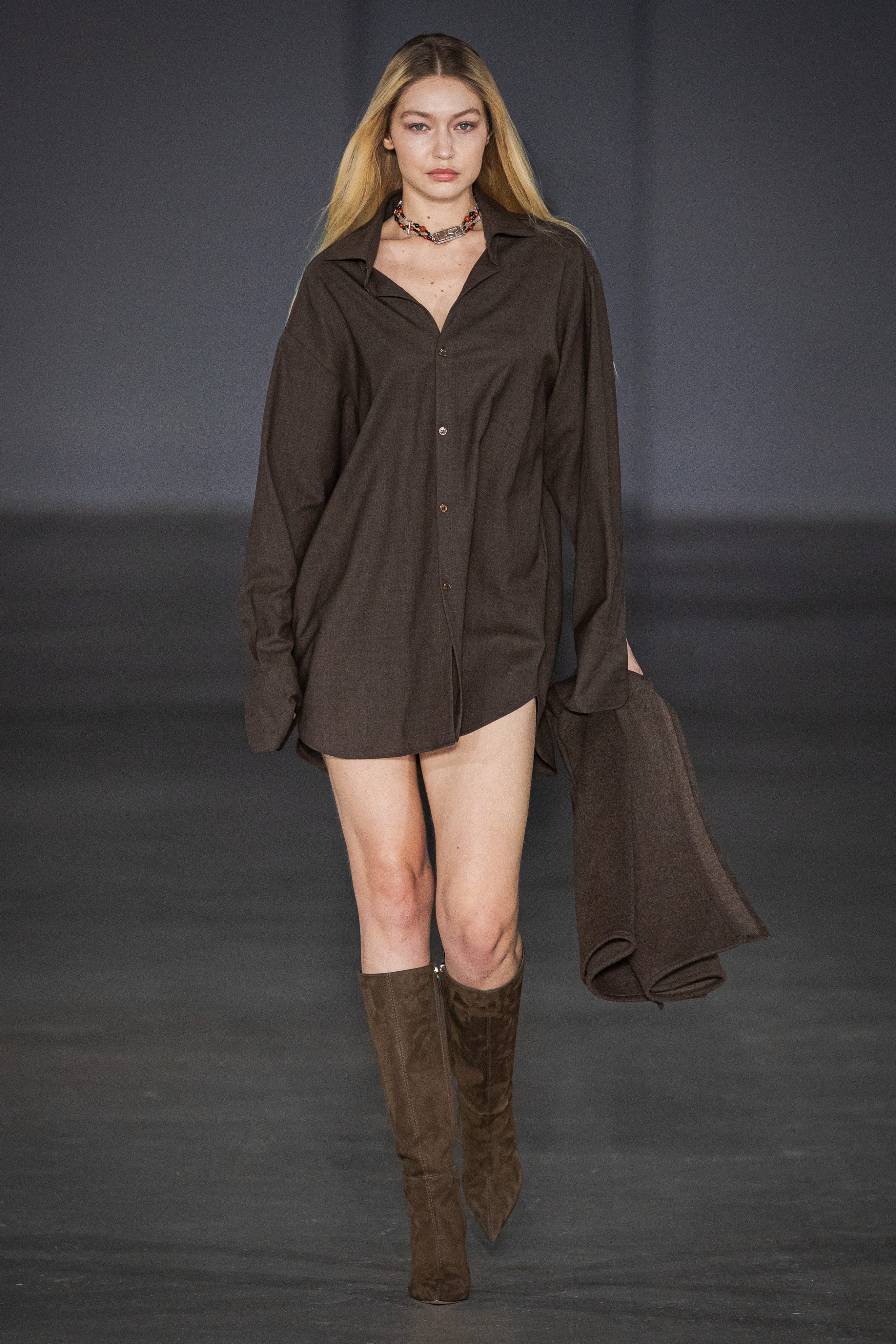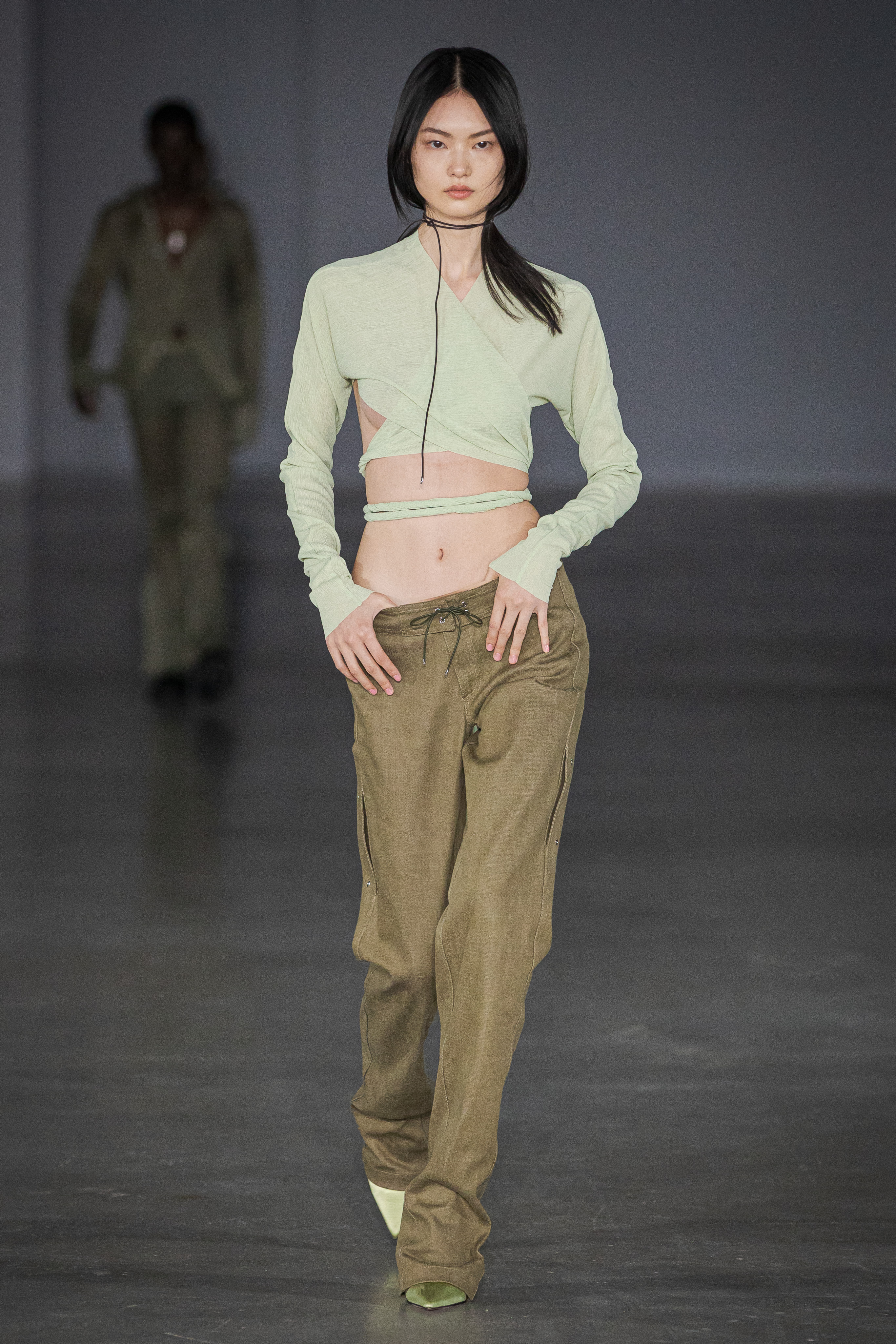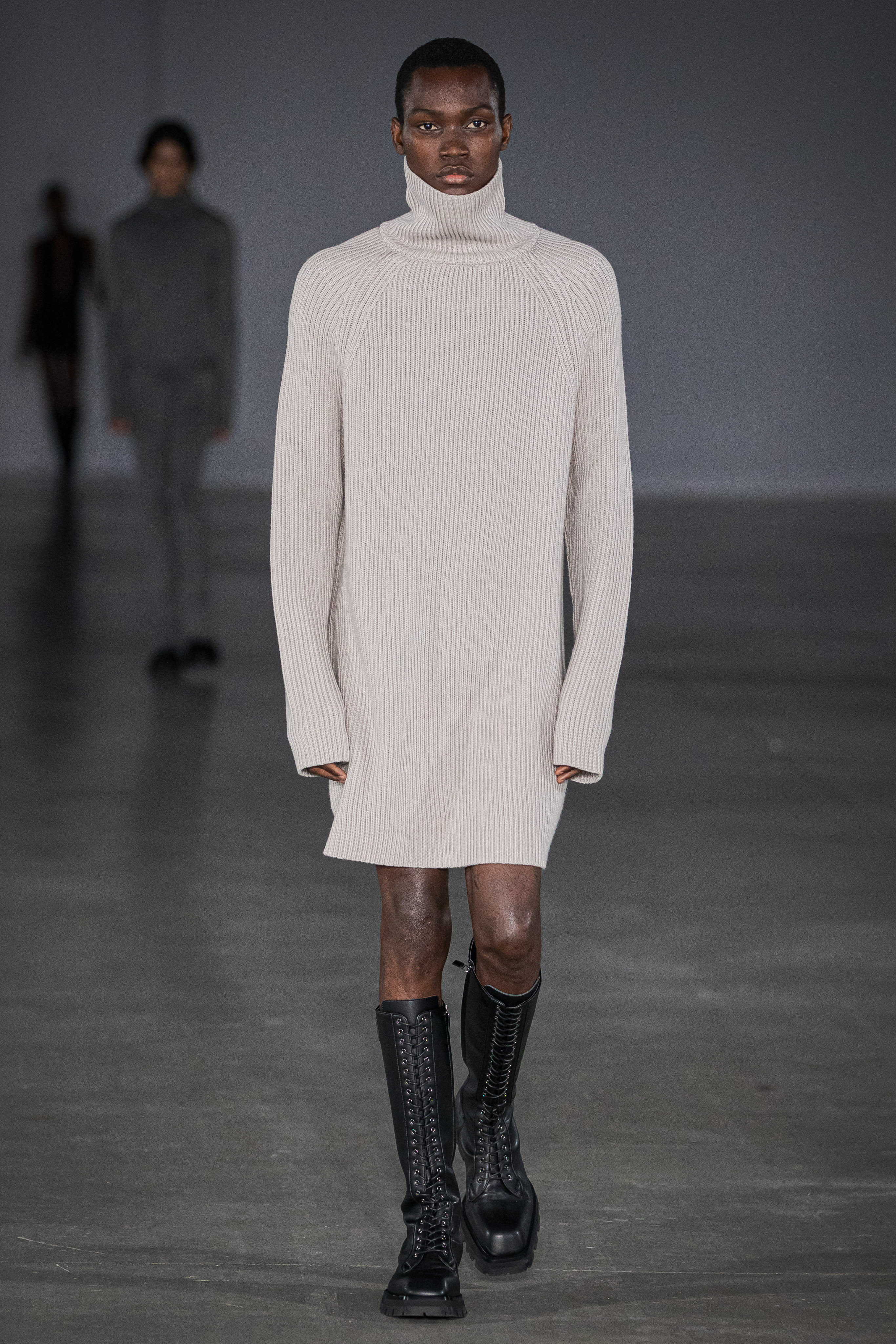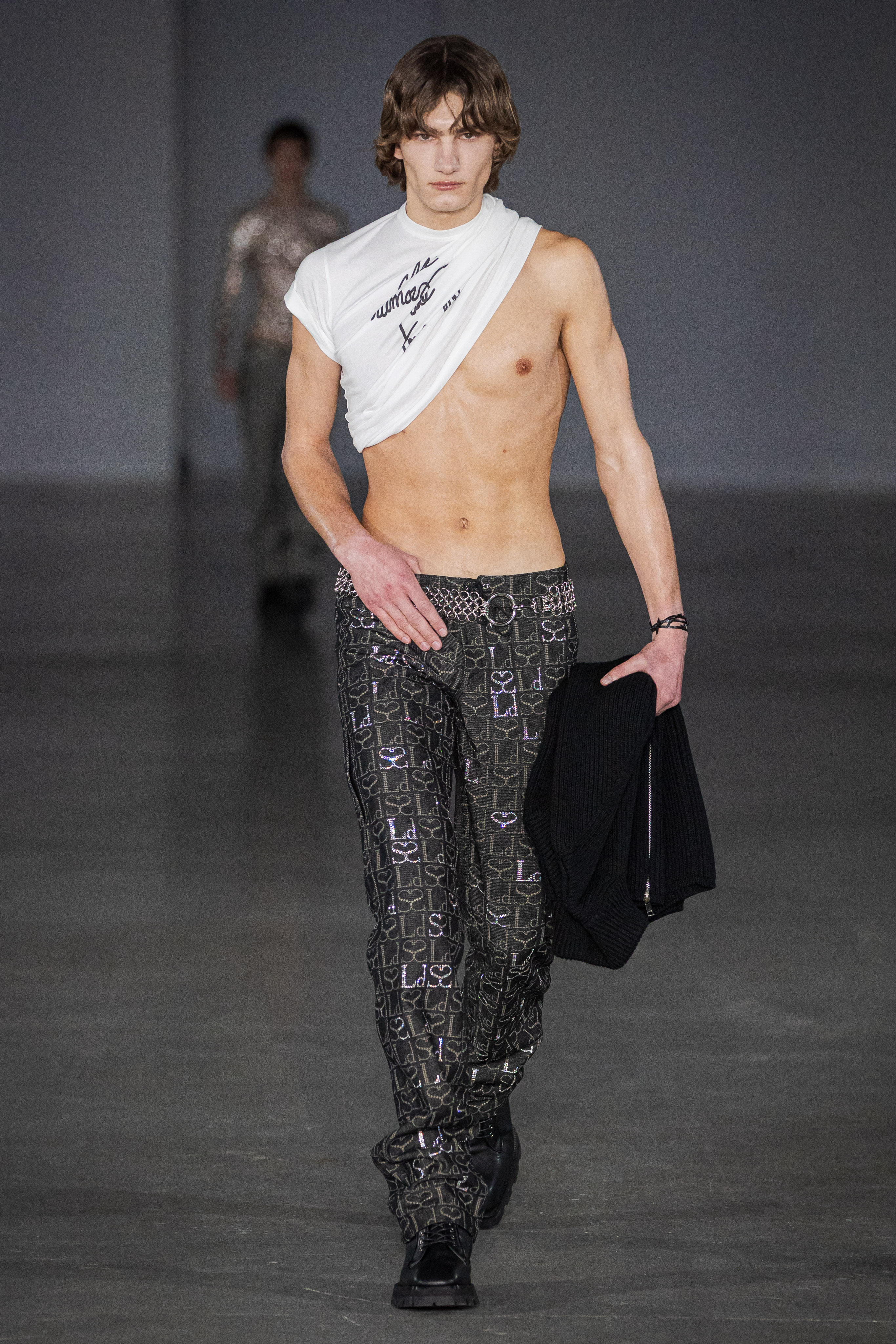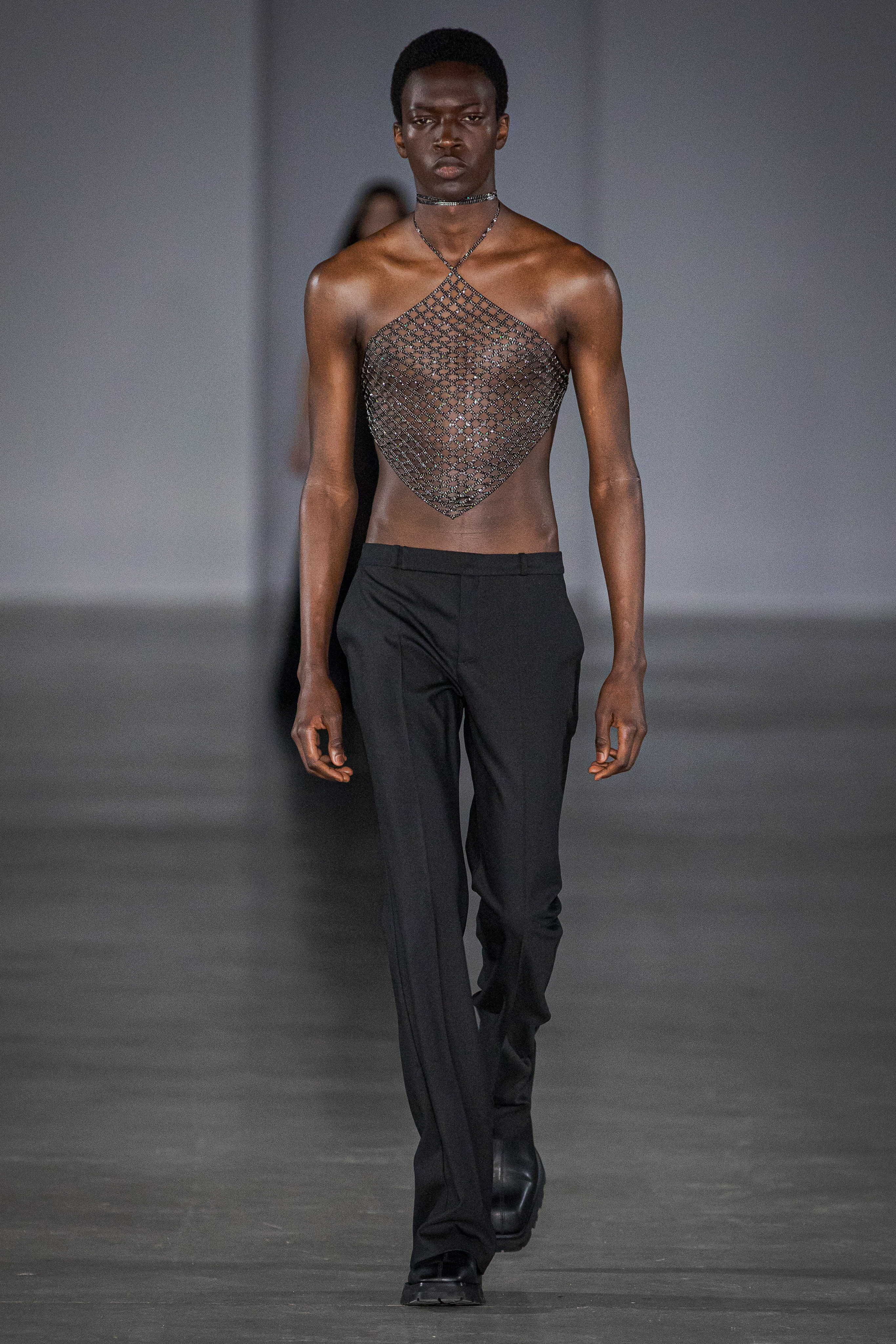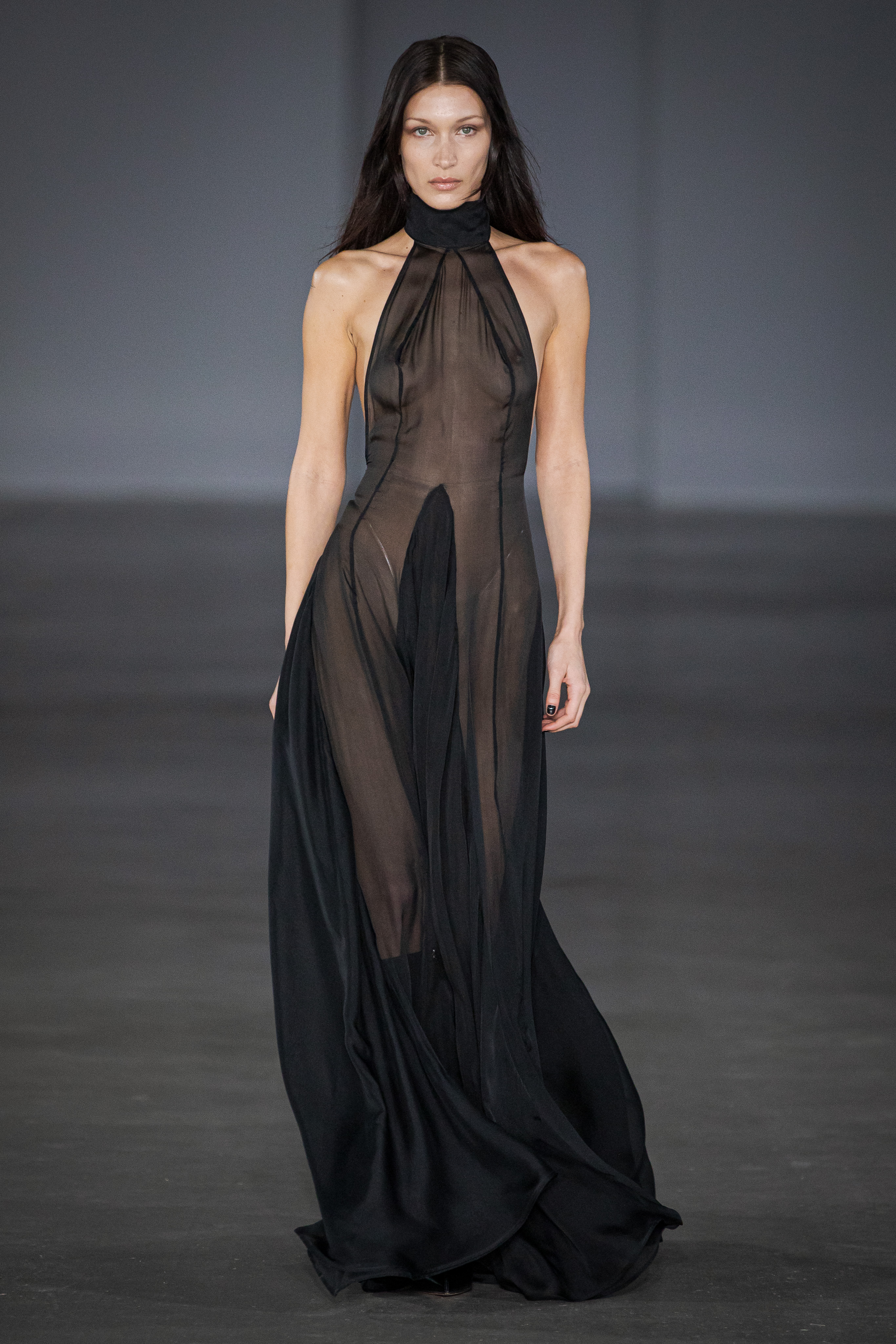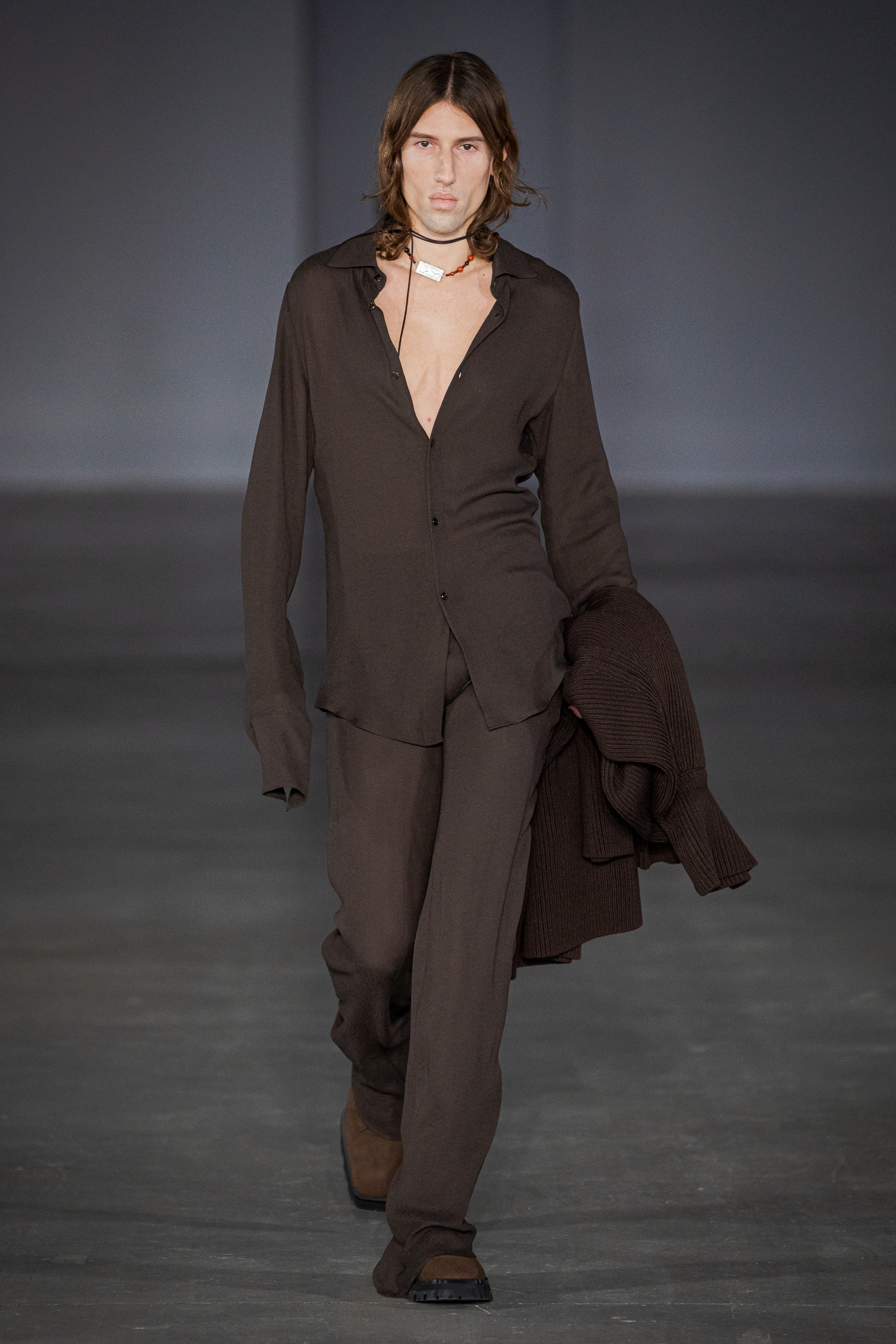 Images courtesy of Ludovic De Saint Sernin.
Coperni
Following on from the schoolgirl nostalgia we saw sweep the runway for SS22, the latest label to take things back to the classroom were Coperni, who opened the fourth day of Paris fashion week. An ode to youth – and to the many facets of what it means to "grow up in a world of unpredictability with the crisis we are in", the show notes read – that inspiration informed cowl-hooded wool minidresses with hemlines so high they'd probably land you in detention, thigh high stockings, cropped stone grey jackets with belted jackets and itsy-bitsy wrap skirts. Rather than satchels, i-D faves Mica Argañaraz, Adut Akech and Rianne van Rompaey carried blown glass iterations of the label's virally popular [TKTK] bag, created in collaboration with Danish artist, model and designer Peter Dupont and TKTK Breanna Box. Matronly blazers and trench coats were also sexed up with gaping, oblique-baring cut-outs. Prom-ready tube dresses in sparkly chiffon and knotted black satin featured wispy trains, and flirty pops of Y2K came through in form-fitting halter tops, pastel faux fur coats, and gossamer lace shirting styled with low-rise leather trousers. MS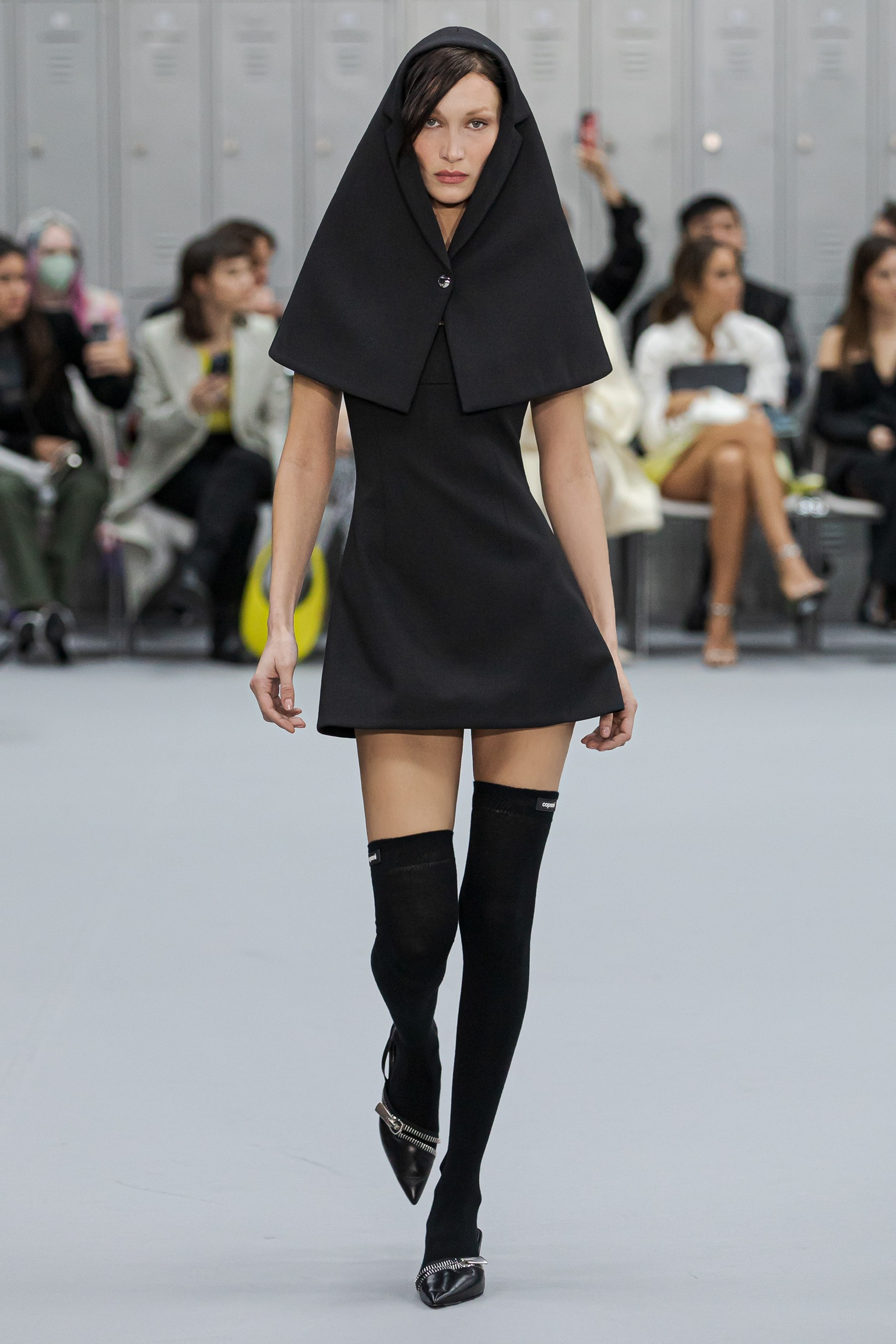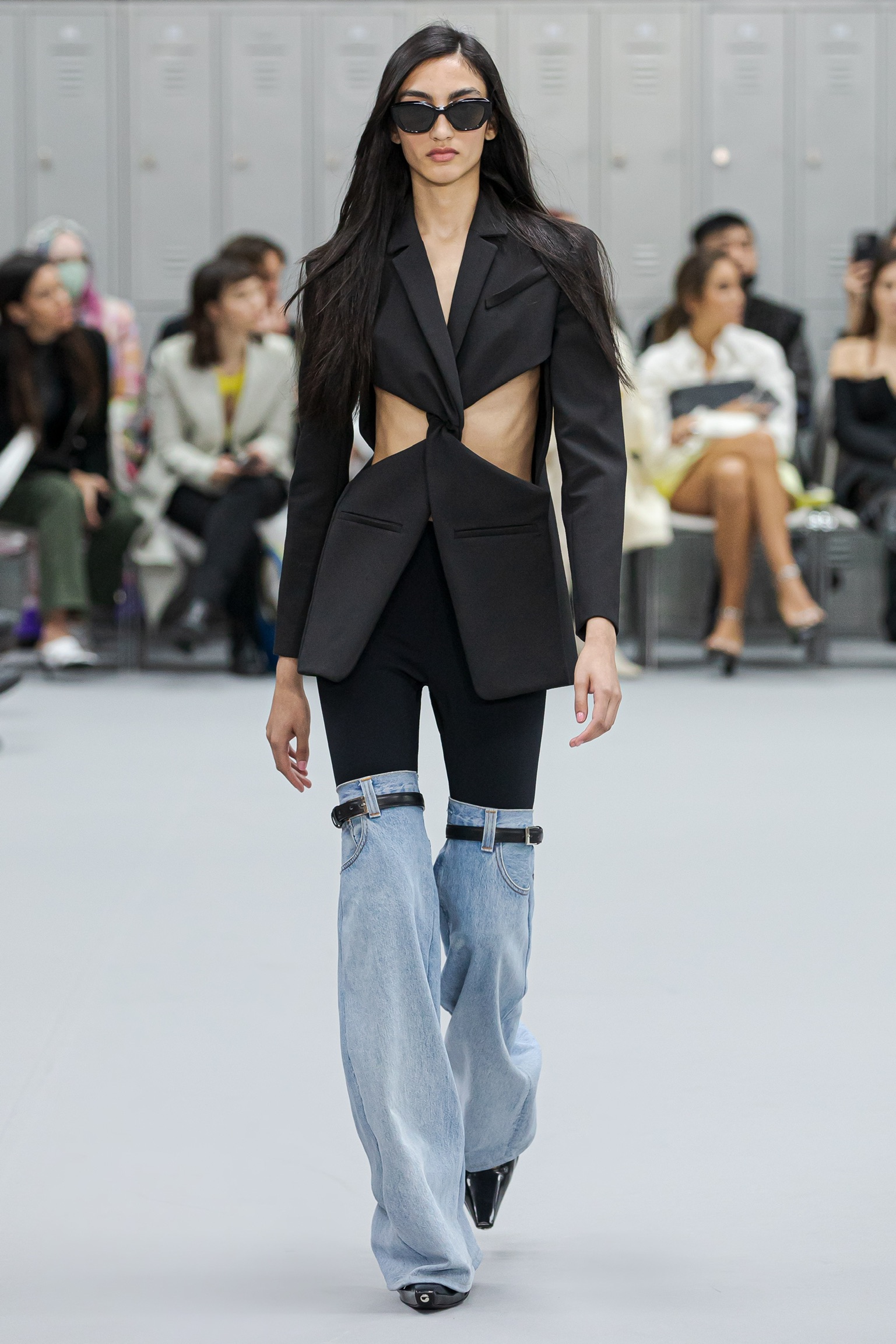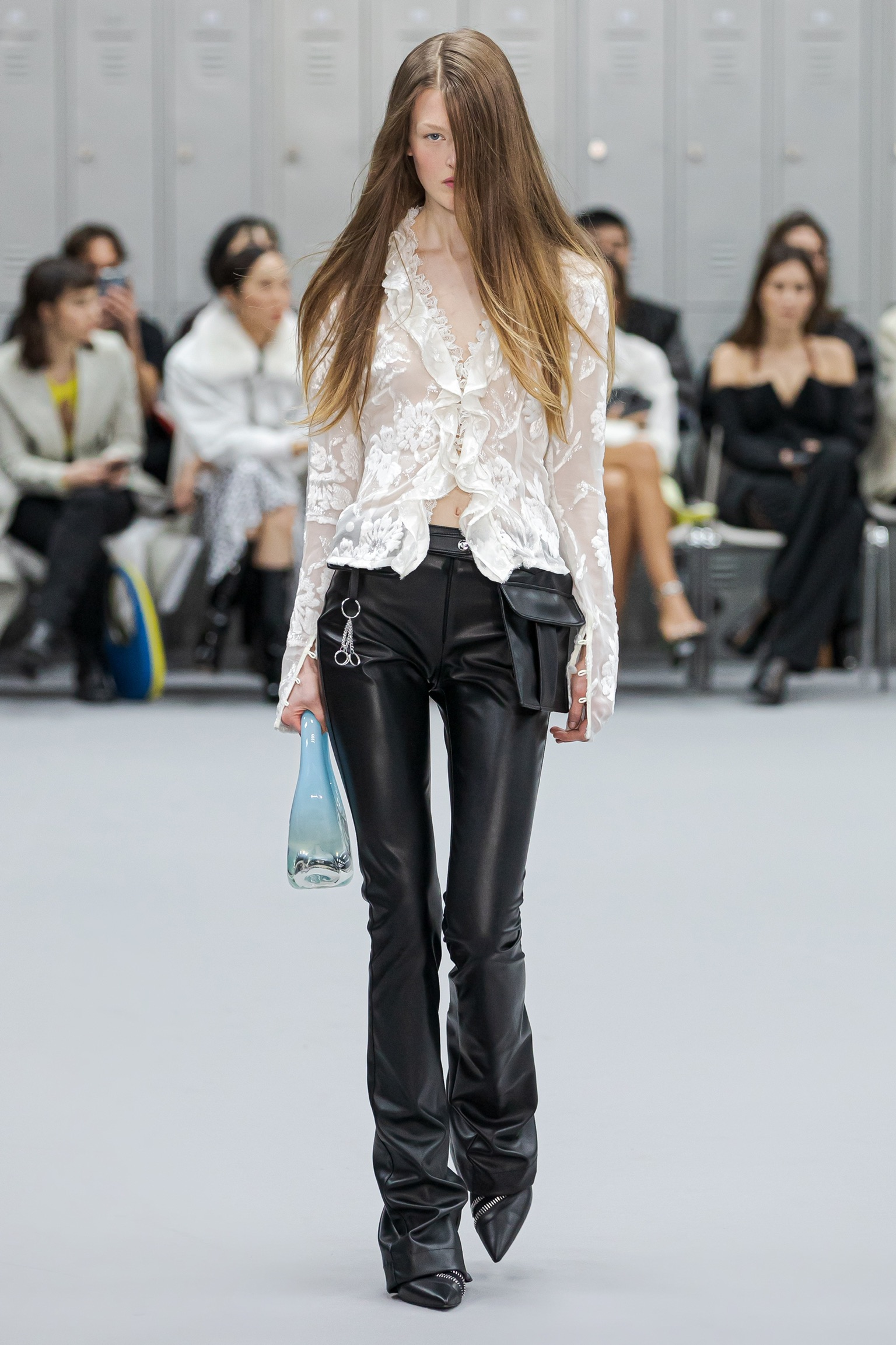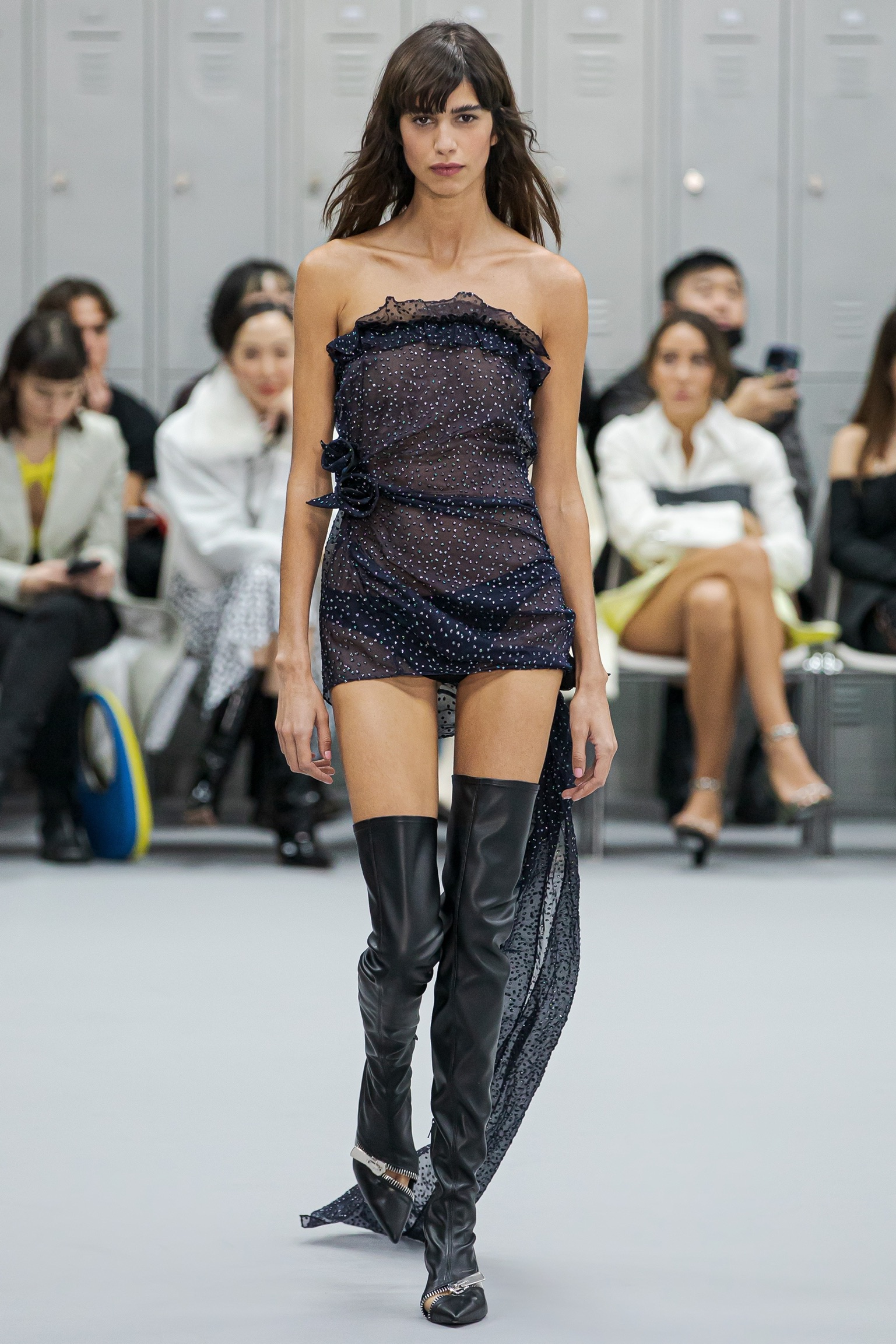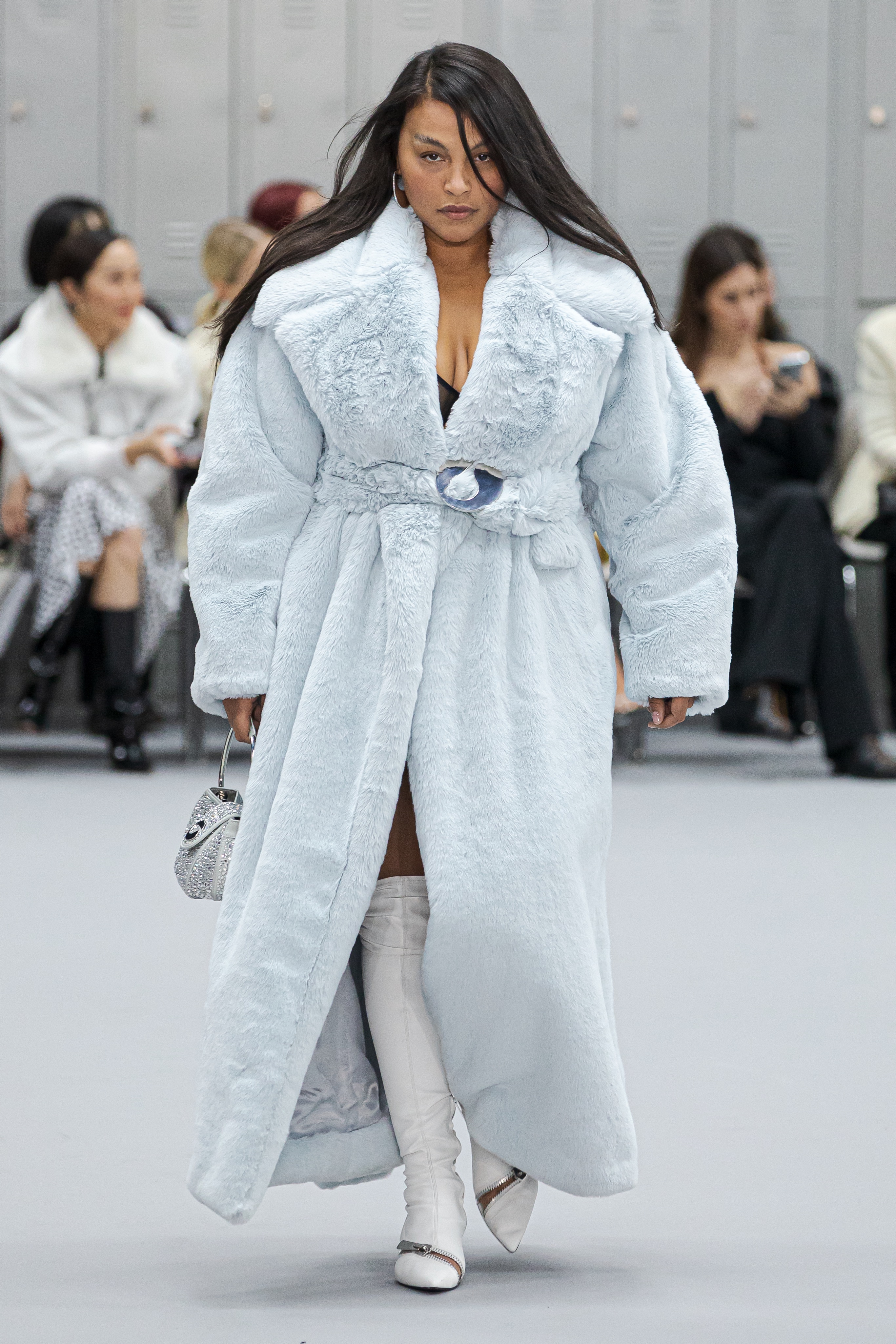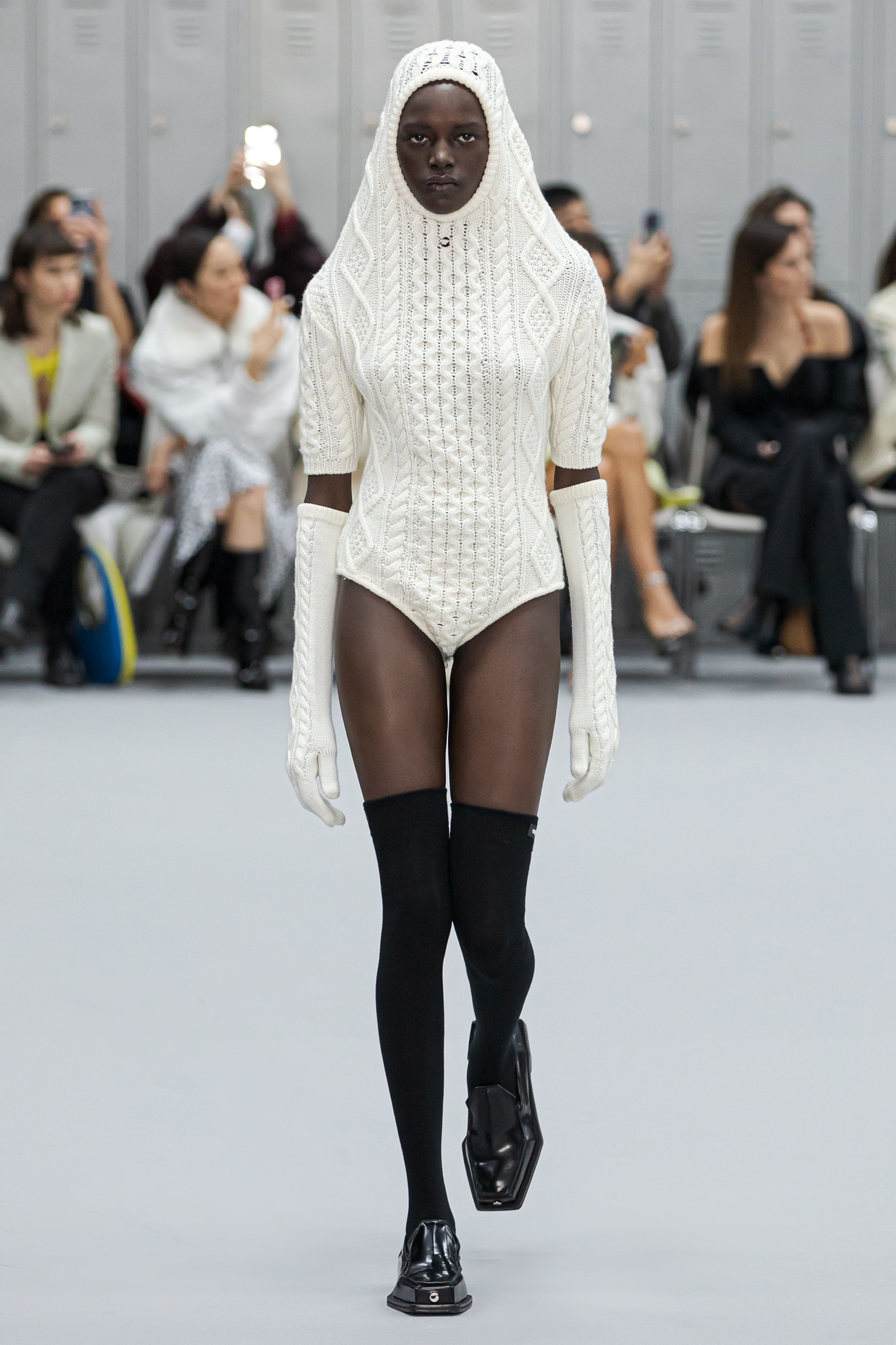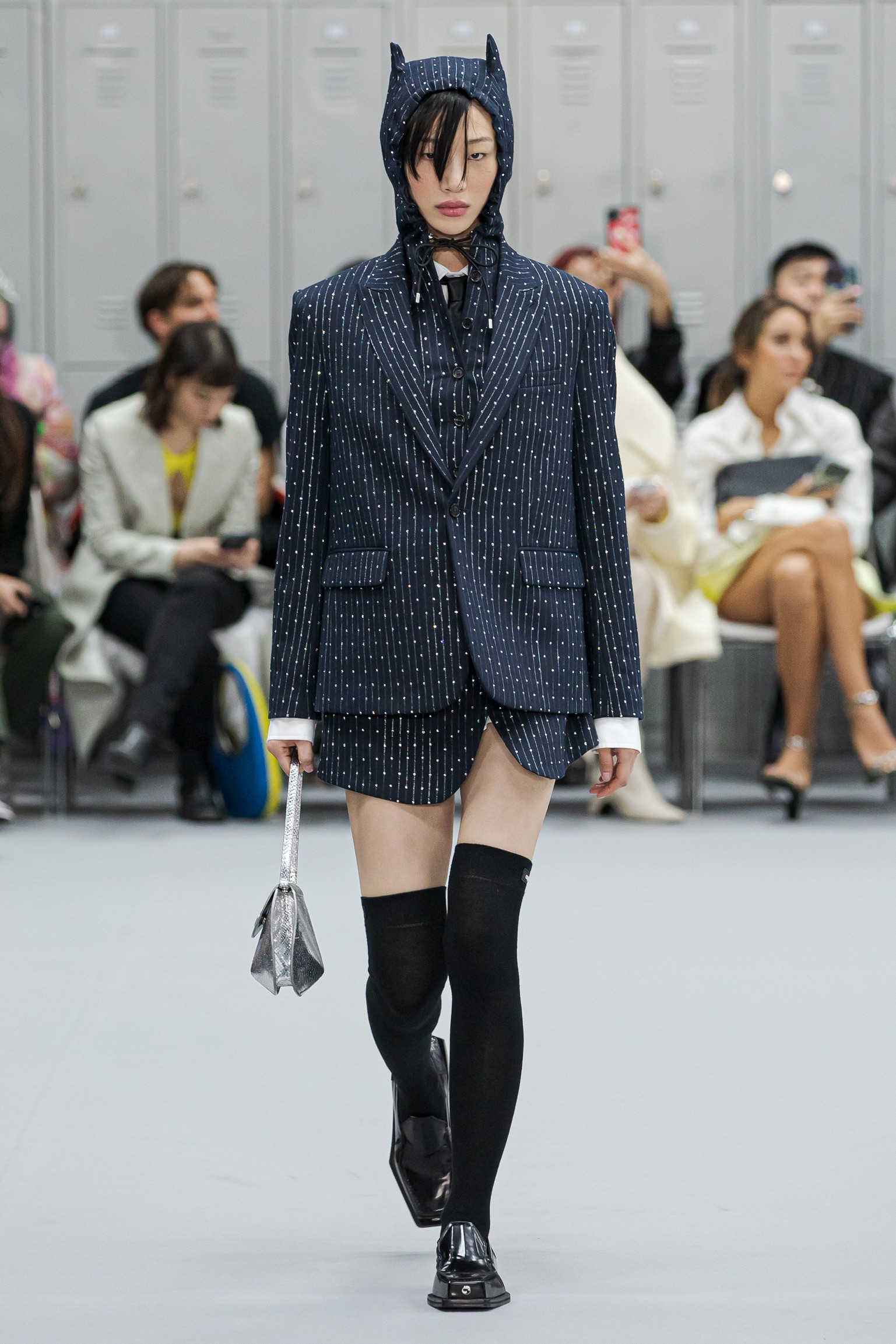 Images courtesy of Coperni.
Courrèges
'Courrèges' and 'trash' are two words we never thought we'd write in the same sentence, and yet, here we are. That's not a reflection of the clothes on show in Nicolas Di Felice's third collection for the storied Parisian house, but rather of the context in which it was shown — around a square of crumpled drinks cans in a jet black room, which glistened like an artful arranged collection of the debris left behind from a wild night before.
Of course, there's been much said about the relationship between the incumbent creative director's vision and the club, but here the reference was in fact to a 1973 collection that Nicolas exhumed a video of from the archive. Shown in a junkyard, André Courrèges' exquisitely cut, geometric clothes were brought into relief — more importantly, though, the context anchored the garments in a gritty sense of reality, making them feel far more tangible than they would in an airy salon.
A similar spirit colours Nicolas' vision for the house. As stunning as his pieces look on Kendall Jenner walking down a runway, he is a designer who makes clothes that truly come to life when seen on passersby on the streets. The collection he presented yesterday excavated Courrèges's key aesthetic codes— graphic lines, body-confident sensuality, and stark geometries. "We really draped around geometric shapes. That was our starting point, and then we really moulded the body," he told us backstage after the show, nodding to cropped slant-pocketed coats with circular back panels and bulging sleeves, and abbreviated tube dresses with peel-off silver square panels. Elsewhere, dresses brought together triangular drapes of satin hooked onto bralettes with the maison's signature hirondelle neckline, and rhomboid cutouts punctuated high neck tops and the side seams of dresses and second-skin trousers mapping out the lines of the body beneath. MS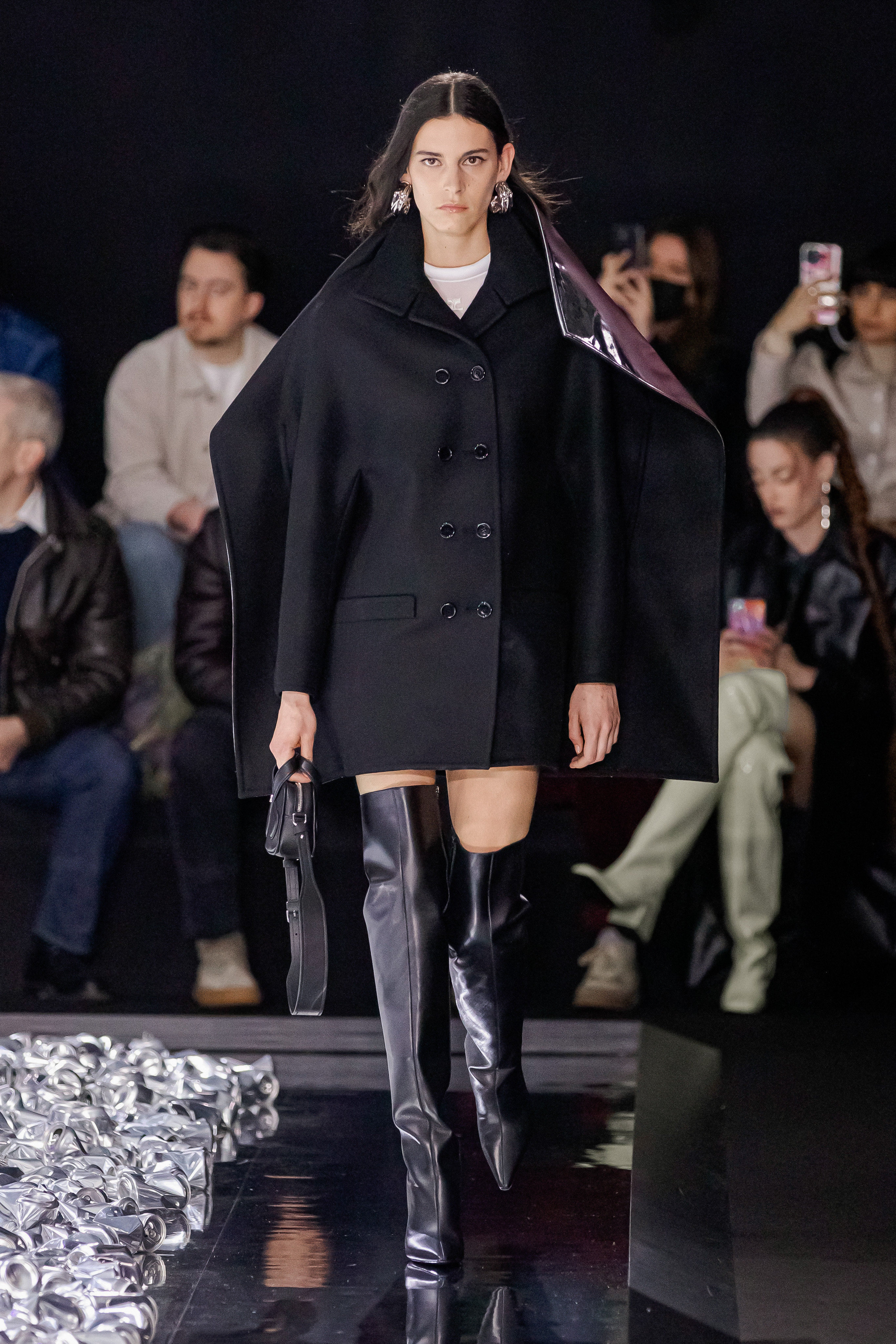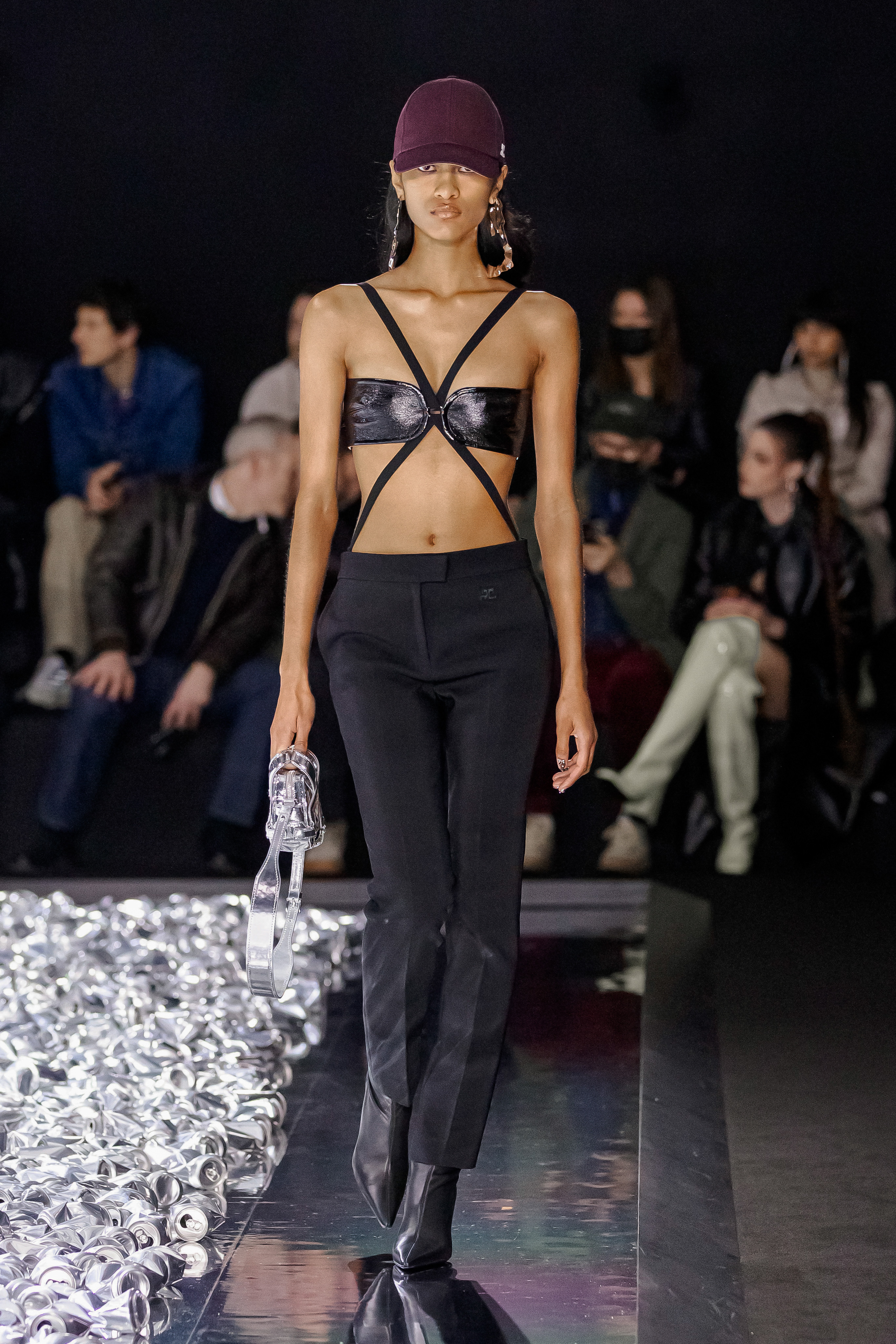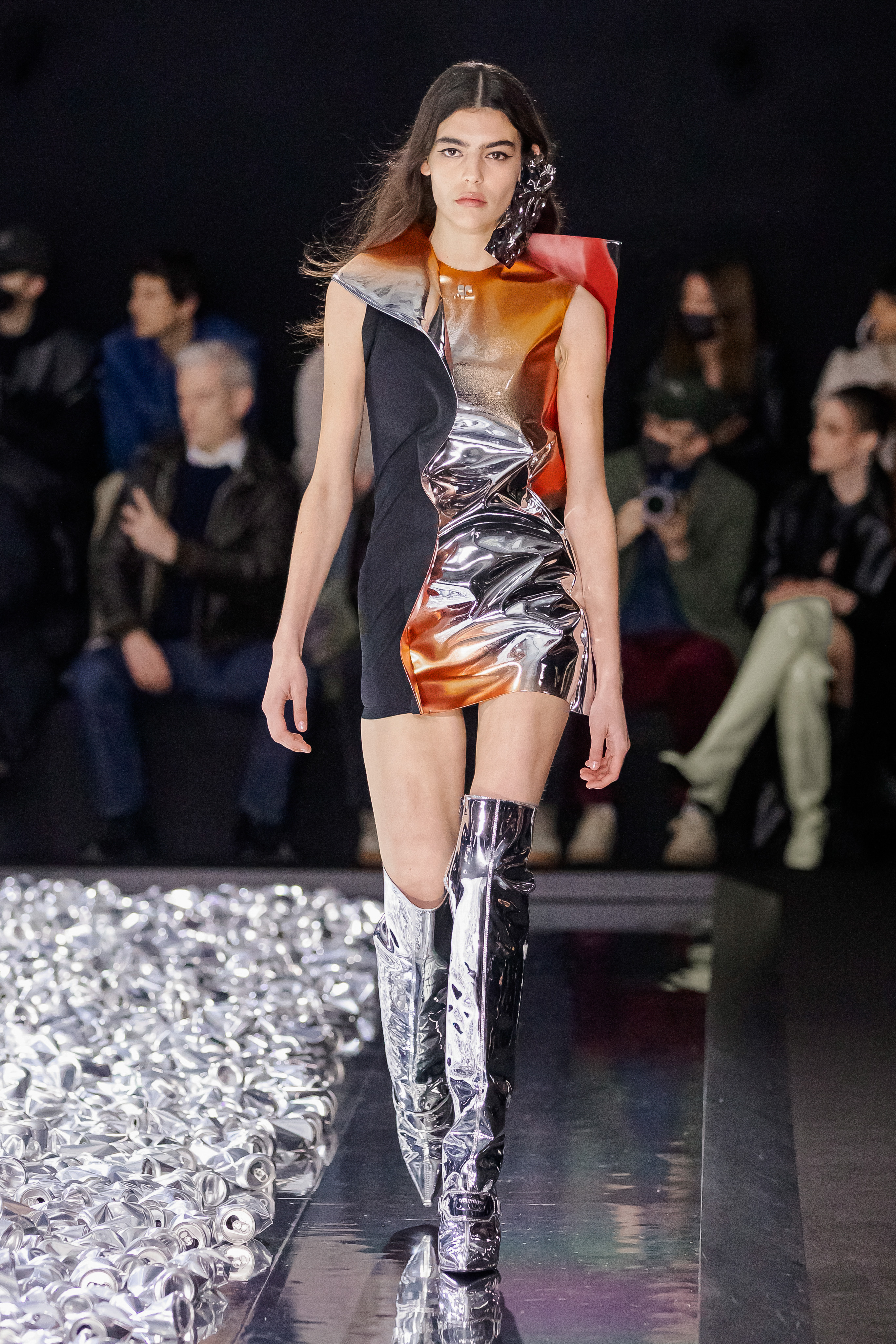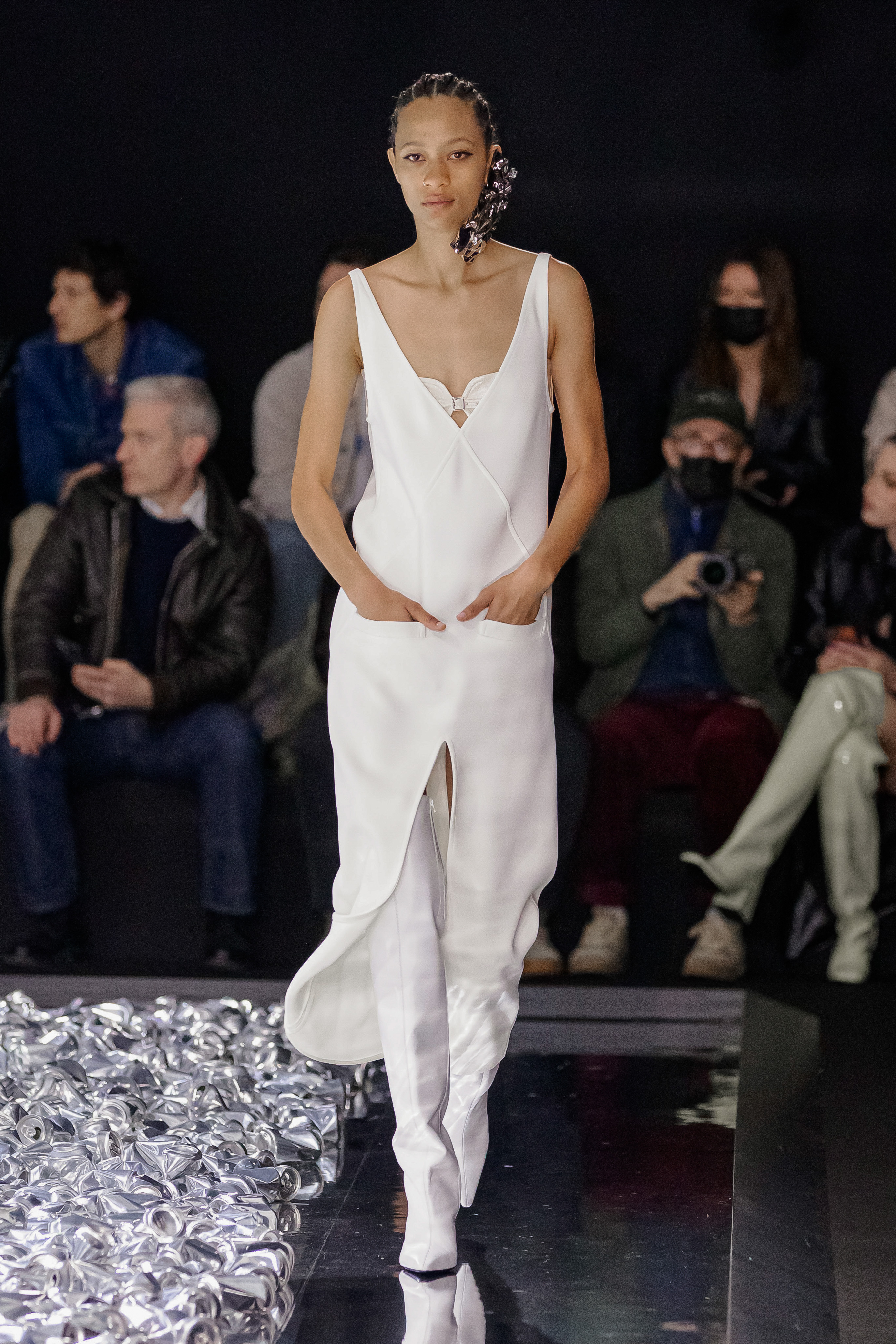 Images courtesy of Courrèges.
Balmain
If you're a fashion trivia head, you'll know that Olivier Rousteing's legion of loyal followers are best known as the Balmain Army. That being the case, it's tempting to draw the conclusion that the collection he presented yesterday in the cavernous hall of the Carreau du Temple was intended as a series of glamorous suits of armour for its members. With quilted, corsetted plastrons worn over lace tailoring, mattelassé leather moto trousers, gold-plated R2D2-y bodice dresses, and fishtail gowns with tactical vest details, it seemed as if this season's Balmain woman was being built up for battle.
Against the absurdly troubling headlines that have rocked the world over the past week, that may raise a couple of eyebrows. It should be noted, however, that rather than a kneejerk reaction to current affairs – it takes, after all, a little bit longer than a week to pull together a 100-look collection! The themes of protection it broached were of a far more personal nature. "Late last year, when I first began sketching these collections, my inspiration was a much more personal one: my response to not-always-pleasurable experiences on social media," Olivier wrote in his show notes, turning the militaristic tone of the collection into one of poignant self-preservation. Rather than overly defensive or sombre, however, the overall message was one coloured with optimism, as the collections palette of whites, creams and gleaming metallics well implied. It speaks to a realisations that Olivier said he'd made while working on the collection – that "the only possible response to the incredible shaming potential of social media is to face it head on—addressing it with honesty and clarity, while drawing courage from the support and love of others." MS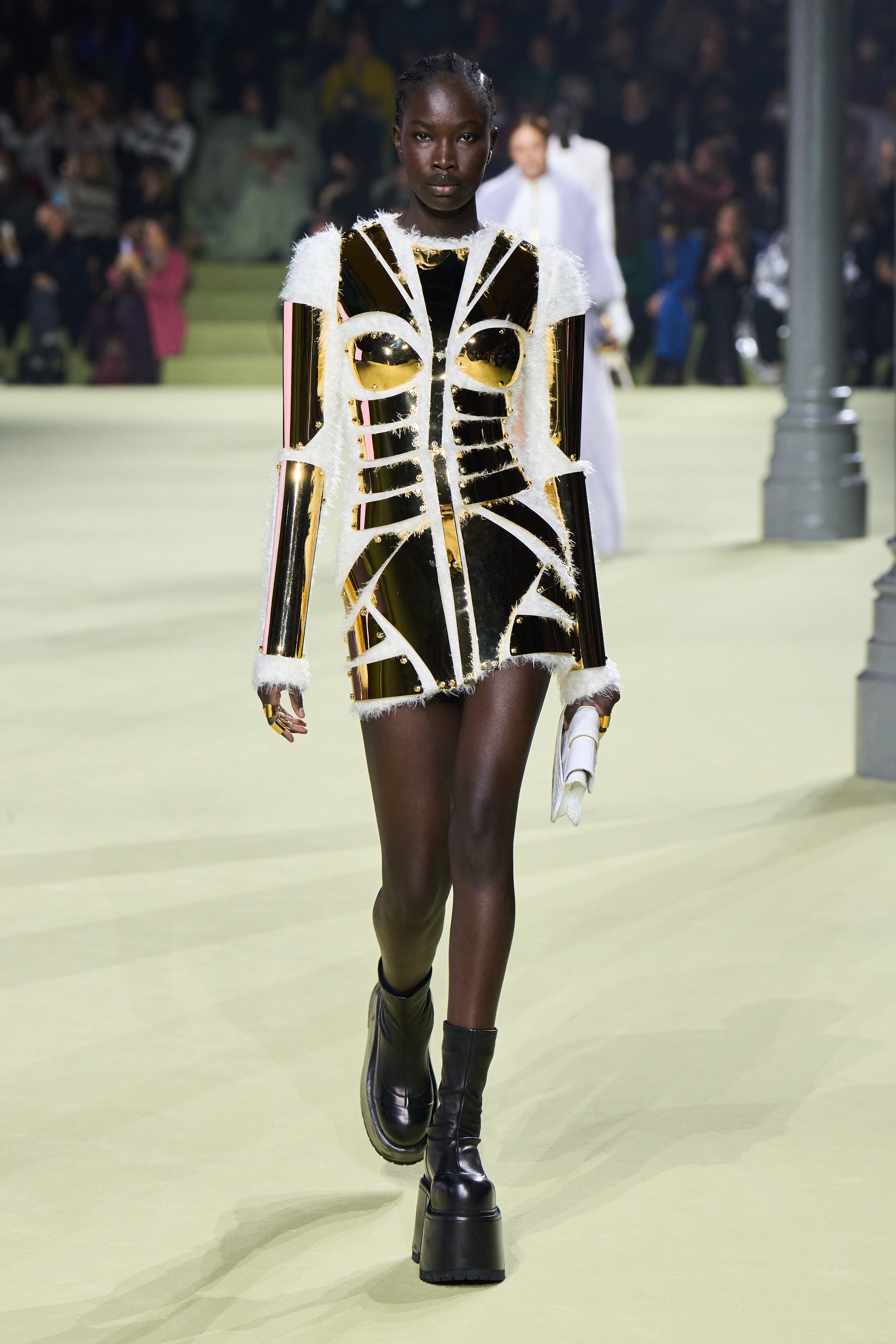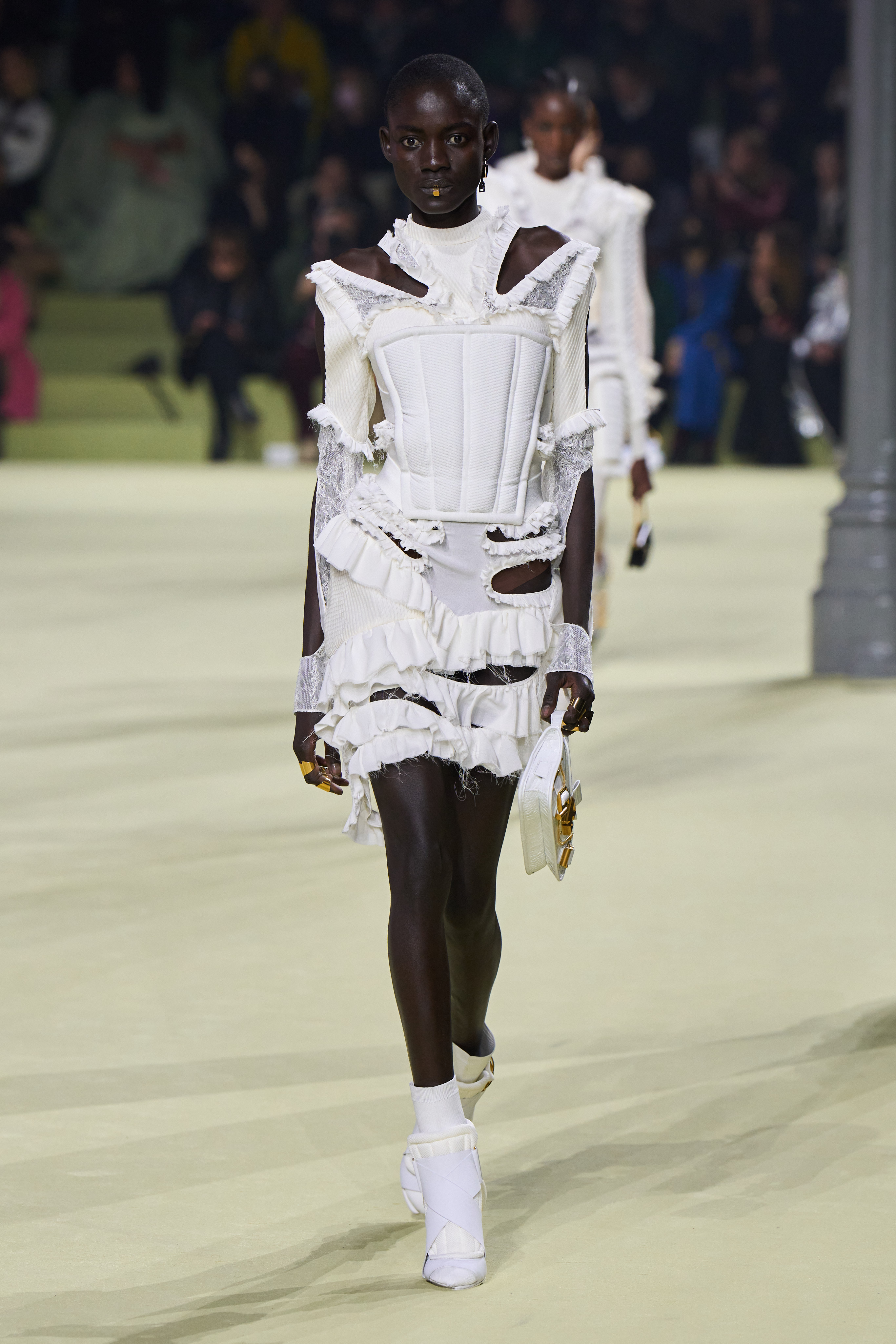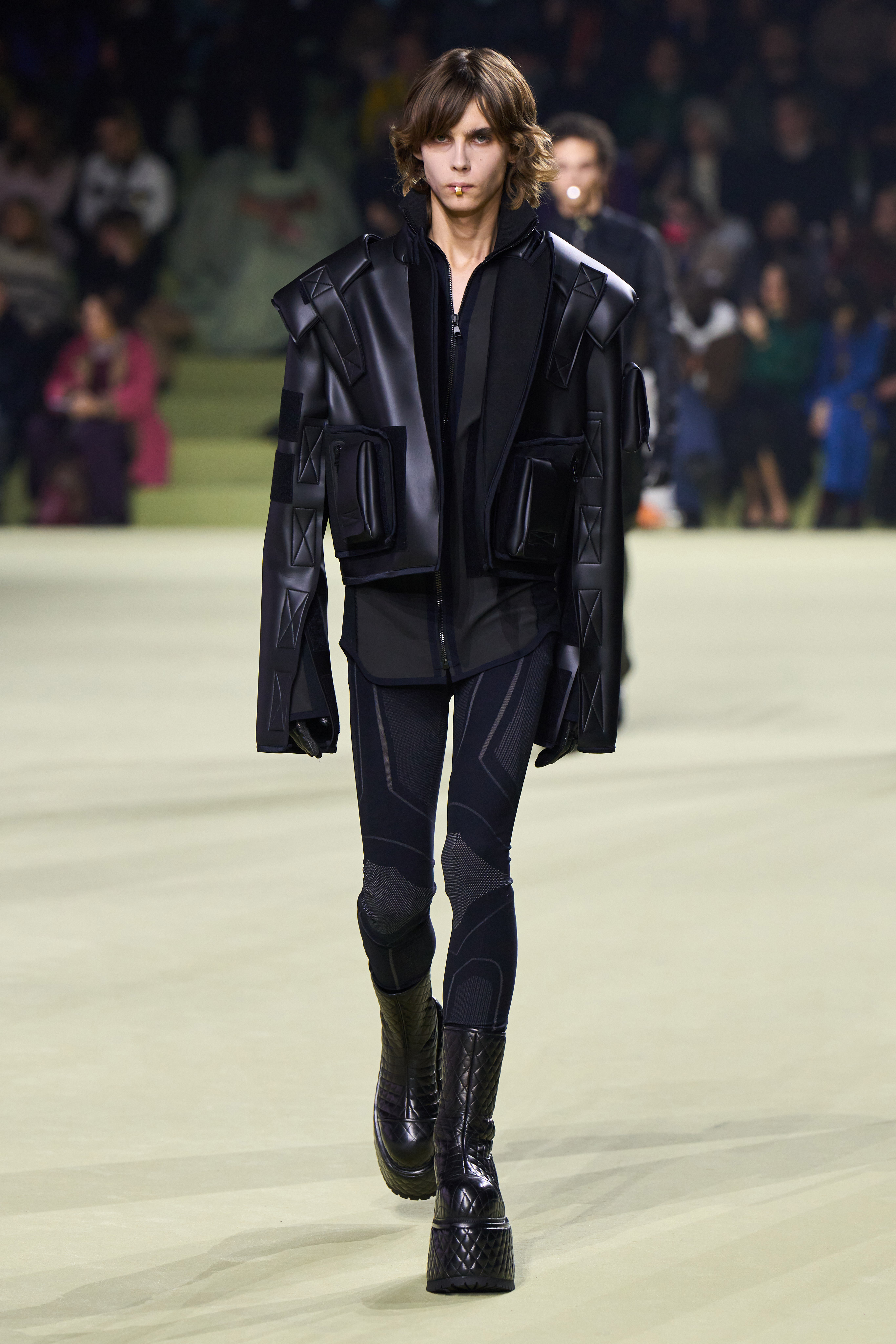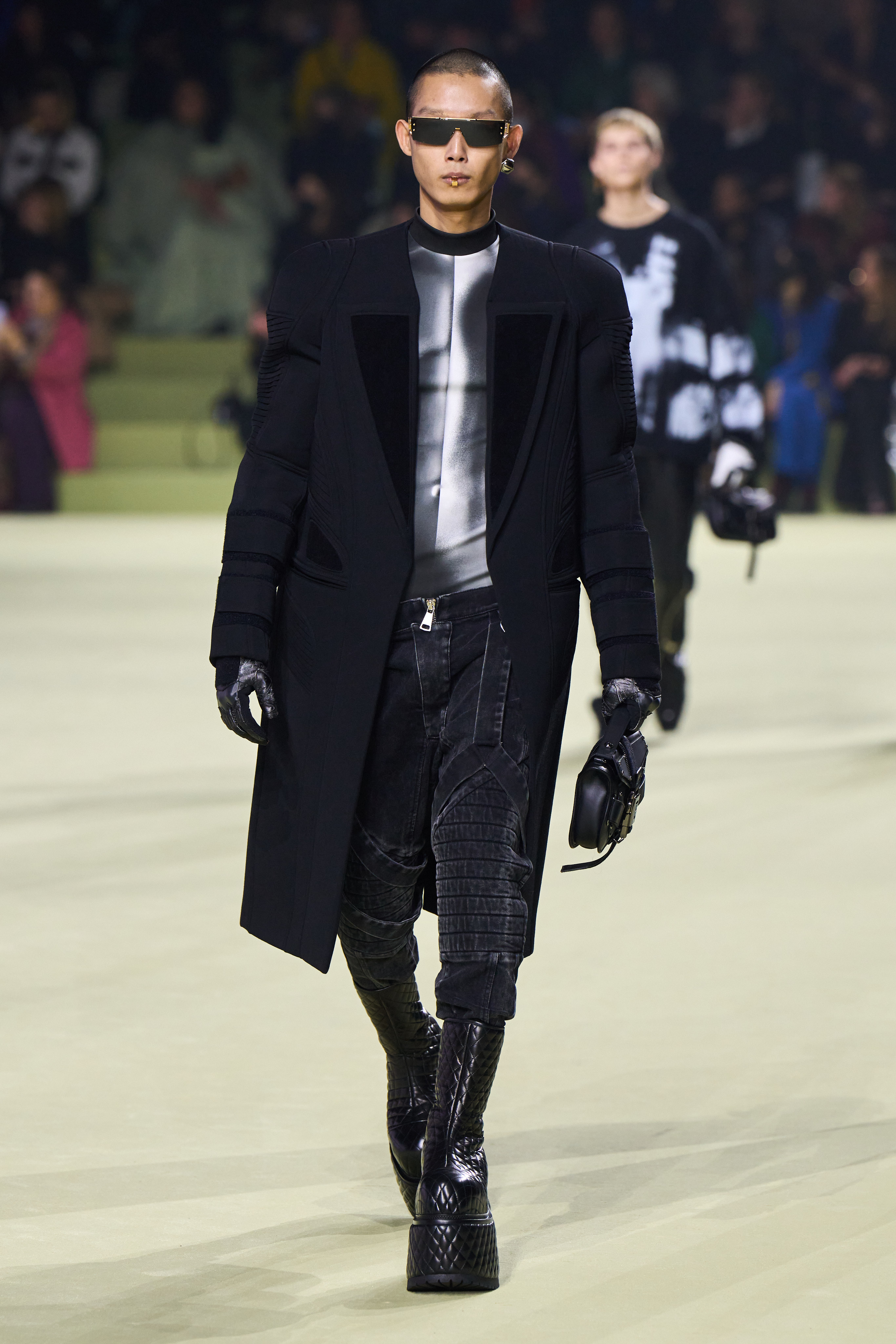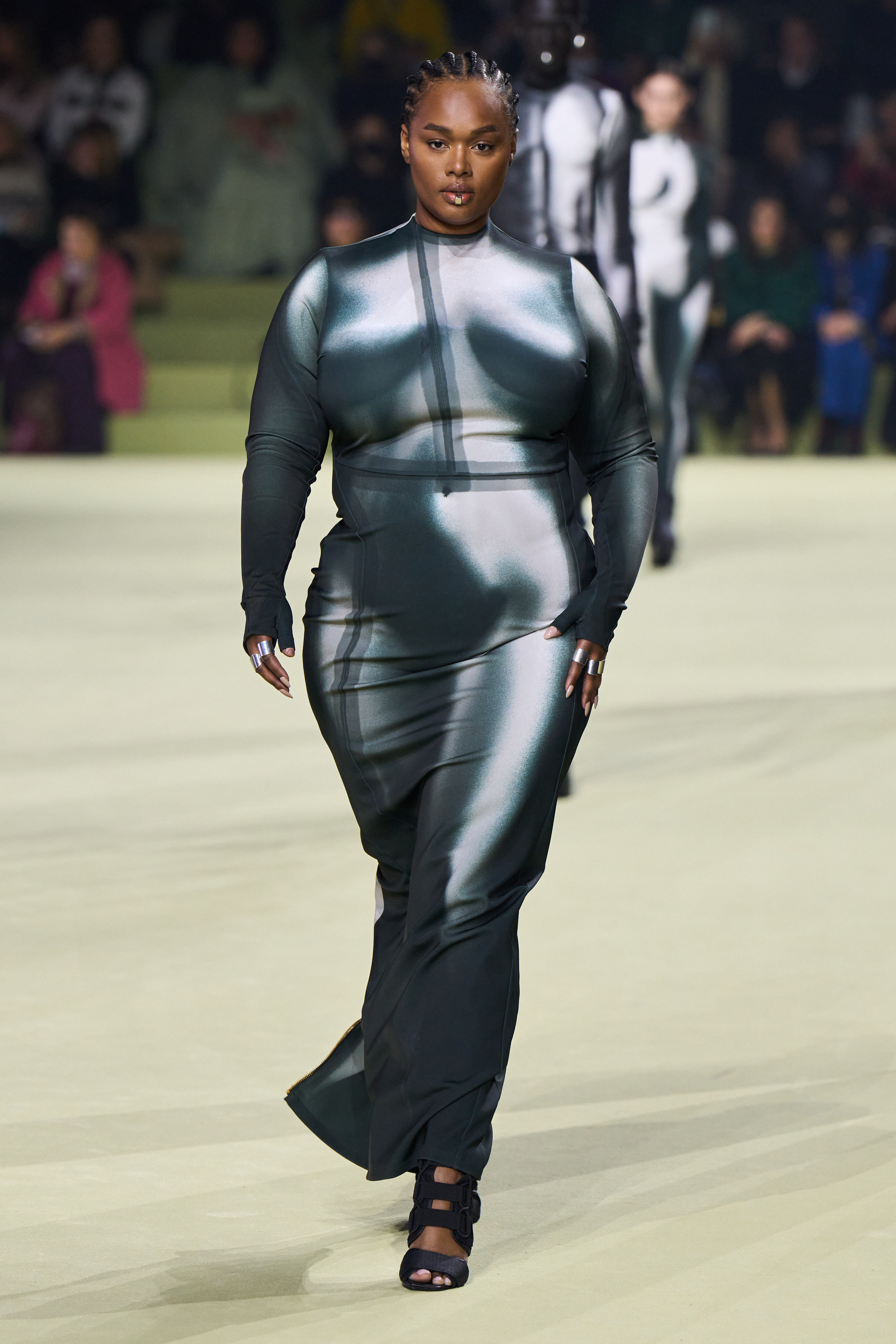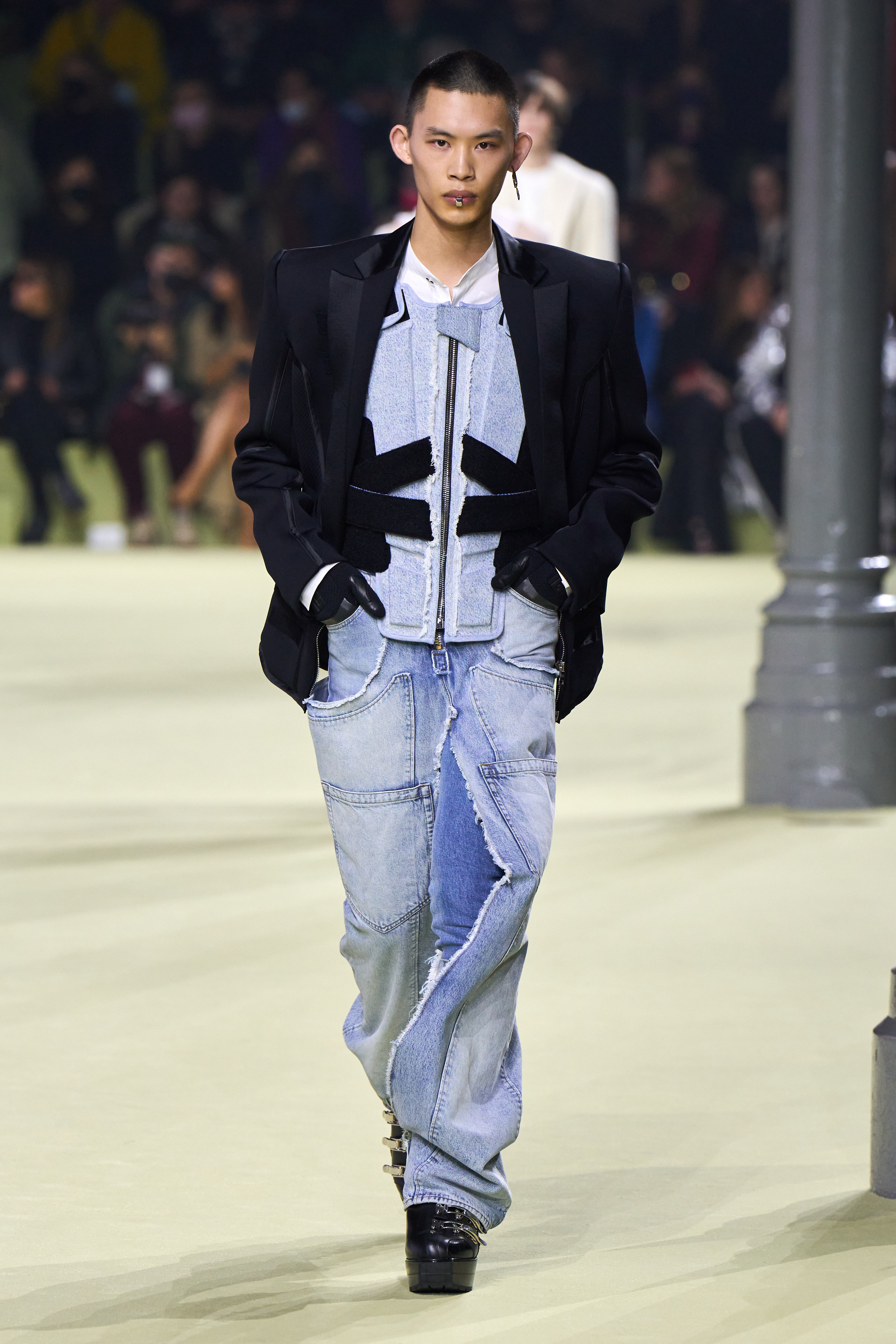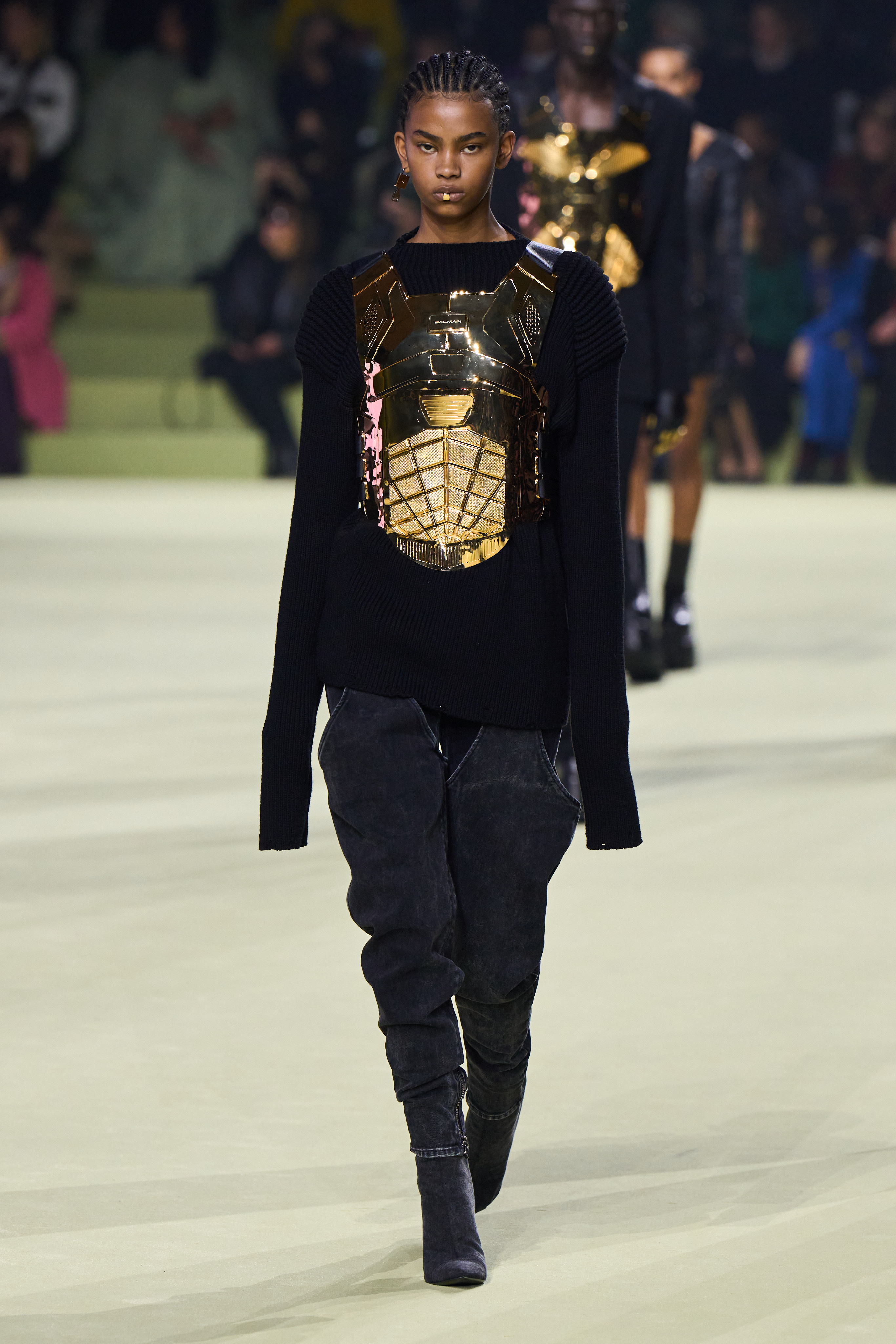 Images courtesy of Balmain.
Acne Studios
Jonny Johansson has a cool word for fashion's current buzzword, 'upcycling'. "I was thinking about this idea of emotional patchworking," she said instead when it came to explaining his latest collection for Acne Studios. "When I was a kid, my journey into fashion started when I started cutting things up and putting them back together. This collection is about creating from what is around us, making something new from something familiar. It is about stitching, mending, and repairing." What followed on the catwalk — a stark white space with guests seated in carpeted conversation pits — was true to Johnny's words. For AW22, Acne Studios has all the hallmarks and naivety of cobbled-together clothes and repurpoosed pre-loved clothes and materials. At times, it was remarkable to see how pairs of jeans could be transformed into a metallic, or the jazzy elegance of what one would assume was piano shawls turned into a draped gown. There were even paper bags skirts, knitwear darned with crystals, furniture fabrics turned into cosy eiderdown coats (a new variation on the puffer) and old pairs of jeans — the thing that Acne Studios was initially known for — metamorphosed into everything from bustier tops to sweeping skirts, patchwork ballgowns and a slinky catsuit. Plus, there was more than just sartorial good deeds — the faux fur upholstery of the sunken pits that guests sat in will also be re-used in future collections and donated to students at the Parisian fashion school, Studio Berçot, and pioneering electro musician Suzanne Cian performed live. More impressively, however, was the notes on every seat that declared that Acne Studios stands in solidarity with Ukraine — and has donated a considerable sum to UNHCR and Unicef in full support. OA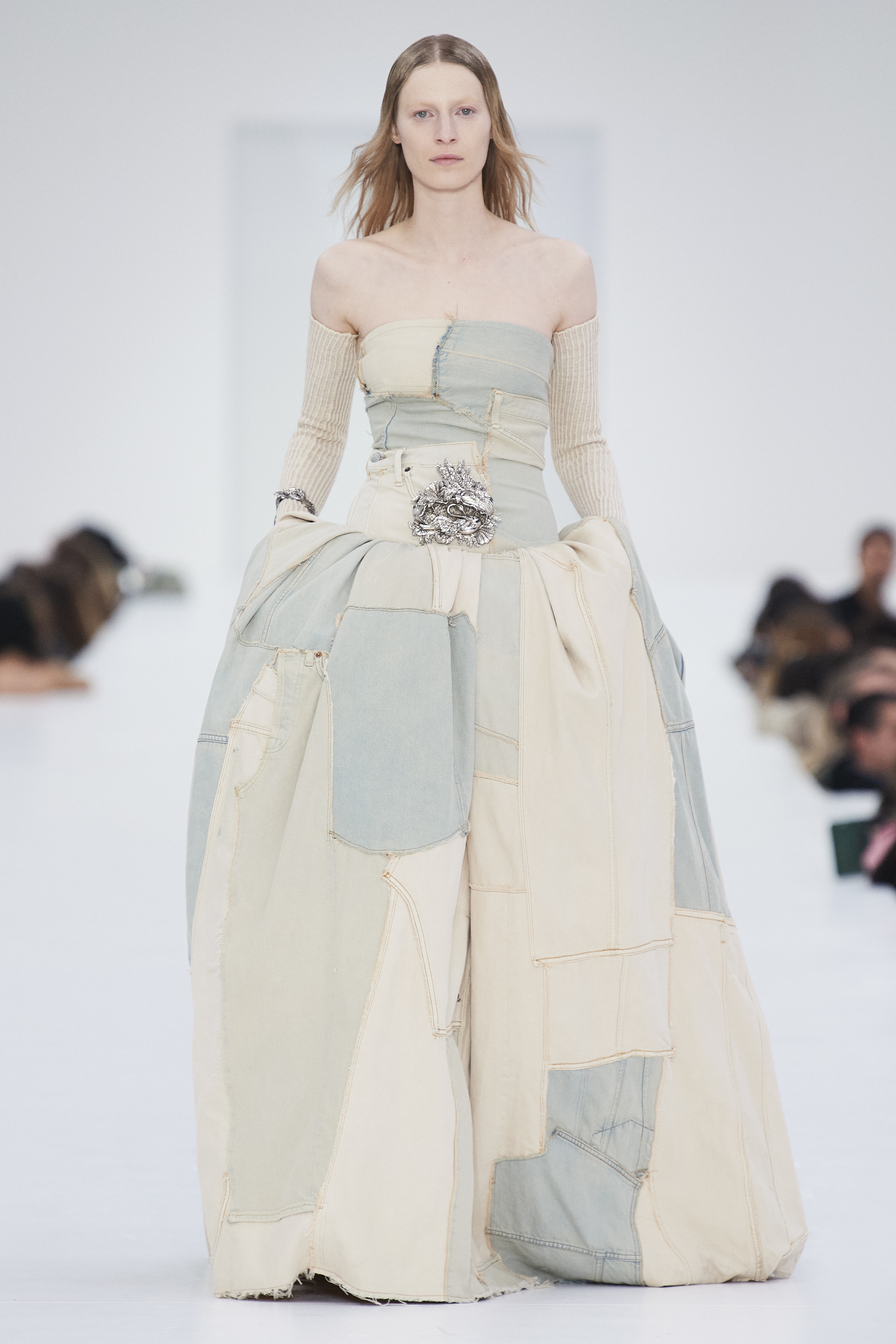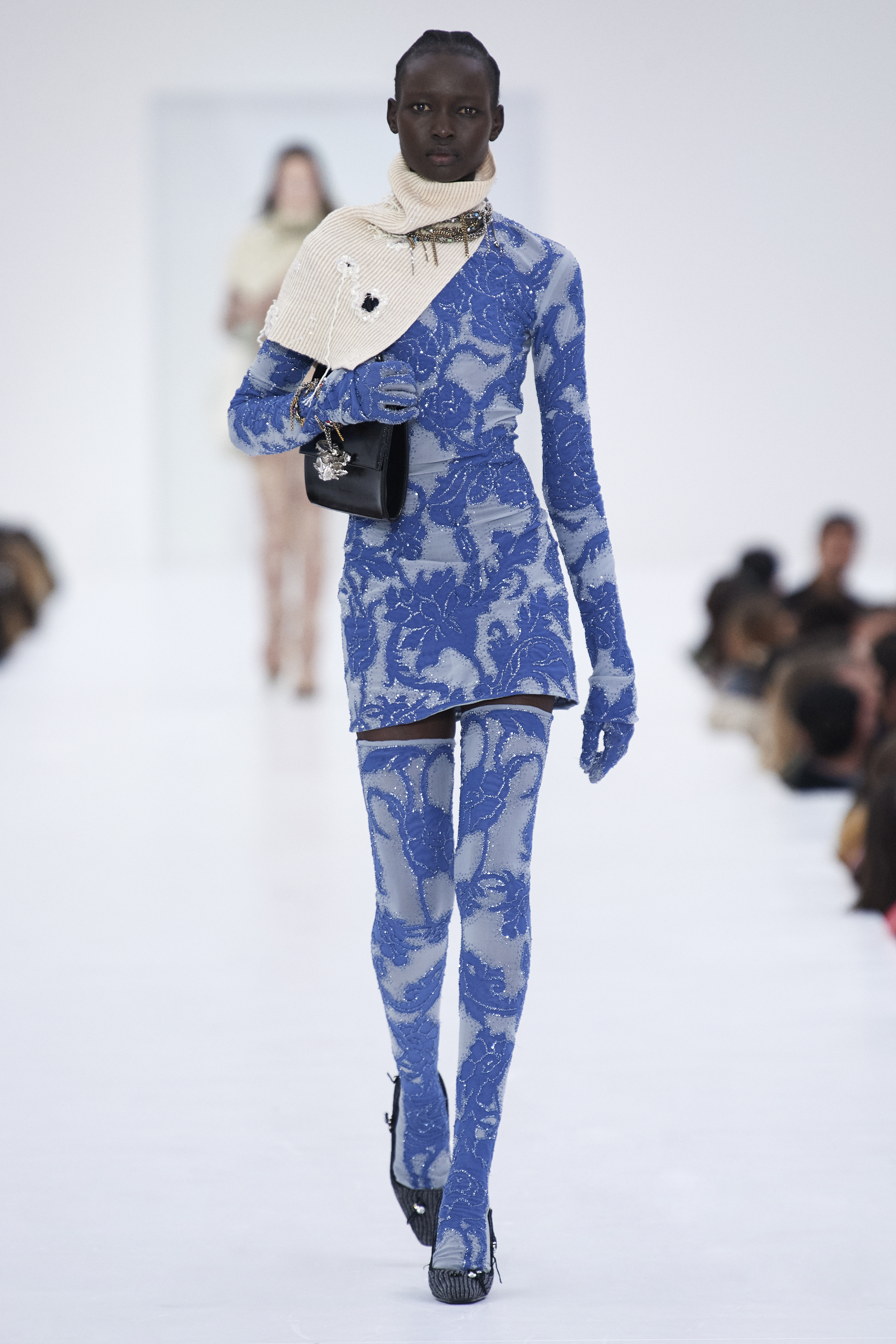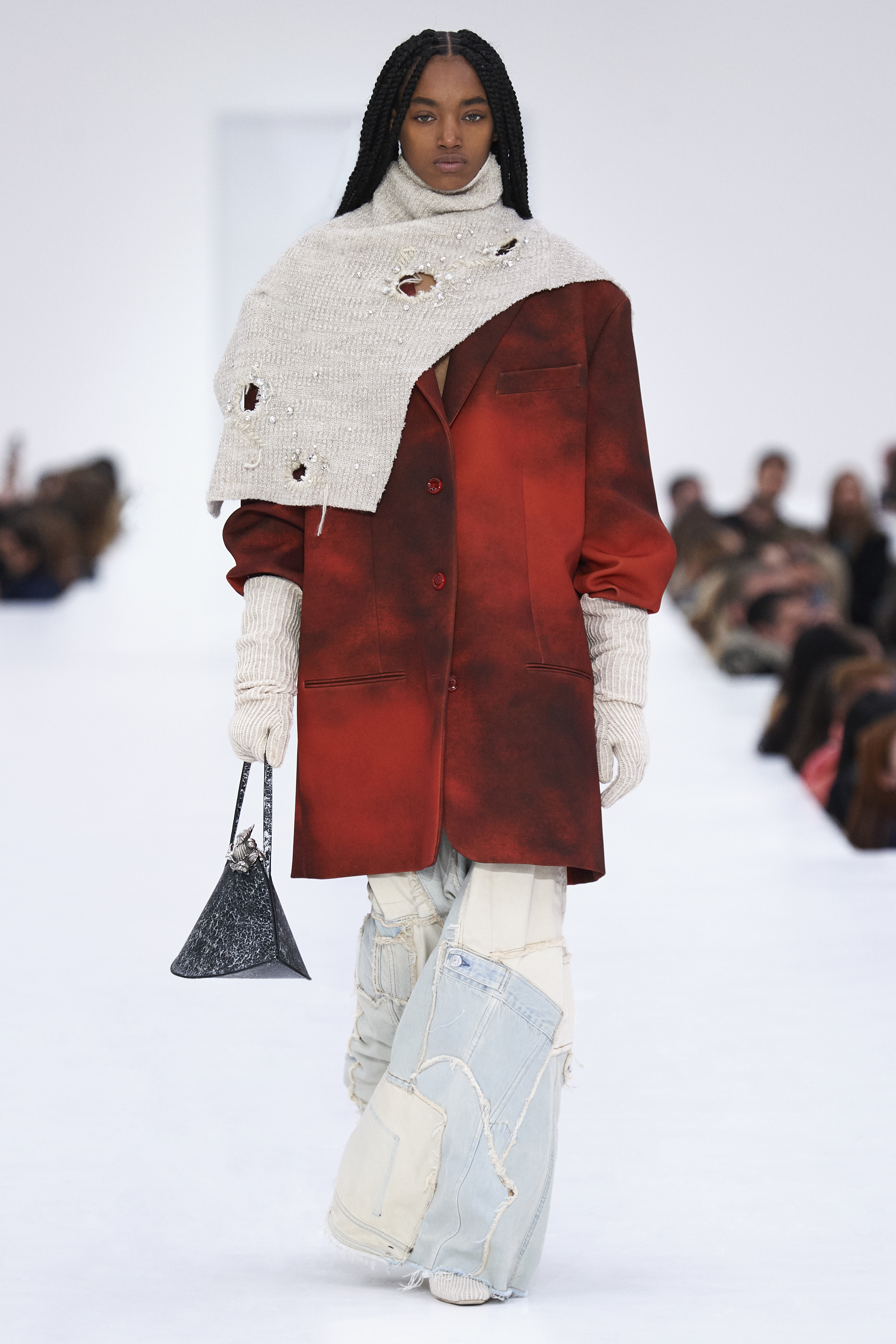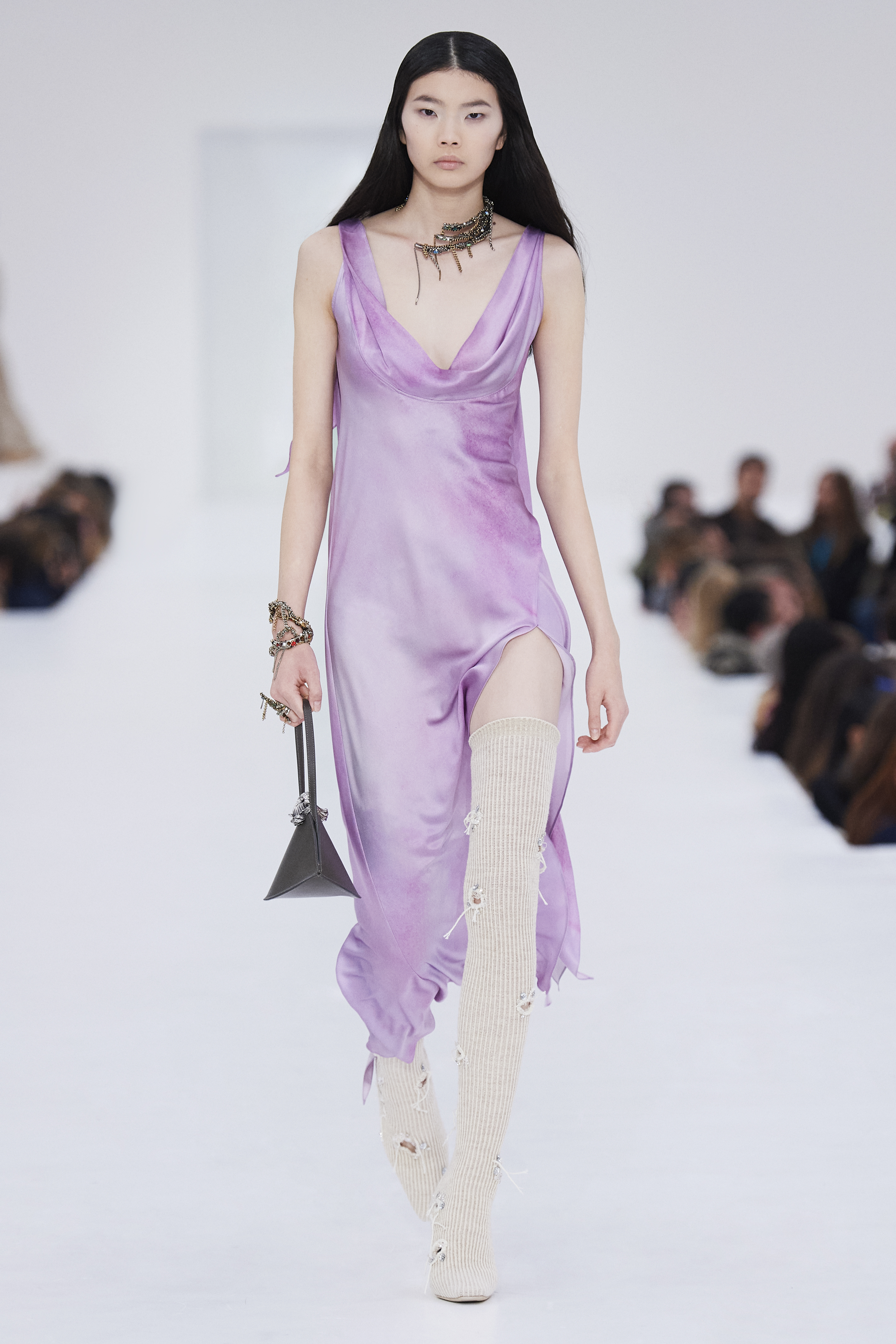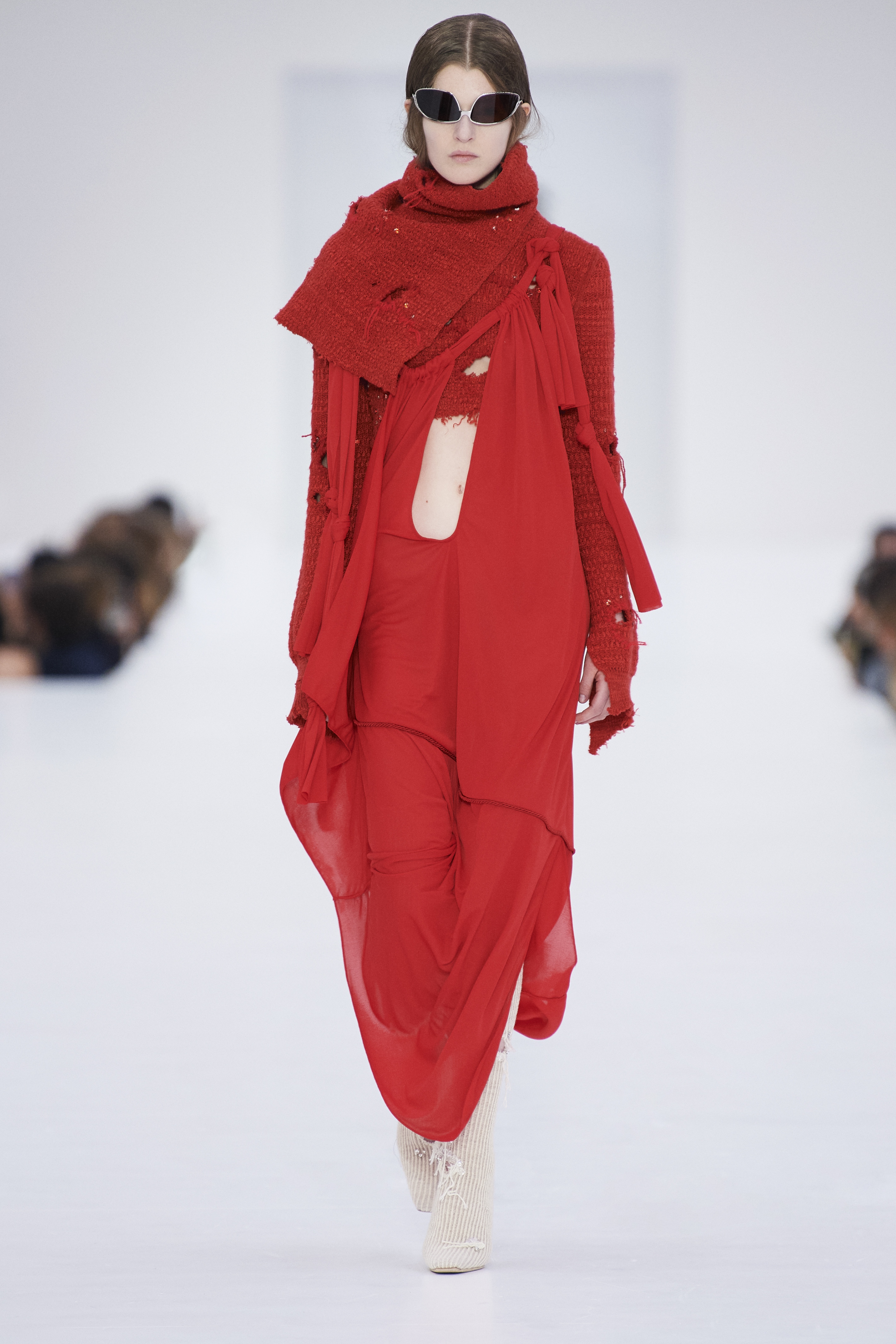 Images courtesy of Acne Studios.
Dior
Designers in Paris often describe couture ateliers as laboratories — but Maria Grazia Chiuri actually looked to a real-life lab for her AW22 collection: the Italian tech company D-Air Lab, which develops body-mapping and ergonomic technology more commonly found in (extreme) sportswear. Given that she has been developing a line of athleisure and Dior-branded treadmills, surfboards and ski wear, it was inevitable that she would begin incorporating some of that high-spec utility into her typically romantic ready-to-wear collections. Hence, the show opened with bodysuits lit up by high-vis seams, mapping the geography of the body. It was temperature-controlled tech, designed to keep you warm when you feel cold, cool you down when you're feeling flustered — ideal for the extreme weather conditions we'll undoubtedly see as a result of you-know-what. The second look, the quintessential grey Bar Jacket, came with a puffed-up mesh peplum that was in actual fact a sort-of grisaille airbag designed to protect the wearer should she fall over. Yes, really. Read our full review here to find out more. OA
Saint Laurent
Sensuality — rather than an overt, skin-baring sexuality — seemed to be the order of the day at Saint Laurent. Or night, considering the nocturnal spirit of the collection. Plenty was left to the imagination, courtesy of covered-up silhouettes with the exception of the occasional plunging neckline, and heavyweight coats seductively clutched by the bare-faced models. Without pointing out the obvious, this collection felt softer and more generous than its predecessors — and not just because of the myriad fluffy textures on display. Here were longer lengths in ostensibly stretchier fabrics, and lower heels that allowed for the models to glide down the catwalk with the assured coolness that Anthony loves. The overall result was ease — not a word often associated with Saint Laurent — with a side order of bang-for-your-buck opulence. In other words, a guilt-free version of the glory days of fashion in the 80s and 90s — when richness and luxury were things to be proud of, rather than ashamed of, and you couldn't hail a cab in New York without a ginormous fur coat as a clear sartorial deposit. For everything you need to know, read our full review here. OA
Vaquera
We all love a debutante, don't we? Well, this season the honour of being the new kids on the block fell down to New York's enfants terribles, Patric DiCaprio and Bryn Taubensee of Vaquera. Making their first hop across the pond to present their AW22 collection in Paris, they took to the concrete bowels of 3537, the vast cultural space in the Marais owned by the powers behind Dover Street Market. On the opening day of Paris Fashion Week, the duo brought what many of those who'd flocked to see the show were hoping for – a rapturously camp flurry of voluminous looks; blurs of shimmers and lingerie frill storming down the runway, which, when paused revealed themselves to be eminently desirable clothes.
What was clear, though, was that Vaquera – a label that for so long has been pegged as a fixture of New York's coterie of iconoclastic 'young designers', is actually now all grown up. This season's scarlet quilted outerwear – cropped bombers, broad-shouldered double-breasted jackets, and belted overcoats – with acid-washed denim and oversized apron skirts demonstrated top-notch cutting skills, while gigantic angora cable knit sweaters struck a golden ratio between hug-me cosiness and a fashion-forward silhouette. Lingerie – a recurring motif in Vaquera's collections for some time now – figured in lacy trims on transparent rainproof sheet smocks and baggy nightgowns, while splashes of camp came by way of puffs of leopard faux fur, second skin PVC underlays, and pops of Westwood-y studded tartan kilts. For a label that's often described itself as a purveyor of 'fashion fan fiction', this felt like a collection that set them on their way to becoming a subject of the very genre they pioneered. MS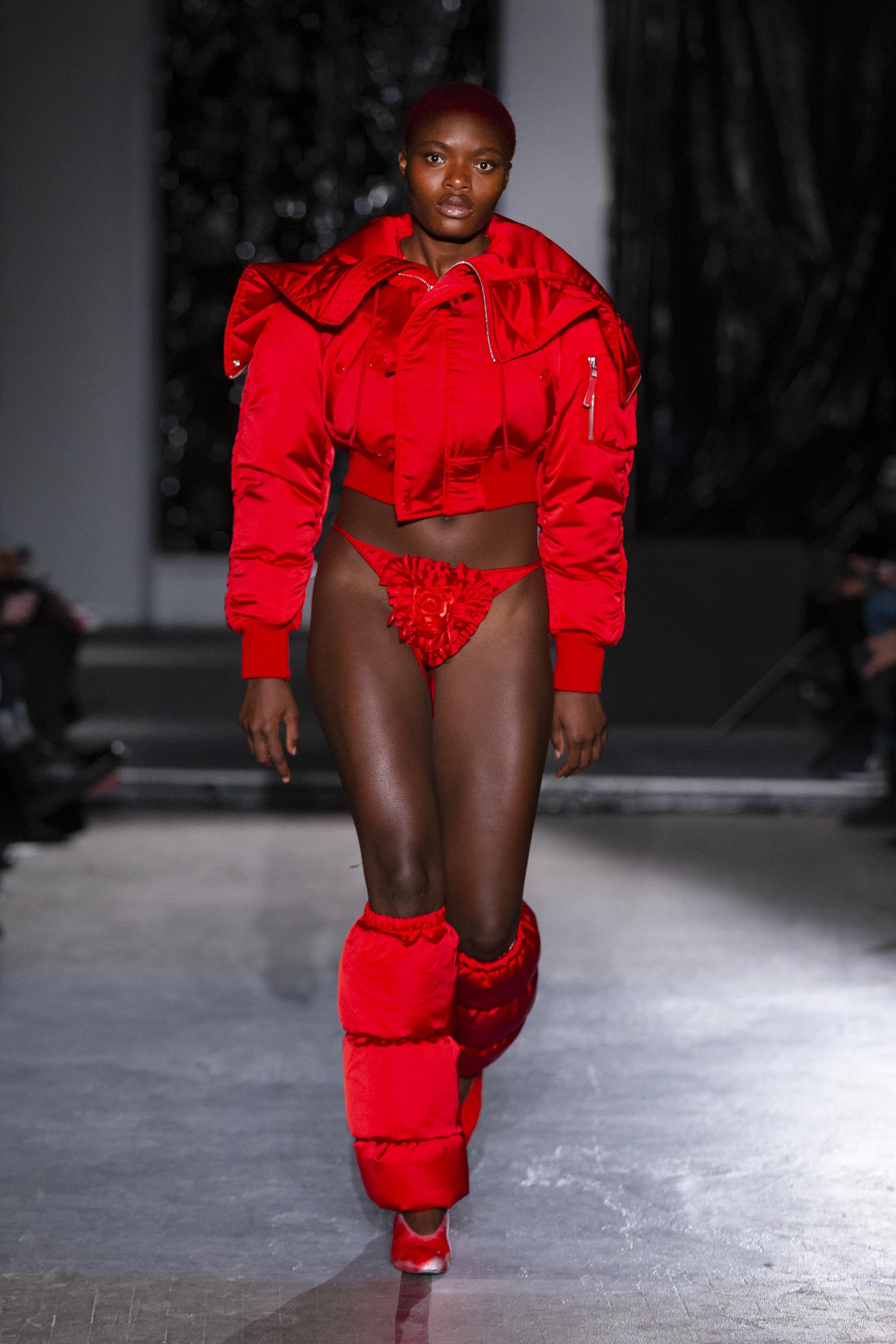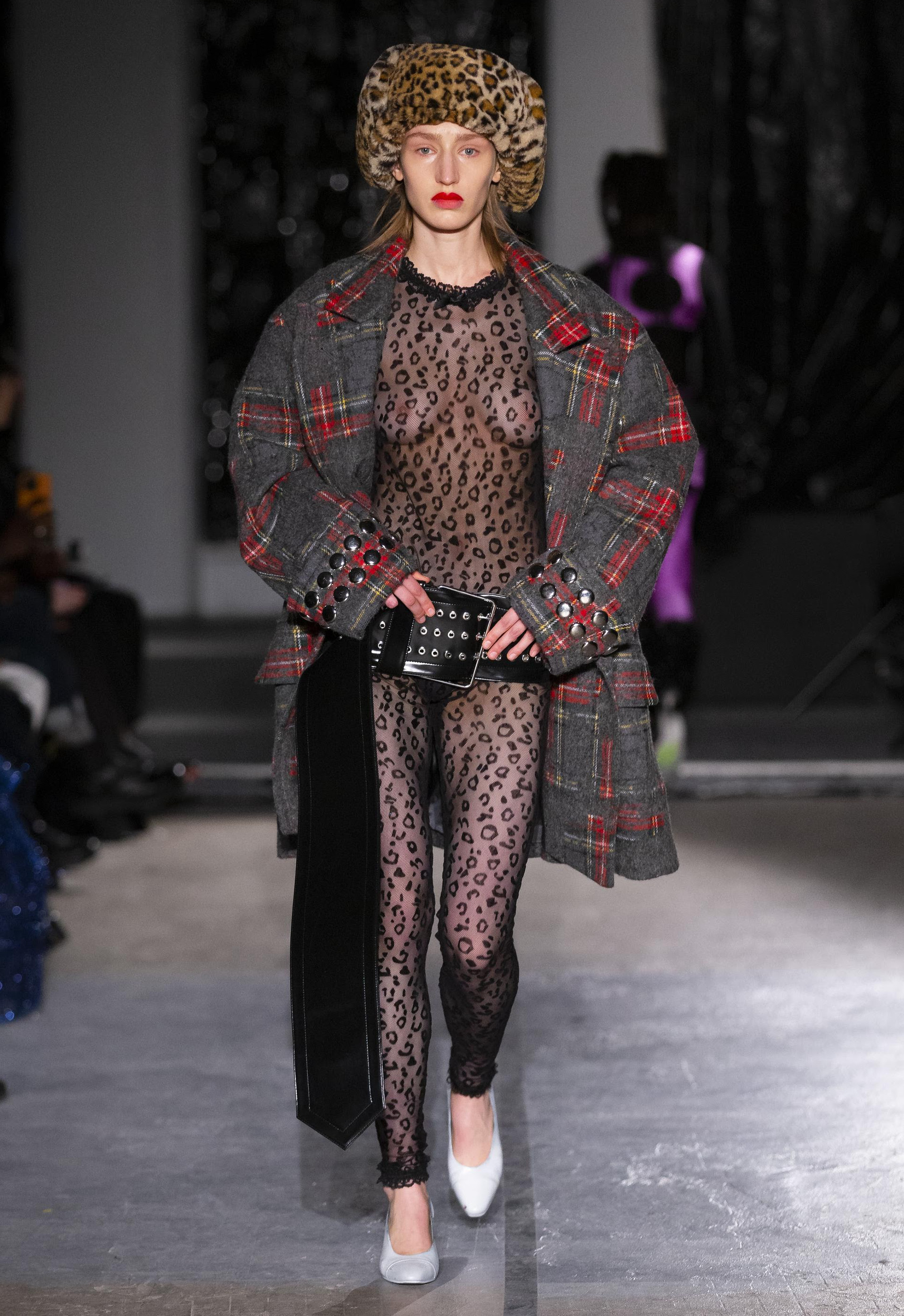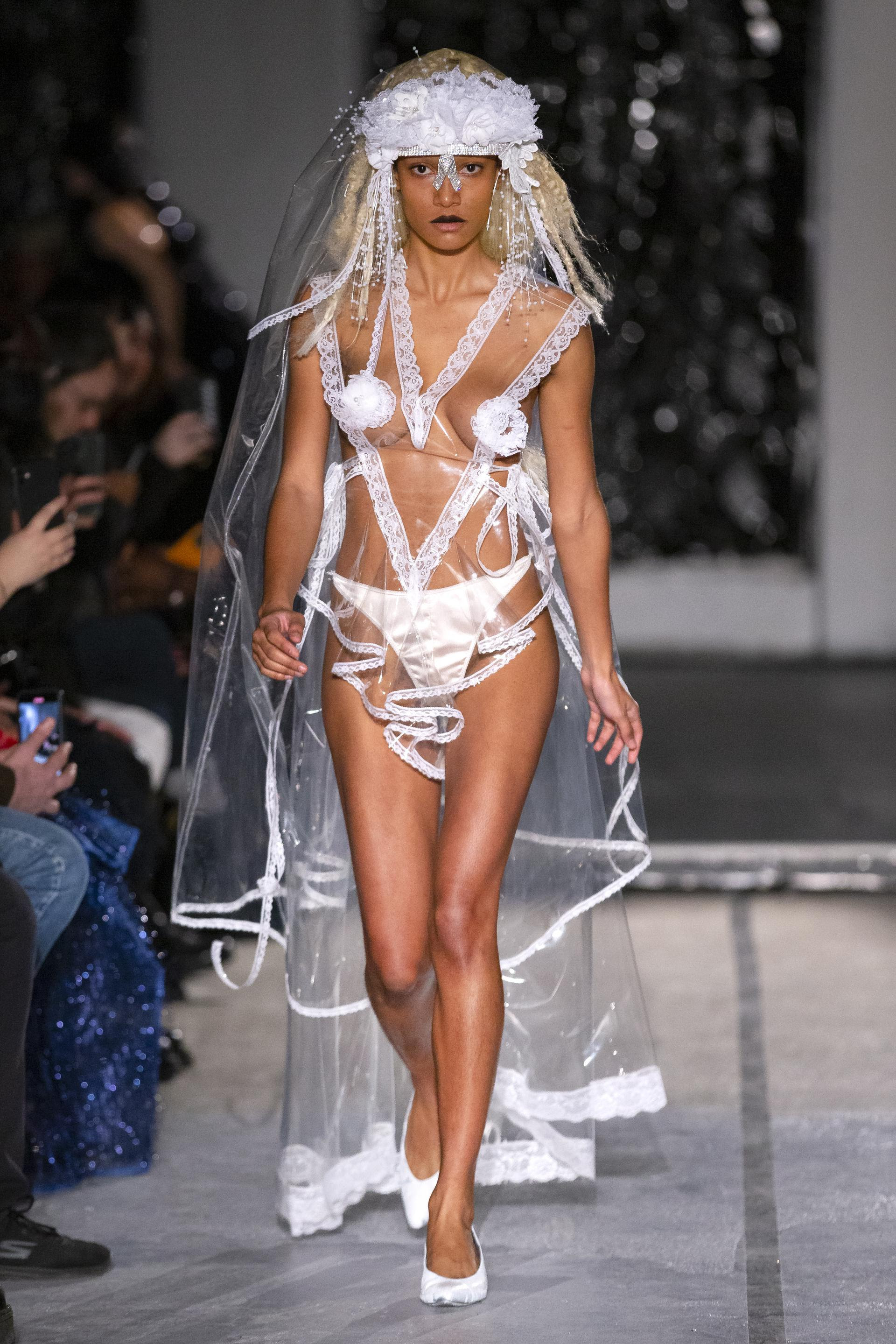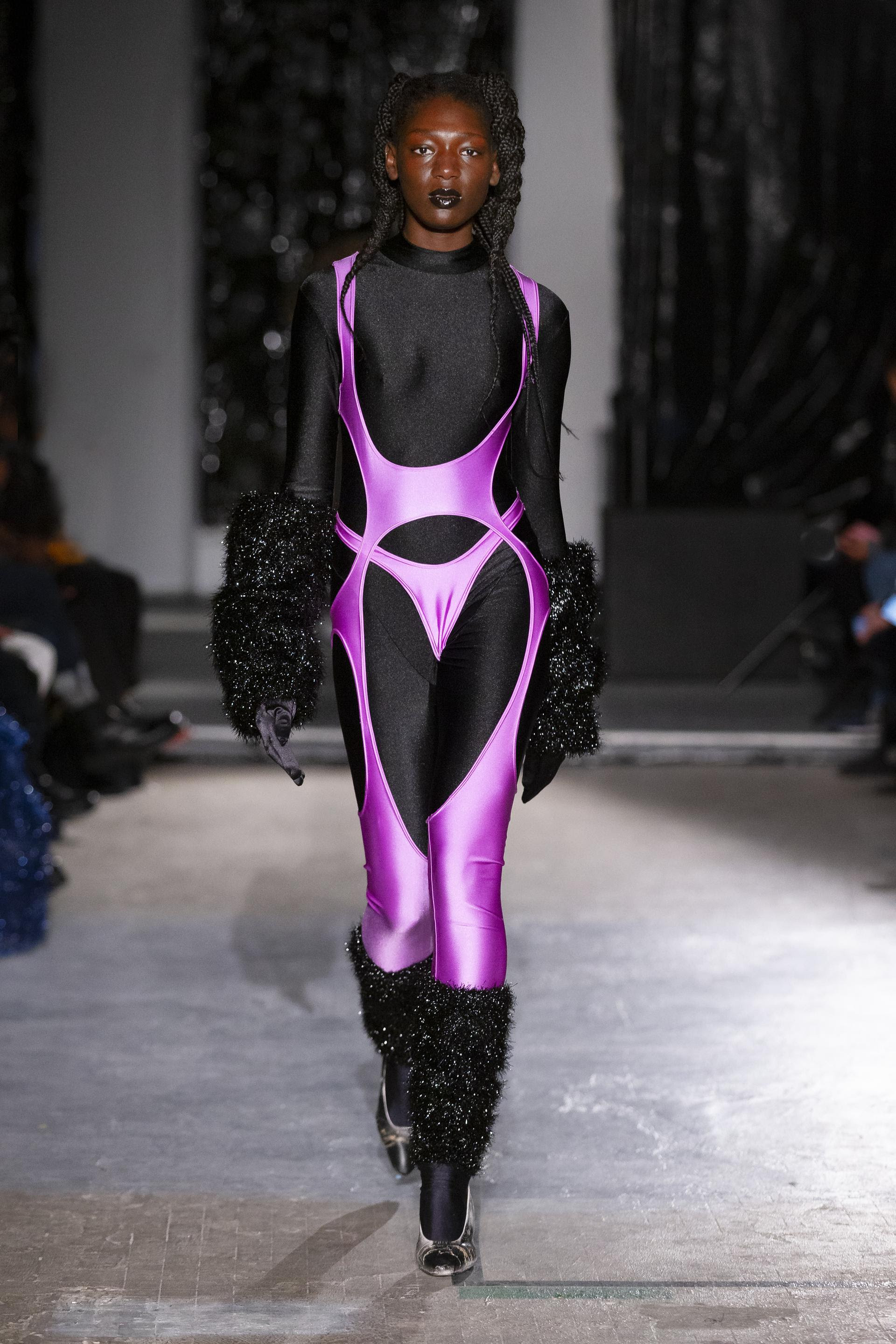 Images courtesy of Vaquera.
Botter
Just weeks ago, news broke that Lisi Herrebrugh and Rushemy Botter would be stepping back from their responsibilities at Nina Ricci to focus solely on the label they built together, Botter. Gauging by the collection they presented on the morning of the second day of PFW, it was a gamble that paid off, resulting in one of the pair's most intriguing collections to date. Titled "Caribbean Couture", it was an effective ode to the resourcefulness inherent to the island nations' culture – plastic lawn chairs were metamorphosed into desirable design objects, covered in wool plaid and faux furs that echoes fabric found in the collection. Tailored v-neck pullovers were cleverly repurposed from pairs of trousers, and halter tops and western shirts were fringed with cascades of beads recycled from ocean plastic – the latest in a series of moves made by the label to draw attention to the crises faced in our seas. _MS
_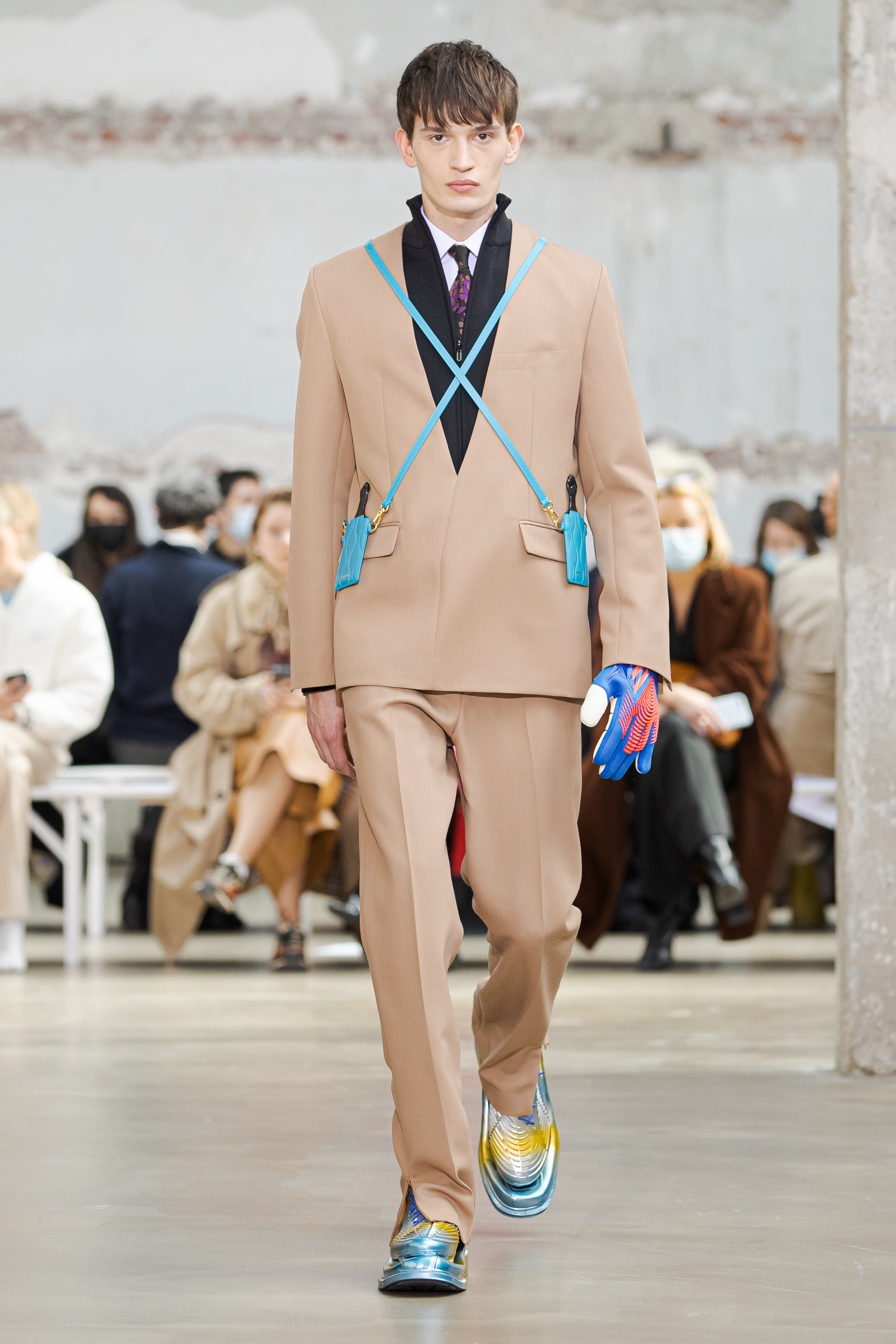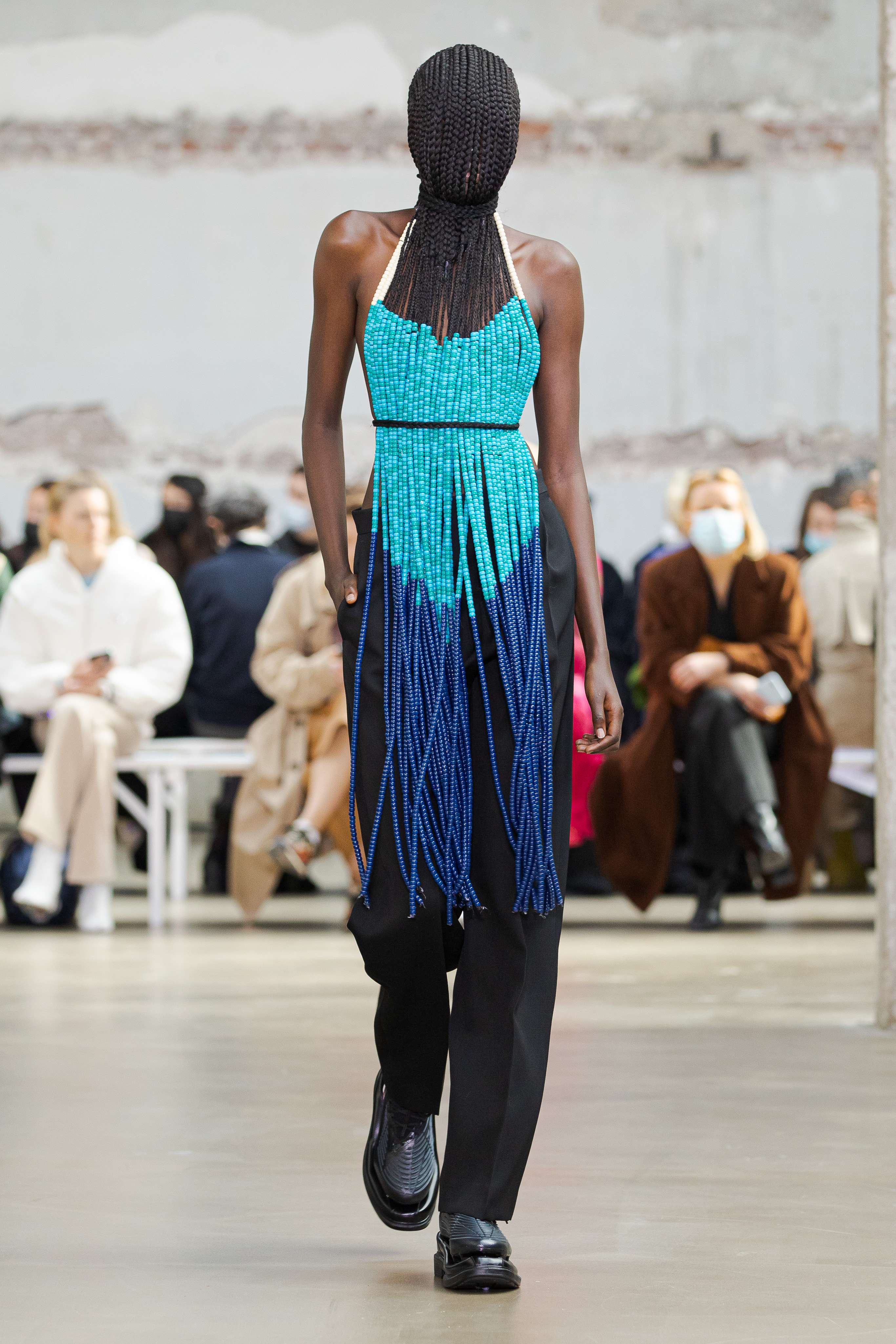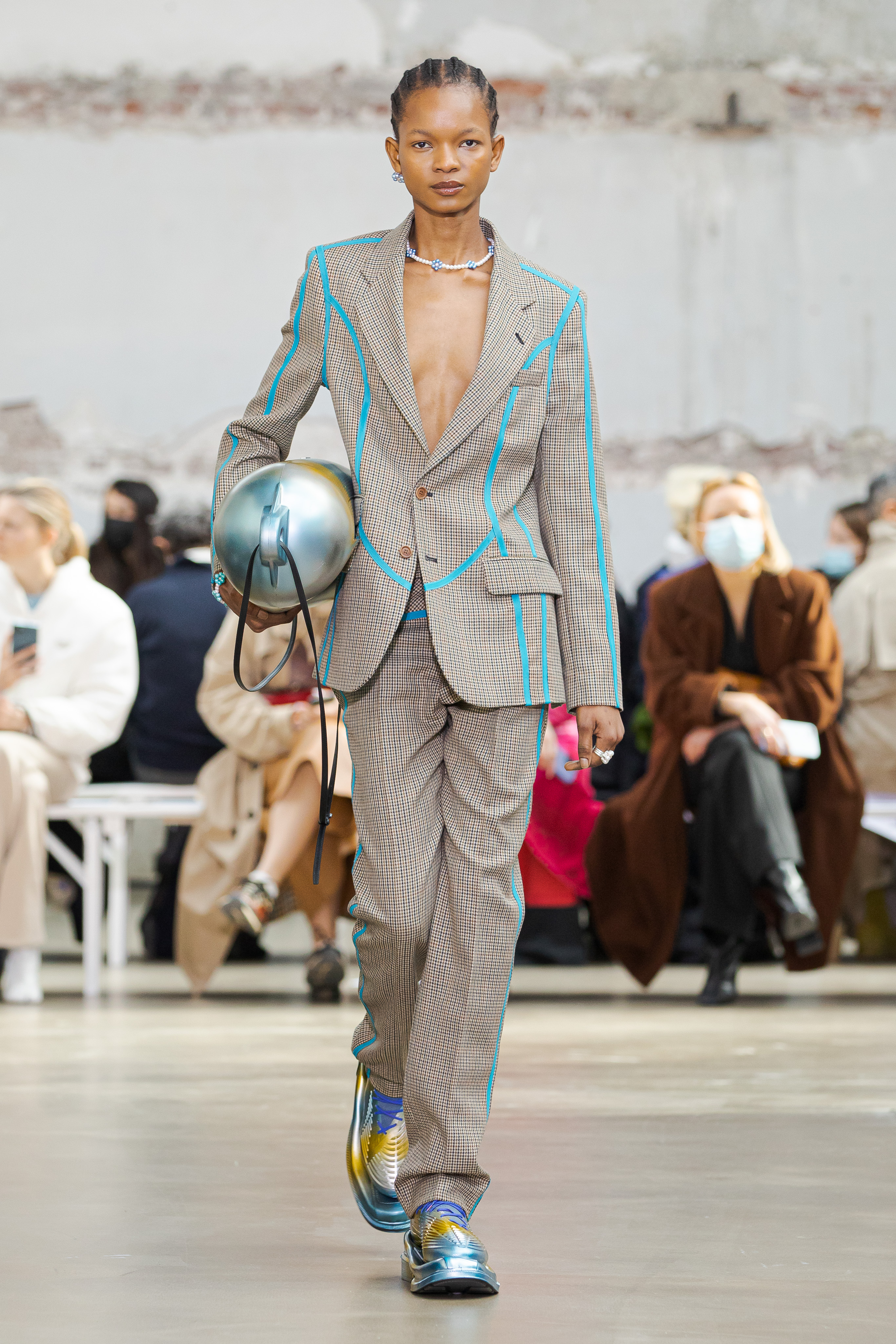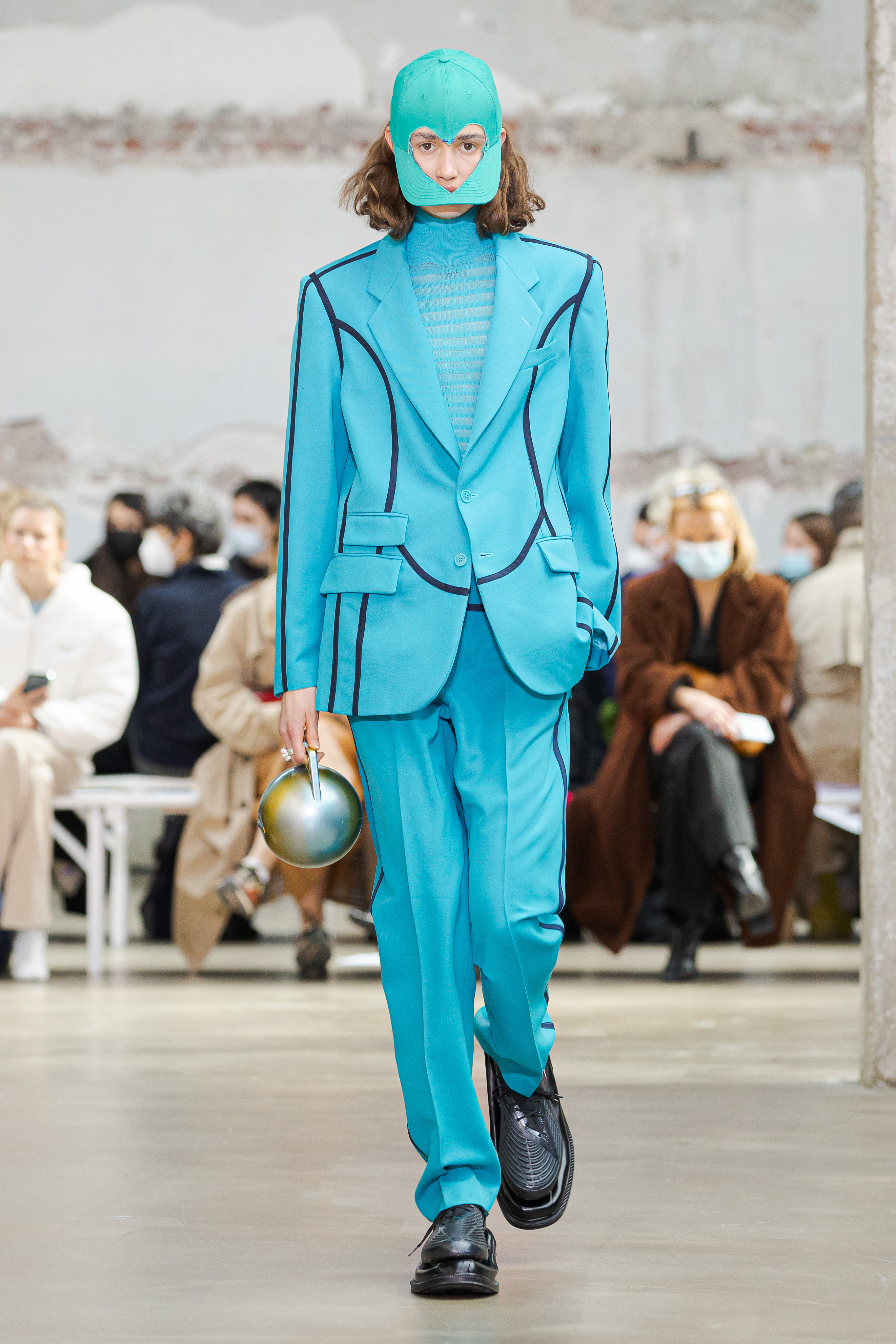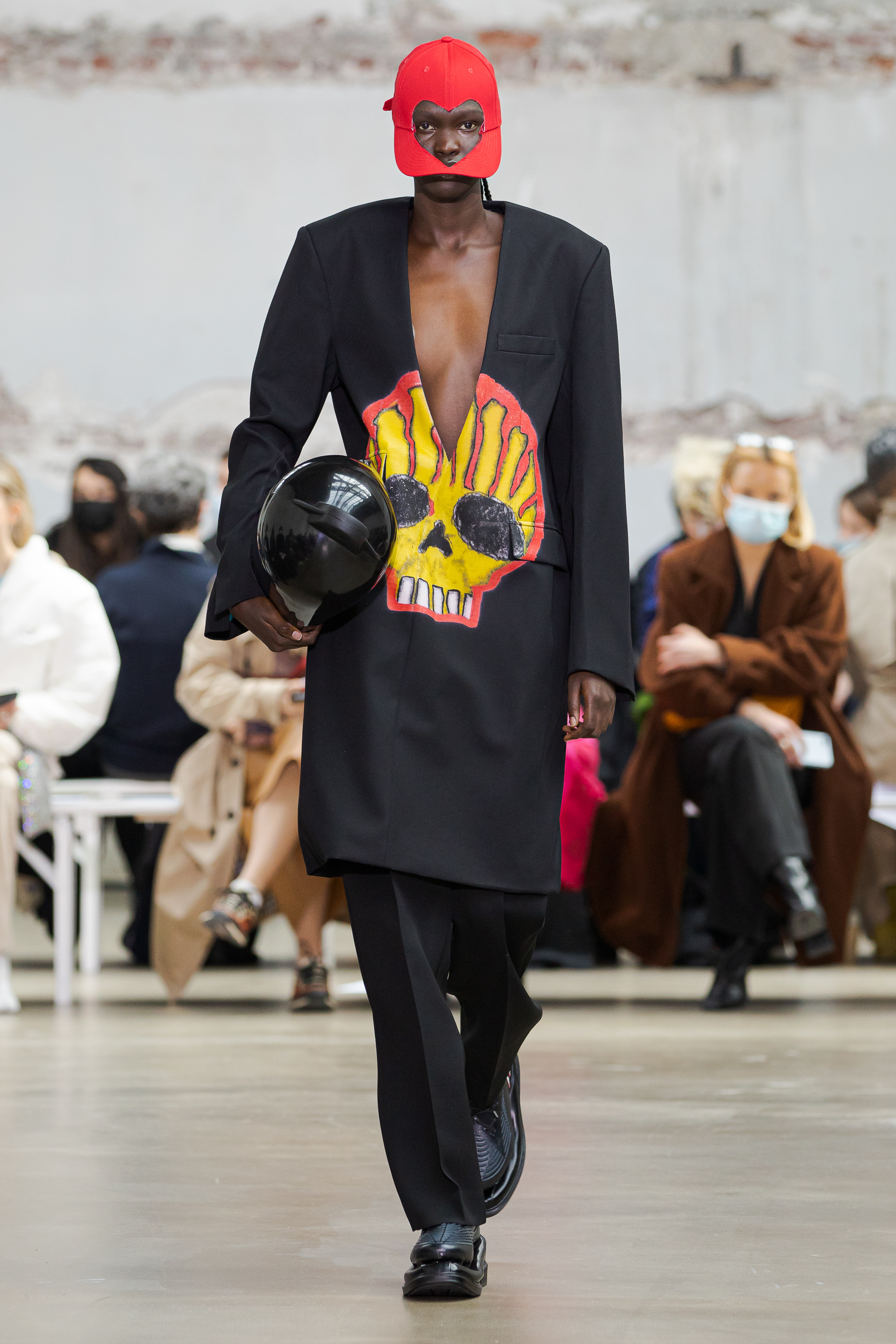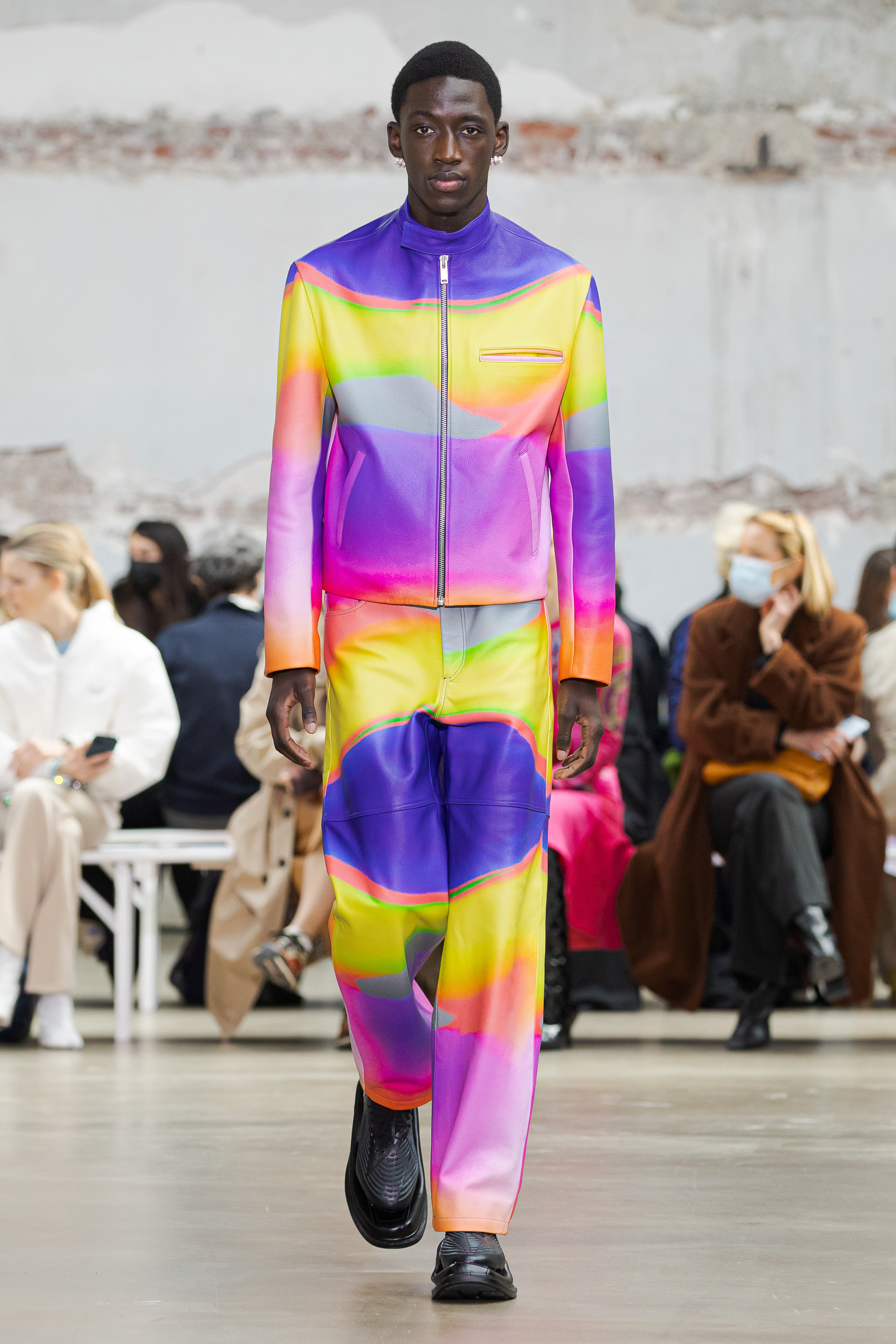 Images courtesy of Botter.
Off-White
Since the sudden, tragic passing of Virgil Abloh towards the end of last year, tributes to the creative legacy of one of fashion's most singular voices has been paid by way of two deeply moving Louis Vuitton shows. The first took place in Miami, just two days after the announcement of his death, with the second hosted in Paris during the city's men's fashion week in January  – and it was in them that Virgil's final collections for the Parisian maison were shown. Last night in Paris, it was the turn of Off-White – the house that Virgil built from the ground up. The final collections of womenswear and menswear Virgil designed were presented around a giant chandelier installed at the heart of the Palais Brogniart and were imbued with a sense of forward-looking celebration. They nodded to Virgil's unspeakably powerful contribution to fashion history, and looked to the future with the same wide-eyed wonder that coloured his perspective. Read our full review of the Off-White show here. MS
Follow i-D on Instagram and TikTok for more on fashion.