This post may contain affiliate links, which means I earn a small commission if you click and buy something (at no cost to you). See our privacy policy.
This spring, oversized tops are having their moment. It's like a redo of the 90s grunge fad, but with more polish and sophistication.
The thing is, oversized tops and other baggy clothes can be hard to wear — which is a nice way of saying those voluminous garments can be super unflattering. Sure, you might be on trend, but you have no shape and you feel 20 times bigger than you actually are.
In truth, the oversized top trend is one of those noninclusive fashion creations that looks best on very tall, very thin women. But why let those leggy waifs have all the fun?! If you want to add the oversized look to your rotation, try employing these five tricks to step up its wearability.  
1. Your oversized top needs balance
Here's a tip that'll instantly make you better at putting together outfits that flatter: Always strive for balance. That means pairing an oversized top with other pieces that hug your body. Think leggings, pencil skirts, skinny pants, or even bodycon.
While Billie Eilish can pull off baggy-on-baggy, the rest of us ordinary folk have a hard time with that look. Speaking for myself, I end up feeling super sloppy when I mix a big top with bulky bottoms. So unless your confidence is always at 100%, stick with one oversized garment at a time. That provides balance — and balance is always in style.
2. Play with lengths
It's usually not flattering when the bottom hem of your oversize top cuts across the widest part of you. The big tops this season tend to land halfway between your hip and your thigh. You might not like that look if you're thicker through your thighs.
In that case, experiment with a shorter or longer top. Once you find a length you like, make a mental note — as you'll probably like other, sleeker styles in the same length, too.
3. Pair your oversized top with a belt
There's no fashion rule that prohibits modifying a trend to suit your shape. If you can't handle all the bulk that comes with a big top, add a belt to define your waist. This works best when the top is constructed of a lighter fabric, so there's less gathering above and below the waist. It's also a fun strategy for those of you who have a straight frame and welcome the added curves.
4. Use it as outerwear
A heavier oversized top can double as a chic coat. When it's cold outside, no one thinks twice about a less shapely layer of outerwear. Then, once you arrive at your destination — the office, mom's house, or whatever — slip off your trendy "coat" and show off a more fitted outfit beneath.
5. Try a lighter weight fabric
Stiff corduroy may not work for you, but rayon or polyester might be a whole different story. These slinky, lighter weight fabrics drape softly to hint at your shape beneath. The result is often a more feminine and polished outfit — especially if the rest of your outfit is sleek, too.
And, as noted, belts wear better over softer fabrics, too!
Where to shop oversized tops
1. Asos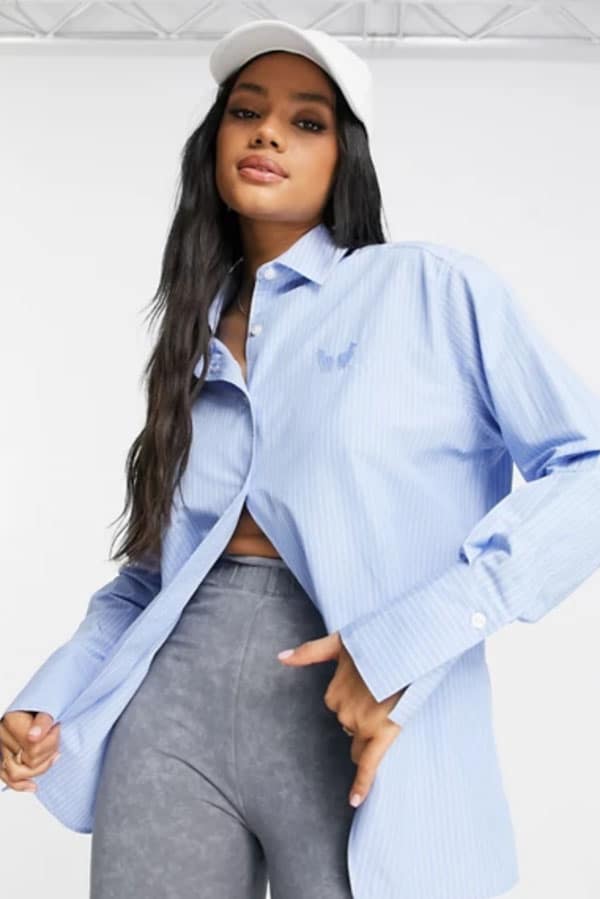 A virtual stroll through Asos New Arrivals usually tells you everything you need to know about what's trending. This oversized, striped, button-down for $32 is a classic take on the trend with those statement cuffs and masculine silhouette.
2. H&M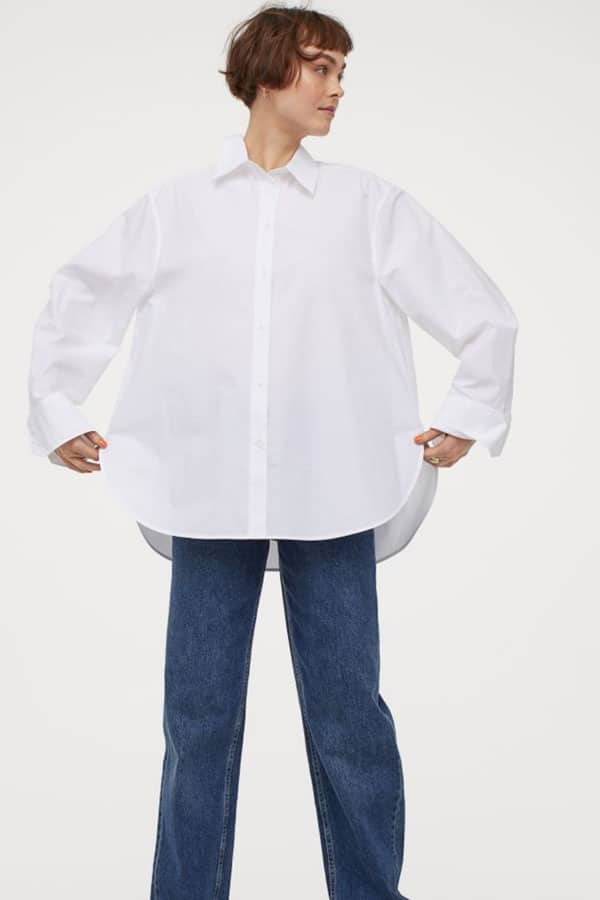 H&M is playing in the oversized top space this season, too. If you want something even more versatile than the ASOS pinstriped top above, this white cotton piece for $35 might fit the bill. Wear it out over leggings and ankle boots, or try the half-tuck into jeans for an off-duty look.
3. Nastygal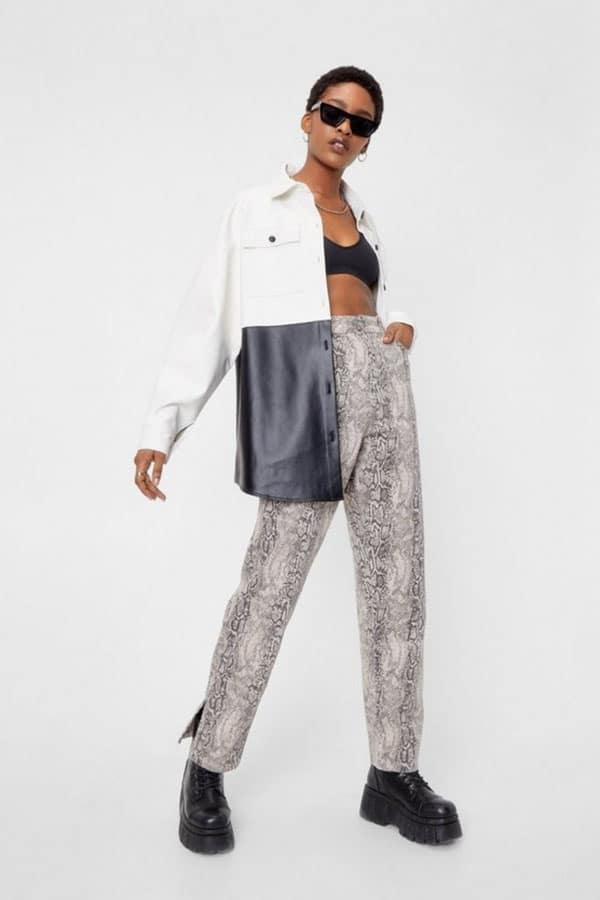 Nastygal's faux leather oversized top is a steal right now with a sale price of $34. Definitely use this piece as a chic coat — not necessarily over a bralette or sports bra, but a pretty feminine cami would work.
4. Zappos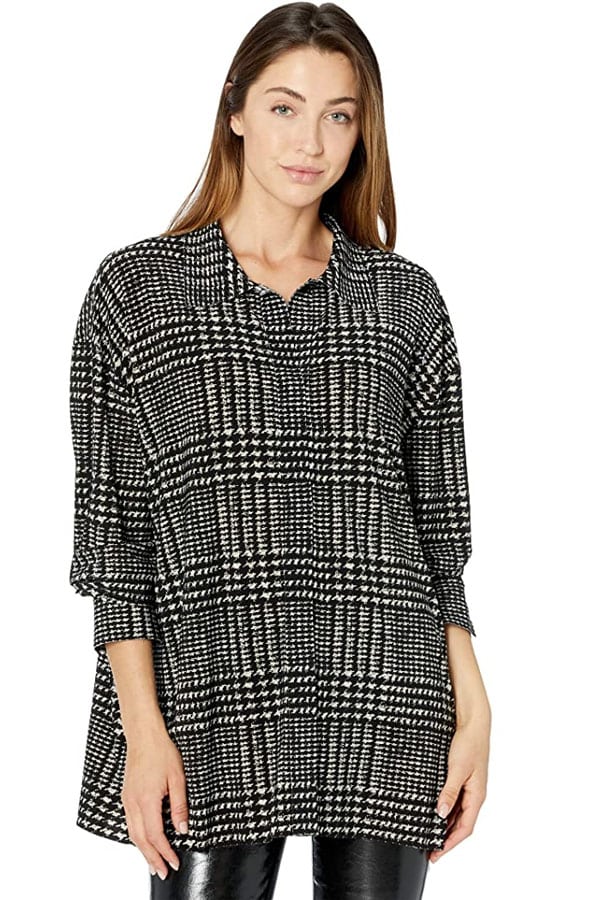 You can sometimes find surprising deals at Zappos like this patterned top by Norma Kamali for $185. The top makes a statement with that pattern, but it's fairly lightweight thanks to the 95% polyester/5% spandex construction.
5. Nordstrom Rack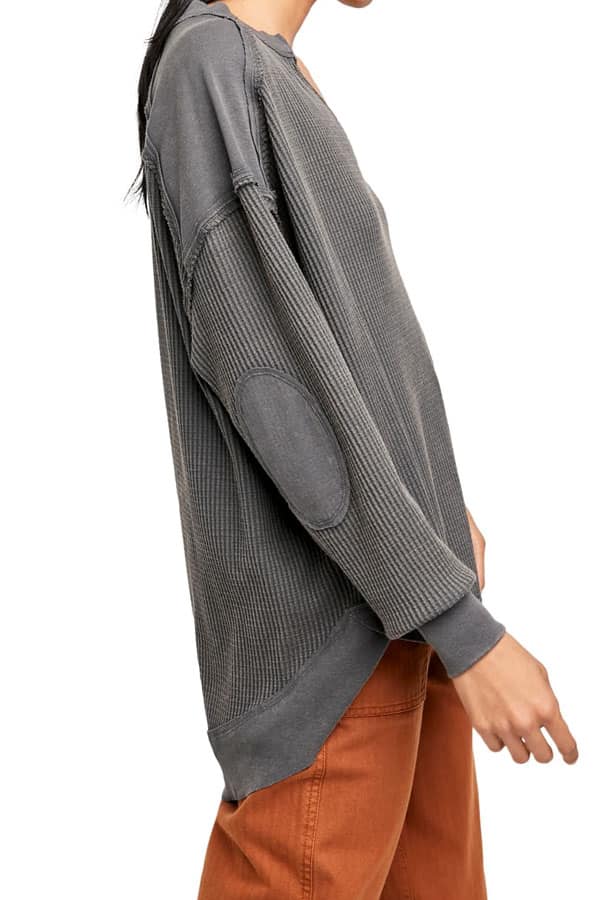 Finally, check Nordstrom Rack for good prices on any trending style. You may have to look a little harder, but you can usually turn up some fabulous options. This Free People pullover will appeal to loungewear enthusiasts who are tired of the traditional sweatshirt. Pick it up and make it yours for $40.
http://feedproxy.google.com/~r/TheBudgetFashionista/~3/7tLBPoo4yyE/