This post may contain affiliate links, which means I earn a small commission if you click and buy something (at no cost to you). See our privacy policy.
I'm not ashamed to say that I have a love/hate relationship with clearance racks and online clearance pages. On the one hand, they offer the very best deals on clothes. Some of the pieces I've snagged from the Macy's and Nordstrom Rack clearance sections, for example, have been downright steals. There was the Calvin Klein pencil skirt that was a regular wear in my corporate days. Oh, and the INC International Concepts LBD that took me to so many parties and nights out.
But the work I had to put in to find those gems? Ugh. It's just not my favorite thing to scroll endlessly through pages of online products or to move hangers, one at a time, until I see the very garment I need.
If you love pouring over the sales pages, I'm a little jealous. If you don't, good news. I did the legwork for you this time. Here are 10 fabulous women's garments from Nordstrom Rack clearance right now.
1. Top Nordstrom Rack clearance pick: boyfriend jeans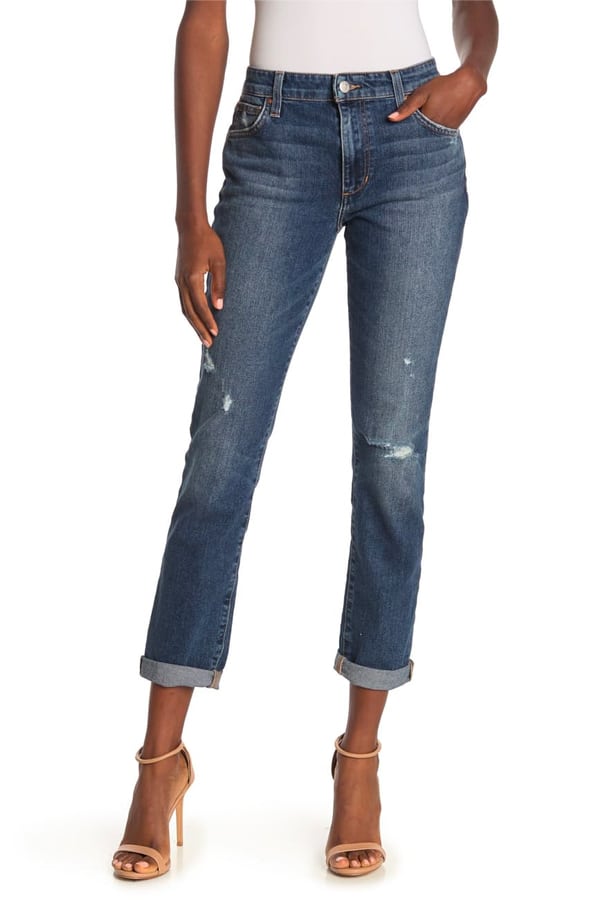 Joe's Jeans slim ankle boyfriend jeans are $60, which is 68% off the normal price of $189. I like the shape of these jeans. They're not loose or tight — they're that perfect, relaxed fit that's comfortable without being unflattering. A tiny bit of distressing adds some flair, too.
I've heard it said that an older woman should never wear distressed jeans. That's rubbish. Yes, you will draw tons of attention if the backside is torn out and the front is held together by threads. But frankly, that's only a problem if you don't want all eyes on you. If you don't care what people think, wear what you want.
2. Faux leather leggings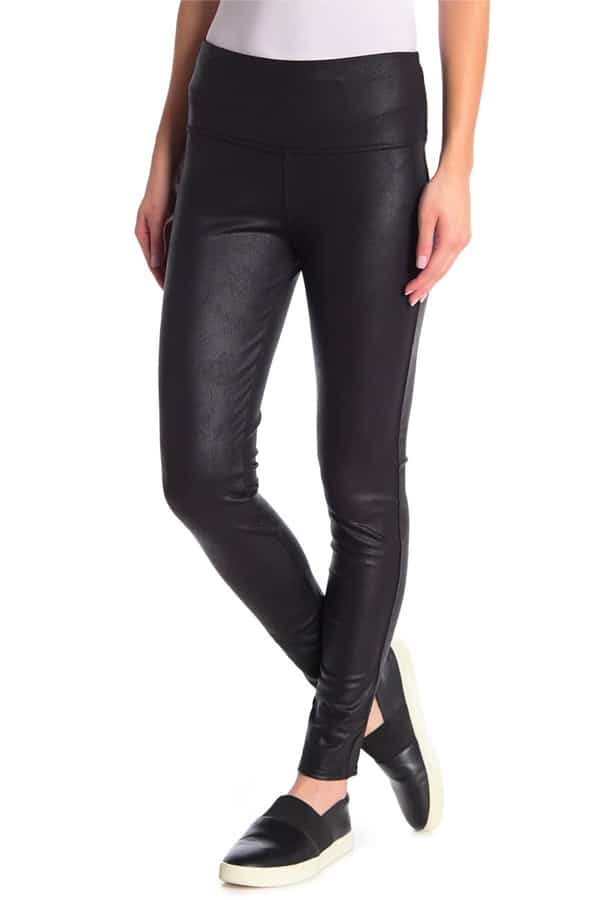 Faux leather leggings are surprisingly versatile. You can team them with heels, ankle boots, a heeled mule, or even sneakers. On top, your options include t-shirts, lightweight button-downs, sweaters, and — my favorite — tunics. As long as your leggings aren't painted-on tight, you can style them as an upgraded skinny jean. If they are super tight, longer tops will usually be the most flattering. These leggings are priced at $25, or 58% off the normal $59 price tag.
3. Utility shirt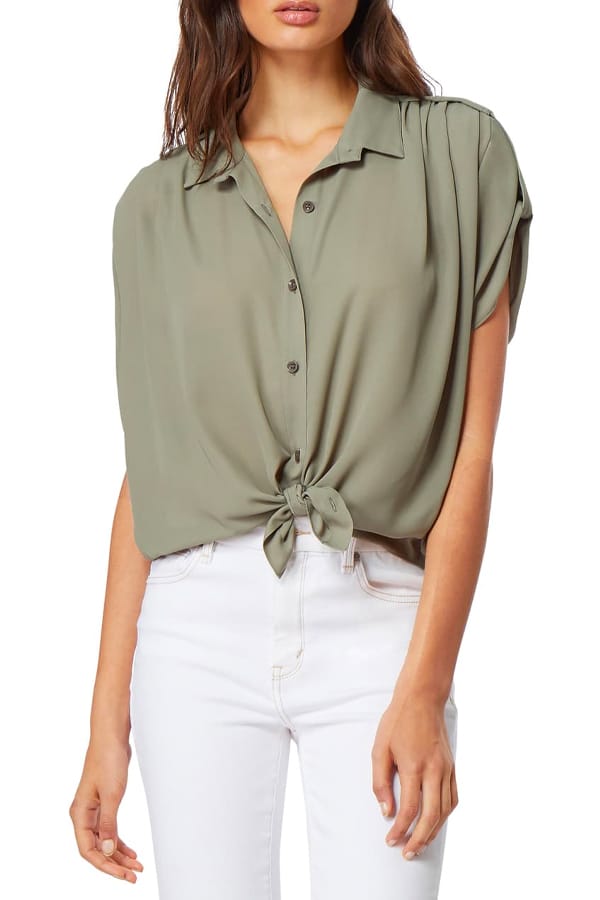 This crepe blouse by Habitual is a standard silhouette that's updated for the season with slouchy dolmain sleeve. Available in a soft olive green or white, it can easily step right into your rotation. Wear it as a bottom layer under a roomy blazer until the weather heats up — tied, tucked or untucked. Once it's warm outside, try this blouse on its own or over a cami or bralette. You'll want to show off those sleeves after all.
The sale price on this piece is $29, 67% off the normal price of $89.
4. Printed midi skirt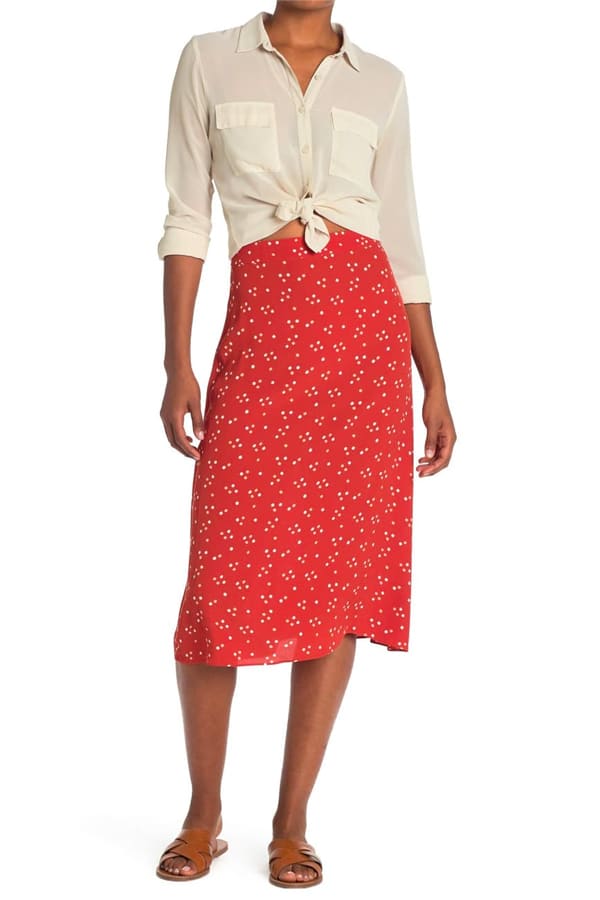 You can reach for this flattering, feminine skirt by Madewell all summer long. Pair it with a slim-fit t-shirt or tank plus your favorite sandals for an easy but pulled together look. You can also top it with a short denim jacket if you need extra warmth. The price is $30, discounted all the way down from $98.
5. Dip dye sweatshirt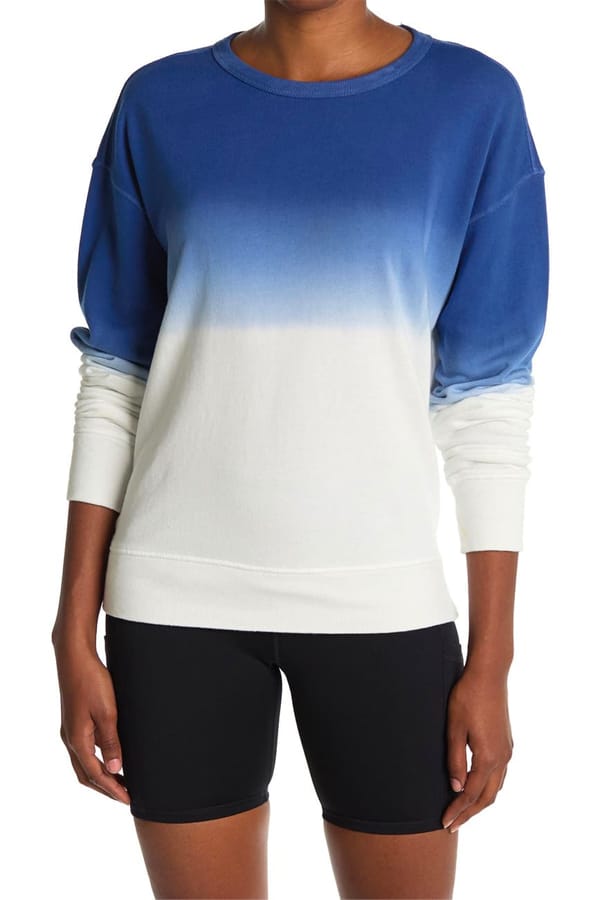 An upgraded sweatshirt comes in handy, particularly in the seasonal transition from winter to spring. Because there are days when you want to wear sweats, but you feel like you should put on something more intentional. On those days, this pretty top fits the mood perfectly. It's colorful and neutral at the same time, too. You can still get sizes extra-small through large (at least as I'm writing this) and the price is an easy $22.50.
6. Plunge neck bodysuit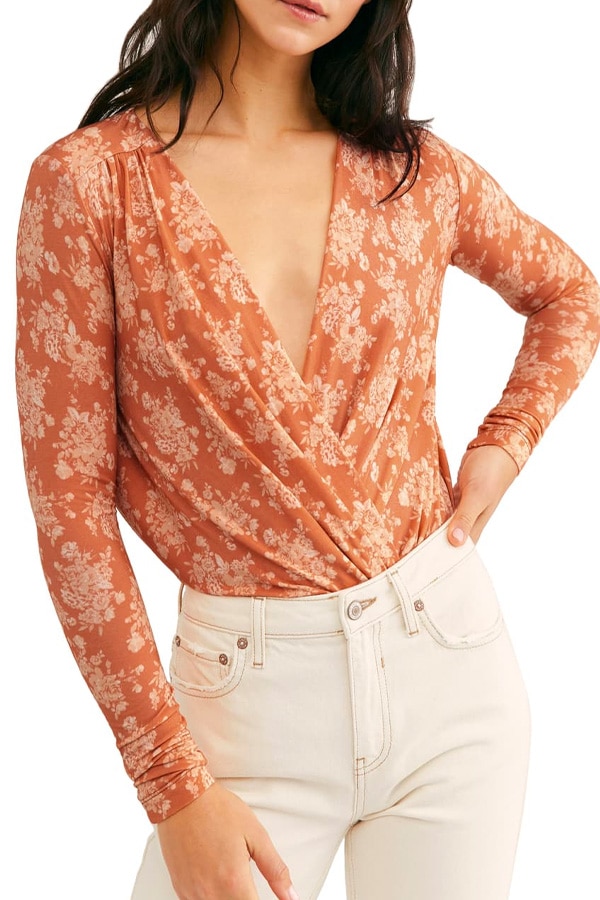 If you're going to make a statement…do it with a plunging neckline bodysuit. And maybe some fashion tape just in case. This pretty floral top by Free People has a flattering surplice neckline and a lined gusset. If it feels too bold as is, add a soft pink bralette. A simple pencil skirt or straight-cut trousers will complement beautifully on your bottom half.
The price is $33, 57% off the previous cost of $78.
7. Crepe dress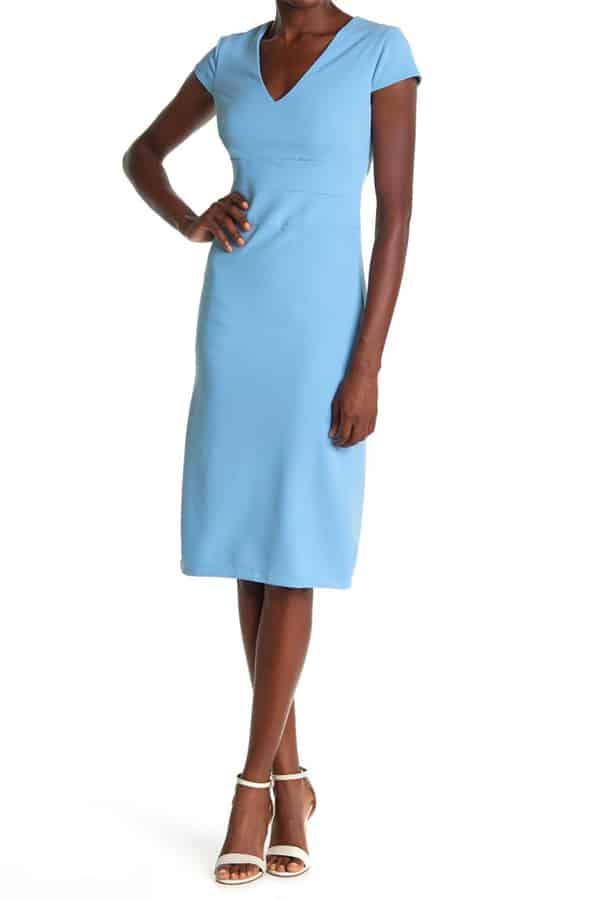 You'll feel guilty checking out with this lovely crepe dress by Donna Morgan in your cart for only $30. It should flatter most body types with the v-neckline, fitted upper half, and high waistline. And the color is lovely for spring. You can wear this dress to work, to brunch, or even to a casual daytime wedding if it's warm enough.
8. Satin slip dress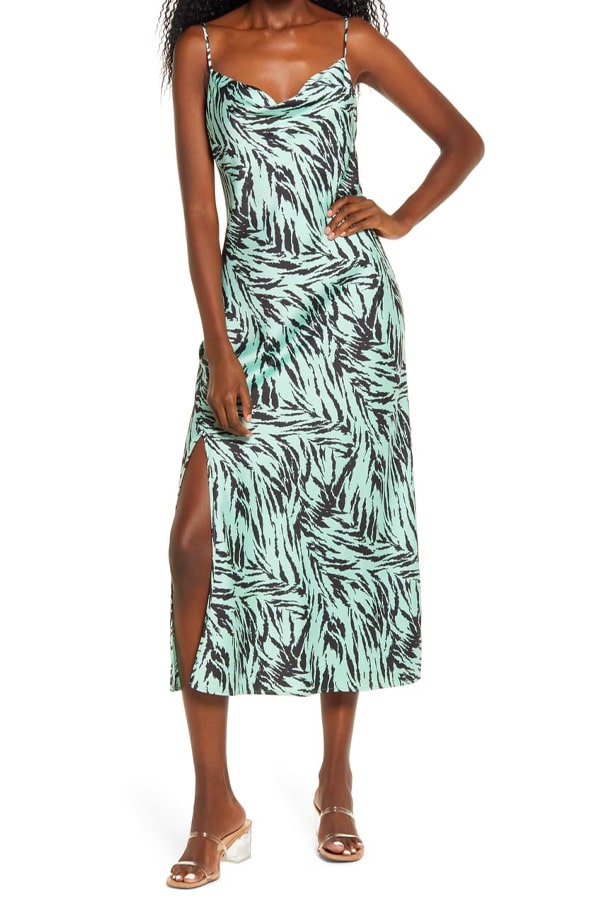 A satin slip dress with a palm print? Fabulous! The cowl neck design can give the illusion of more volume up top, while that side slit provides the chance/excuse to show off those legs. The only drawback is that this dress is dry clean only. But since the clearance price is only $24, down from $79, maybe the money you save can fund the cleaning expenses? Just a thought.
Fun fact: This dress is from the WAYF collaboration with Influencing in Color, a group of Houston bloggers who promote inclusivity.
9. Long-sleeved t-shirt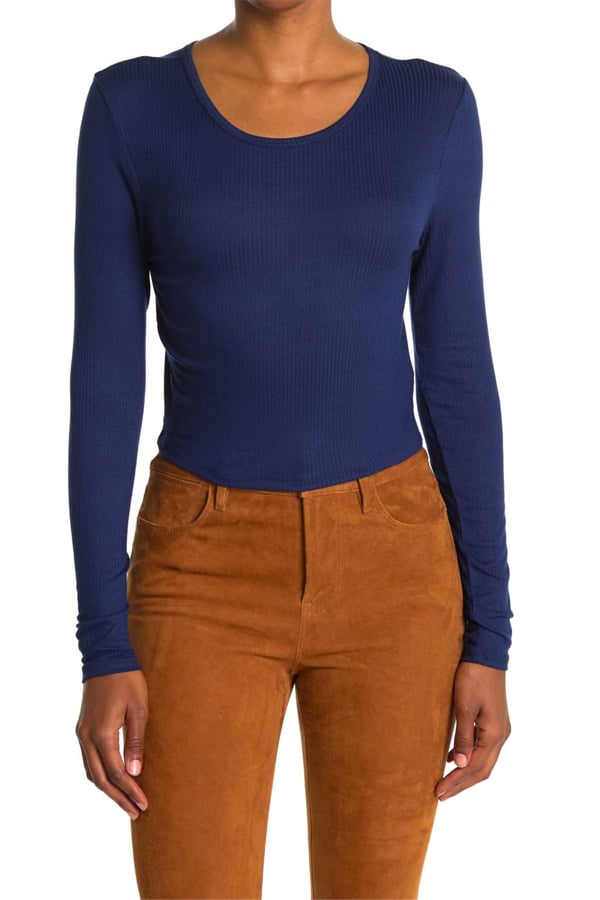 This long-sleeved t-shirt is a simple piece, but also one you can incorporate into many outfits. A solid-colored, cropped, long-sleeve t-shirt can work on its own with any high-waisted bottom, from skirts to shorts. You can also layer it under a cardigan, blazer, or moto jacket.
In navy, it's still available in extra-extra small, small, medium, large, extra large, and double XL. If you need an extra-small, try the burgundy version. There's also a black one, but the extra-small, small, and medium are sold out. The navy and burgundy tops are priced at $15, but the black one is $20.
10. Mock neck sweater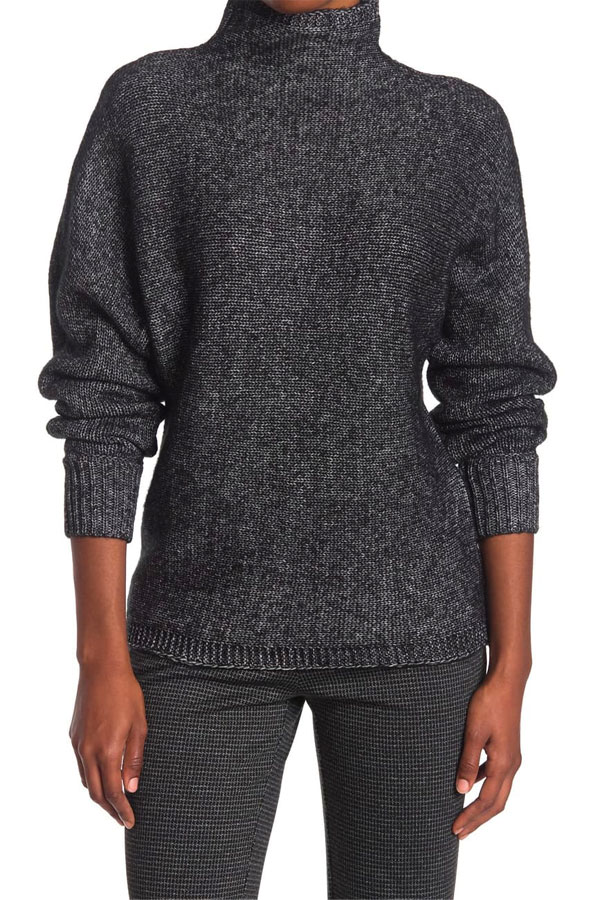 What's not to love about this sweater? The color is versatile — match it up with anything from basic black to red-dyed jeans. The slouchy sleeve is very on trend. And it has a cozy fit that isn't going to add a lot of bulk. Plus, it's $32, discounted from $98. Wear it over a turtleneck for extra warmth or by itself when spring rolls in.
Those are my picks from the Nordstrom Rack clearance pages. Now, on to DSW for some shoes!
http://feedproxy.google.com/~r/TheBudgetFashionista/~3/BOfnRVeV2No/