This post may contain affiliate links, which means I earn a small commission if you click and buy something (at no cost to you). See our privacy policy.
Fashion boots are one of the great joys of winter. Like pizza, they come in so many varieties. There's the Sorel boot, worn by Elle Macpherson and Gwen Stefani. Or the lug boot that you'll see now and again on Rihanna. And the ankle boot, a category all its own and a style we love to see on women of all ages, from Kendall Jenner to Victoria Beckham. Bella Thorne reminds us of the thigh-high boot, always a powerful choice. And the down-to-earth Hunter rain boot, so practical but still chic enough to protect the feet of Meghan Markle.
Unfortunately, all of those boot varieties can undo the budget pretty fast. When you don't have the full gamut of boot picks in your closet, it can feel like a fashion emergency. Step outside when it's raining without a rubberized boot? Ugh, the horror! Or, one of my go-to excuses to shop: Wear this color with that color? No way. I need a new pair of boots to wear those pants.
I'm not advising you follow all of those urges. But you may be inclined to act on some of them. Particularly in this strange year of 2020 when a new pair of boots can bring some much-needed joy to your life. If you're in that space, I can relate! Also, I'm not sure if this helps or hurts your rationalization process, but I asked on Quora how many pairs of boots women have. The answers ranged from seven to 14. Personally, I'm at the low end of that scale.
If you've decided by now that you definitely need a new pair of boots, here's a collection of 10 women's fashion boots that might pique your interest. Each and every one is priced at a tolerable price point of under $75.
10 affordable fashion boots
1. The tough girl boot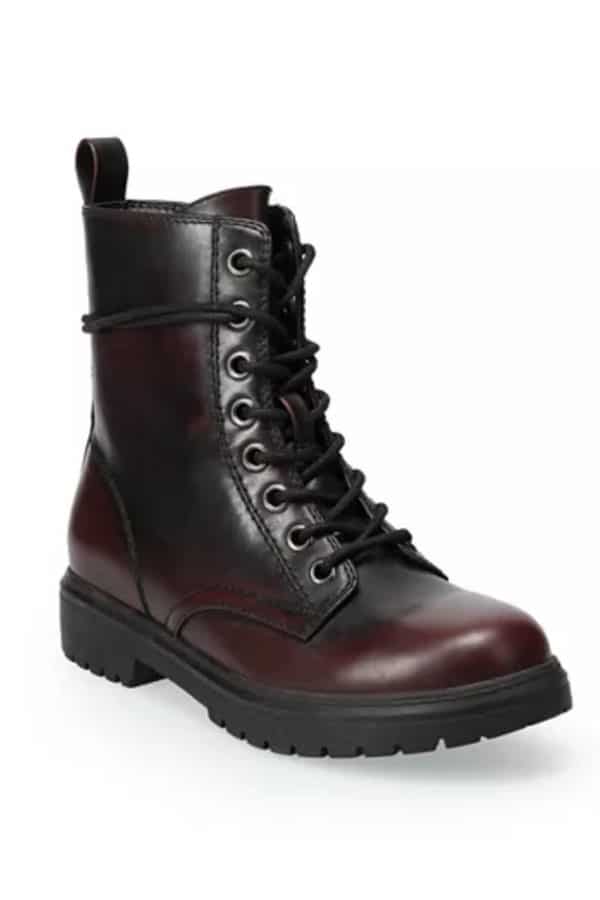 The combat boot was so, so edgy back in the 80s. I procured my first pair in middle school and definitely thought that I was the stuff. But today, this chunky boot is truly wearable. Any women of any age can step out in this style, especially when it's a softer hue than standard black.
The beauty of this boot is not only in the way it looks, either. You can buy it at Kohl's for $34. That's affordable enough that you might end up with two pairs of new boots this winter.
2. The undercover waterproof boot
The price tag here is just a shade below $70. That's not bad for a snow boot that doubles as a fashion boot. With that thick sole, faux fur lining, and sealed, waterproof construction, these boots will keep the toes cozy and your favorite socks dry no matter how terrible the weather is. Plus, they make the perfect companion for your favorite skinny jeans.
3. The tall fashion boot
Speaking of skinny jeans, they'd also pair perfectly with this $60 cognac boot from DSW. It has a wider calf for a more comfortable fit, but still retains sleek styling. This boot isn't waterproof, so save it for your sunny days. Heck, if you live in California or Florida, you might pair this adorable boot with a printed floral dress instead of jeans.
4. The homebody boot
The term "sock boot" was already taken, so this is what you'd call a "slipper boot." So perfect, right? I would already own a pair of these if the $65 price tag hadn't given me pause. Not a bad price for a boot, but kind of a lot for a slipper. On the plus side, they're colorful and have an outdoor sole in case you don't feeling like taking them off to run to the mailbox…or the supermarket.
5. Boot with a touch of comfort
This low heeled ankle boot with that delightful cable knit accent can also be a wonderfully versatile addition to your wardrobe. The rest of the boot is faux suede so you don't have to worry about the animals or the related price tag. In fact, these Muk Luks are on sale right now for $45. Scoop them up quick. I don't know how long that price holds.
6. For some color
Customers praise this bootie for being comfortable. The low block heel and straightforward styling get credit there, along with the collar that's not too tight or too loose. Tuck fitted pants into these boots or pair them with tights and a dress. Oh, and the price tag? An easy $60.
7. The power boot
Here's the footwear equivalent of the power suit. So sleek. And that heel? Just tall enough to be imposing without risking random loss of balance. Plus, there's that v-cut vamp, reminiscent of a very sexy top you might wear beneath your masculine work suit. You can't not be gorgeous wearing this boot. Plus, it's 50% off at the moment, so you can pick it up for $75.
8. The cowgirl boot
It's not easy to find actual cowboy boots for less than $75, but you can snap up a Western-inspired boot at that price. Here's a fan favorite on Zappos, available for $47. Mid-sized block heel, strap details, and an extraordinarily versatile color could earn these boots a place in your closet.
9. The adjustable calf boot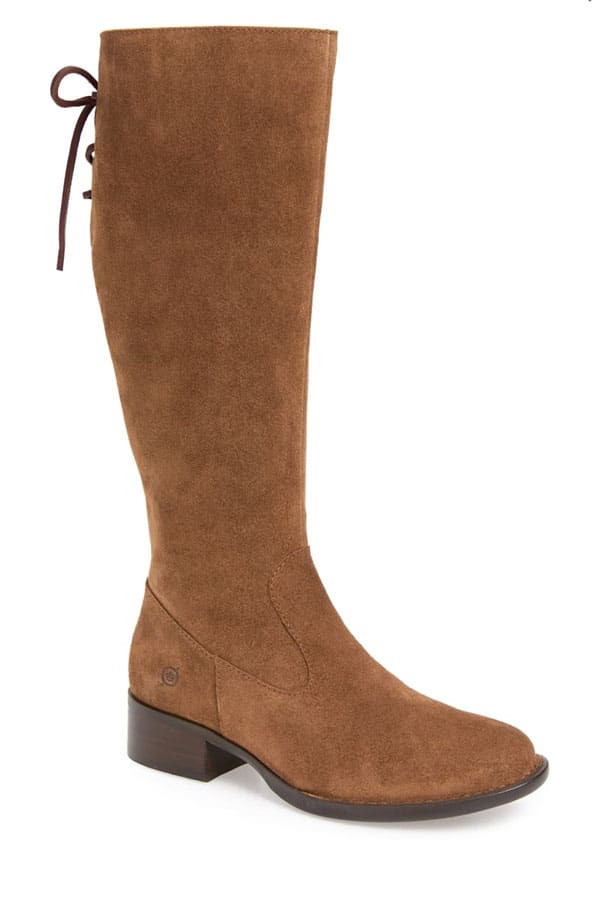 These are real suede boots, priced at a reasonable $70. I adore this color, but also the tie back that you can adjust to the perfect fit. Unlike other tie-back boots you may have seen, these have three loops for extra adjusting power. There's also an inside zipper so you don't have to straighten out your ankle to put them on.
10. The wear-anywhere boot
So many things to love about this $60 boot from DSW. It's a softer form of the combat boot — perfect for someone who's just starting to dabble in the lug boot style. Also, that faux fur cuff complements the suede texture brilliantly. The color will go with nearly anything in your closet. And, the style is pretty versatile. You're not going to wear it with tailored slacks or an evening gown, but jeans, dresses, and leggings are all fair game.
http://feedproxy.google.com/~r/TheBudgetFashionista/~3/hBmUWeIFPpA/